Will Australia's New Govt Change Fate of Adani's Carmichael Project?
The economic model of the mining project has come under threat.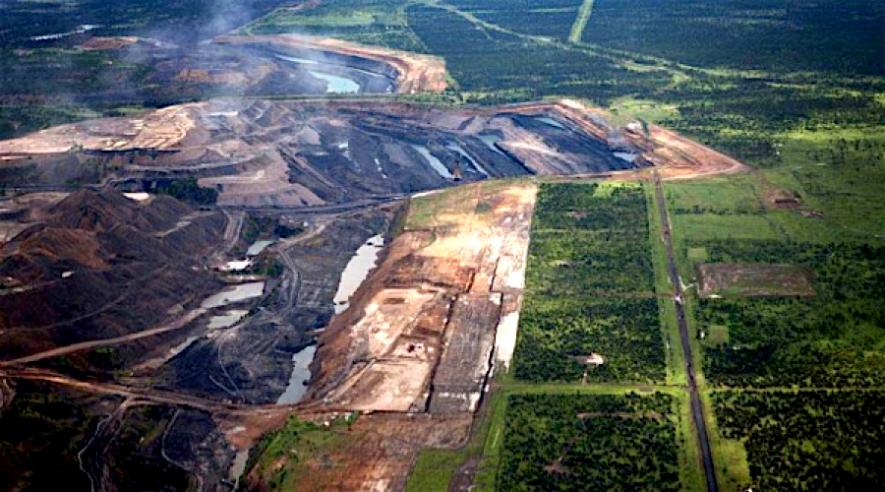 Image courtesy: Mining.com
Climate change is the central issue for Australians who will be voting on May 18 to elect a new parliament. As environment continued to remain one of the key issues in the country for more than a decade now, the fate of Gautam Adani's Carmichael mine project is hanging in the wilderness of Queensland. The Adani venture is awaiting state's final approval, as anti-Adani protests continue and key political parties tacitly criticise the project. However, it has now received another blow, as the economic model of the project has come under threat.
It seemed like things turned in favour of Adani when the Australian federal government in April approved the project's groundwater plan, days before the announcement of elections. But the same plan was sent for reconsideration by the Queensland government, where the mines are located, laying another obstacle for the project to begin. Following this, Adani group accused Queensland's Department of Environment and Science (DES) as "once again engaging in a secretive and non-transparent additional review process".
"We are now facing prospect of another tortuous and never-ending management plan approval process like the one we have endured for the Black-Throated Finch," stated Adani Mining CEO Lucas Dow on this matter. The Queensland government has also put the Black-throated Finch Management Plan, a plan to protect the endangered bird species, on hold. Alongside, if the construction begins, the company has to meet several other obligations including royalty payments for mining. According to analysts, if the mining construction begins, it would need at least five to six years to reach an optimum production capacity as it is proposed by the company.
In 2010, Adani acquired Carmichael mine by investing over $3 billion from Queensland government, hoping to construct world's largest coal mine, but the project faced stiff resistance from numerous corners including the country's native people, environmentalists and political parties. Although the company had initially proposed a $ 11.4 billion mega-mine-rail project with 60 million tonnes a year capacity, it has now scaled down its projections to some $ 2 billion to produce 10 million tonnes of coal for annum. Activists and environmentalists have been arguing that the Carmichael mining could pose potential threats to the country's Great Barrier Reef and also contribute to emissions.
Despite numerous attempts, the project failed to get any funding from Australian and international banks or lenders. Disappointed Adani group in last November announced to take forward the project by self-funding with an investment of $2 billion and claimed to "imminently" begin construction, but disappointed again.
Pointing to the global trend of declining demand for thermal coal, John Quiggin, professor of economics at the University of Queensland, says that Adani knows that the Carmichael project is "uneconomic". Quiggin has recently opined: "Despite his unwillingness to admit defeat, Mr Adani understands that the Carmichael project is hopelessly uneconomic. When the project was launched in 2010, the prospects for thermal coal looked rosy. But the "triple whammy" of disappearing demand in developed countries, import substitution in India and China, and competition from gas and renewables has changed all that." According to his analysis, the current price of thermal coal (about $90 per tonne for top quality Newcastle coal) is well below the level that would make Carmichael viable (over US$110/tonne), and it is only likely to decline in future. "Adani is hanging on, in part to avoid recognising on its books the loss of the $3bn or so spent to acquire the mine and in part in the hope of extracting compensation from the Australian public."
Adani was also desperate to gain the support from key political parties where he offered lumpsum donations. As per an analysis by the Australian Conservation Foundation of federal and Queensland donations data,  Adani has given over $60,800 to various political parties since the 2016 federal election. Reportedly, Australian Labor Party returned donations worth $2200 to Adani's company.
But the key contestants, Labor party and Liberal-National Coalition, have chosen to be neutral with the Adani's project. Recent opinion polls favored the opposition Labor party, led by Bill Shorten, over Prime Minister Scott Morrison's Liberal-National Coalition government. During the election season, the Labor party maintained that the Adani project should meet all legal obligations, a similar stand by Morrison government.
Get the latest reports & analysis with people's perspective on Protests, movements & deep analytical videos, discussions of the current affairs in your Telegram app. Subscribe to NewsClick's Telegram channel & get Real-Time updates on stories, as they get published on our website.
Subscribe Newsclick On Telegram