Caste Boundaries Blur in '2 Minutes': How Noodles Bind Disparate India
From Masala Maggi to Korean Ramen, instant noodles cut across class and caste barriers.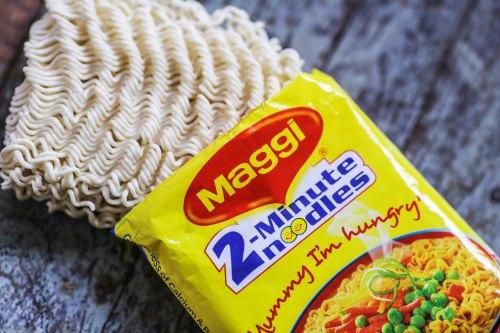 Image Courtesy: IndiaMART
The only Chinese Kali Bari (temple) in India offers unique votive offerings to the goddess of time, doomsday and death—noodles and chop suey. Located at Tangra, Kolkata, the temple is an assimilation of two diverse cultures. The introduction of noodles in Indian cuisine more than two centuries ago, followed by the arrival of instant noodles, shows how dough strips can blur caste boundaries.
Perhaps, the reason why Maggi gained so much popularity in India is that it perfectly fits within the 'majoritarian Indian taste'. "All instant noodles cater to the majoritarian idea of what is okay. It is not just their taste but also what they think is acceptable, which is egg or chicken, while others are not,"  says Bangalore-based theatre artist Sri Vamsa Matta, whose latest performance was on Dalit food and eating practices.
"Even though each state has a different cuisine, the Maggi tastemaker—which is suited to the Indian taste—is a common mass taste for every region," says Samapan Saha, a food researcher at Ashoka University, Haryana. Irrespective of 'culturally superior or inferior' foods in different regions or states, Maggi is consumed all over the country.
In a society where scheduled castes are considered untouchable, Brahmins considered packaged food items, such as bread, impure because they felt most of the factory workers were either Muslims or belonged to low castes. However, Maggi became popular also because it catered to the vegetarian Brahmanical mindset—a product that could be prepared by themselves.
"Even before the BJP-led wave of hyper-vegetarianism started, Maggi, which suited vegetarians, was already there," adds Saha. Nestlé launched Maggi Macaroni in tomato, chicken and masala flavours in July 1997.
Moreover, Maggi, neatly packaged for only Rs 5, was also a big hit among the low castes and the poor. As Matta notes, "I think the exoticisation and fetishisation of instant noodles or any kind of fast food make these foods more desirable for the marginalised young exposed to this pop culture, especially in the urban areas."
Amita Baviskar, professor of environmental studies, sociology and anthropology at Ashoka University, in her research paper 'Consumer Citizenship: Instant Noodles in India', dated May 2018, writes that "eschewing foods saturated with oppressive meanings and eating foods free from ascriptive identities appear to be forms of emancipatory cultural policies to which many Indians have now turned".
Another reason for Maggi's popularity could be its sheer adaptability. As Shirin Mehrotra, an independent food writer, says, "I think the whole idea of noodles as street food is a unique way that India has adapted noodles—whether it's Maggi or desi Chinese." 
Despite being of German origin, Maggi has become an intrinsic part of India's pop culture. The Nagas add smoked pork to Maggi while students in north Indian hostels add cheese powder and eggs while others prefer to have it with chicken. "The whole idea of instant yet hot and cooked snacks was novel at the time when the concept of ready-to-cook or ready-to-eat food was still alien in India. In the later years, of course, there was a whole nostalgia factor."
Maggi, however, wasn't the first noodles in India. The history of noodles in the country can be traced back to the 19th century with the arrival of Hakka Chinese, who subsequently settled at the ports of Calcutta and set up a chain of restaurants there and Madras and introduced the Hakka noodles.
Throughout the decades till the 1980s, according to Saha, the chow mein recipes have been adapted by Indians to their local tastes by adding ingredients like mustard, chilli oil and even vegetables like eggplant. The localisation of the Hakka noodles made it popular on every street and changed the way it was perceived by Indians.
Currently, this variation can be seen not only with 'Indianised' instant noodles but also in other variations of the dish such as the Japanese Ramen and its Korean equivalent Ramyun.
Korean culture was introduced in India more than a decade ago and led to a huge import of Ramyun noodles, which increased by 162% in 2020, according to data from the ministry of commerce and industry.
The rage is a result of the further integration of Korean culture with the mainstream 'hybrid Indian culture'. For instance, Spotify ranked Butter, the latest song of South Korean boy band BTS—also known as the Bangtan Boys—as the No. 1 in the top 20 singles streaming in India in 2021. Netflix India has placed Squid Game as the third most-watched series. Nykaa reported a 15% Korean beauty share in the overall skincare products sales in 2019. 
When it was introduced in the country, Indians adapted it to their tastes with curry spicy Ramyun. "I try to incorporate an authentic Korean style into the way I make the ramen. However, several Indian customers like the dish to be spicier," said Vir Gurung, a ramen chef in Adyar, Chennai.  "I add Indian ingredients like Everest's Kashmirilal powder instead of the usual Korean chilli powder."
Nongshim, the Korean Ramyun company, even launched a vegetarian Ramyun in India along with Soon Veggie Raymun. The noodles, which were traditionally served with meat in Korea, especially beef, have been completely replaced with Chicken in most parts of India with the widespread beef ban or restriction on its consumption.
Though beef is legal in Kerala, West Bengal, Arunachal Pradesh, Mizoram, Meghalaya, Nagaland, Tripura and Sikkim, it is scarcely available in other states due to the fear of cow protection vigilantes, forcing most Ramyun chefs in north India to use chicken.
Despite the restriction on beef, Ramen is very popular. Sneha Bohra, director, Gajraj Commotrade Private Limited, which imports Samyang Ramen and Sauces, said, "Initially, we used to get a 20-feet container in two months. Now, we get 10-11 containers measuring 40-feet every month," The Hindu reported in February.
Due to its high price, people prefer local shops that have adapted Japanese Ramen to their tastes. Tamen, located near Chennai's Besant Nagar beach, serves five variations of Ramen—wheat noodles topped with boiled eggs and dumplings, out of which two contain vegetable broth and three chicken. Nagraj Rai, who has been working at the joint since its launch in 2021, said, "We use aromatic powder, MSG and chilli paste to add taste to the broth. Since Tamilians love spicy food, we have a Chicken Devil's Tamen Bowl which is extra spicy."
Despite Ramen's popularity, the '2-minute" Maggi still fares the most commercially. Maggi commanded a 90% share of the noodles market in India in the first 25 years of its launch in 1983. Sales shot up by 25% during the pandemic despite the regression in the world economy, reported Business Insider last year.
Maggi originated in the industrial city of Singen, located on the German-Swiss border. It was manufactured with ready-to-use soup and seasonings in the 1800s by an Italian-born mill owner Julius Maggi to improve the health and the living conditions of the working class. It was launched in India after Nestlé took it over in 1947.  Then-Prime Minister Jawaharlal Nehru invited Nestlé to Punjab for developing its milk economy. After almost four decades, Nestlé introduced Maggi in India in 1983.
With its advertisements showing the changing post-independent Indian family dynamic—a working mother cooking for her son amid her busy work schedule—Maggi became a household name. Even for younger generations that migrated to the big cities from semiurban areas and villages for employment, Maggi was the perfect instant food to cook.
In 2015, Maggi was banned after reports of a high concentration of lead in the noodles. While Maggi withdrew from the stores, Patanjali introduced its Atta noodles claiming it is healthier and indigenously produced. "Patanjali tried to infuse hyper-nationalism with their noodles but could never take off despite the 'Make In India' approach," says Saha.
Later, with Nestlé winning its court appeal against the ban and relaunching Maggi with 'healthier' variations—Maggi Vegetable Atta Noodles and Maggi Oats Noodles in 2019—its sales surpassed the pre-ban level of 2014. According to Business Standard, data from Maggi's 2019 annual report showed it had sold around 264,000 tonnes of products compared to 254,500 tonnes in 2014.
Other than Maggi, Nepalese Wai Wai noodles, which come in both white and brown variations of veg and non-veg and two seasonings, rank as the third-most-popular instant noodles brand in India after ITC's Sunfeast on the second spot, as reported by Bloomberg Quint in July 2021.
Wai Wai was initially a Thailand-based brand called Fast Fast and produced by Thai Preserved Food Factory in 1947. Later, Chaudhary Group in Nepal adopted the label and brought it to the Himalayan country in 1984 and has been producing Wai Wai under the supervision of the parent company. It established its place in Nepalese cuisine in the form of soup with added vegetables, Kathi rolls, salad, as a snack called Sandeko, prepared with peanuts, chickpeas, onion and tomatoes, chow mien or as street chatpate. 
In the early '90s, Wai Wai was introduced in Sikkim and later in the larger northeast belt. As claimed by CG repeatedly, Wai Wai with a 60% share stands as the first choice of instant noodles in the Northeast. In 2015, when Maggi was banned, Wai Wai became the second-largest noodles brand in India.
The tastes of Wai Wai and Maggi might be radically different but they still have a certain commonality. As Nepal is also a country with a Hindu majority, Wai Wai has only chicken and fish flavours for its non-veg variety instead of any red meat such as beef. Wai-Wai and Maggi both fit within the so-called majoritarian Indian taste.
The writer is a student of the Asian College of Journalism, Chennai. The views expressed are personal.
Get the latest reports & analysis with people's perspective on Protests, movements & deep analytical videos, discussions of the current affairs in your Telegram app. Subscribe to NewsClick's Telegram channel & get Real-Time updates on stories, as they get published on our website.
Subscribe Newsclick On Telegram