Celebrating World Water Day While Earth's Fever Climbs
No reason to celebrate this day without political goodwill to curb global warming, says acclaimed Water Man of India.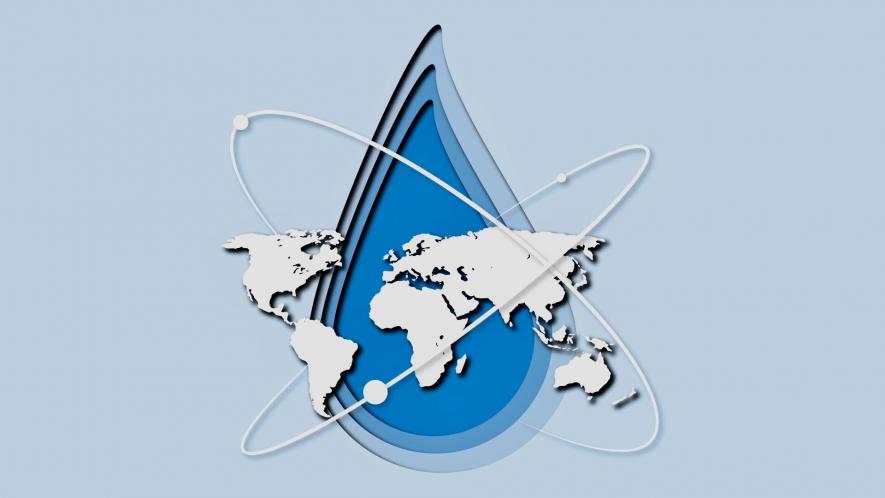 Today is celebrated as World Water Day all over the world. Some people see it as a water festival and some celebrate it as a political event. It is not a celebration at all, though a political commitment is surely associated with World Water Day. 
When it was first decided that Water Day would be celebrated on 22 March all over the world, then, in the minds of those representing national governments in the General Assembly of the United Nations, was the desire to increase water conservation and better manage efficient water use in the world. There was a commitment to ensure water security. Today, politicians of the world have forgotten this commitment. This day is only about making a profit from water and to turn Water Day on March 22 every year into a 'celebration'.
This year's Water Day is meant to consecrate the urgency of the climate change crisis and the depletion of water resources. When desolate people from Africa and Central West Asian countries go to Europe, they are referred to as 'climate-change refugees'. This term is not used for Indians at present, but 72% of India's groundwater reserves are getting depleted by over-exploitation of water. Some 39% have already been declared as over-exploited. At this level of water crisis, in time, Indians who emigrate to the West will also earn the dubious status of climate change refugees.
The Novel Coronavirus is surely not disconnected from the crisis of climate change. Market-linked greed has destroyed nature in the name of development. The result of that destruction is that there will now be terrible diseases like the ongoing Coronavirus pandemic. Drugs, especially antibiotics, will not be able to treat them. Modern science also believes that the water of the Ganges river of India had the specific power to destroy 17 types of microbes. The river is no longer alive, and due to this loss of its natural properties, the crisis of superbugs will also increase in India.
the Coronavirus epidemic will come under control, but who can save people from India's climate and water disasters? There are no answers to this. Our politicians are not concerned about it at all, they celebrate Water Day each year and make a display of their concern for water resources and conservation. But it is evident that they no longer care for our Earth. The planet has developed a fever—and the mood of the weather has also gone bad.
Earth's fever—which we call Global Warming—needs the same treatment that a human fever gets. A feverish person needs strips of cool water on their head and they are fed paracetamol and given a chance to rest. In the same way, by catching every drop of rainwater that falls from the clouds, by making every pond, johad, check dam, tal, pal and jhaal full, and capable of releasing moisture back into the soil of the earth, greenery will be reborn and we will have a fresh start to save our planet's greenery. If we stop pollution, encroachment and exploitation of ground water, the stomach of the earth will fill with water again. This climate adaptation process will eradicate the climate change crisis. There will be regular rainfall and the earth will become watery again.
Today the whole world has accepted that water is climate and climate is water. Without water, climate interaction is impossible. The world at first refused to accept the relationship of these two, but in November-December 2015, when the countries of the world gathered in Paris, their concerns revolved around this interconnectedness. After the Paris Agreement, the United Nations suggested to governments of the entire world that they should create a national water program to tackle climate change, and adapt and eradicate the crisis by combining water conservation in agriculture as well.
The world has understood the relationship between water and climate for a while, but in the tradition of India, this relationship has been present for a along time. In India, what we call "God" is made up of Panch Mahabhutas: land, ether, air, fire and water. Water does the work of connecting the other four elements. No life is possible without it. The gases that support life are also made of water. Water is the basis of creation.
For 45 years I have been working to improve the common future and conserve water, relying on Indian faith and environmental sciences for nature conservation. I have been studying the African and Central Western Asia world as well, for the last six years. When people from Africa and Central Western Asia migrate to Europe, they are called climate change refugees. India should also start heeding this as a warning. In our country both floods and droughts are increasing in frequency and devastation. If we want to avoid a climate crisis, then we have to work for adaptation and eradication of climate change.
Once, the people of India had a good understanding of water and the river systems. The women of India would sing songs about climate change and they knew and understood the climate. While water has only three meanings in the rest of the world, Retreat, Recycle and Reuse, once, in India, there were about six Rs of water—respect, retreat, recycle, reuse and regenerate the planet by Water. So we were in a position to teach the world a lot about water. We used to see water not as profit but as something auspicious.
Our relationship with water has changed drastically in the last few years. When the water in our eyes dried up—when we became greedy and short-sighted—then our wells and ponds started drying up too. Water was made a commodity of trade. When things related to life start being traded, then their auspiciousness disappears, they remain only for-profit objects. We have to revive the old relationship.
Think how beautiful nature was. The cloud brought us water, gave life, but we are not trying to save the life that the clouds bring. We are letting this nectar flow into dirty streams. The cloud from which the life-making water came to us now flows into sewers.
The biggest flaw is of modern education, which is preparing engineers and technicians who have only studied the techniques of exploitation, but not sustenance and nutrition. Management education, in particular, has taught us how to manage things by encroaching on shared community properties. Even our social science education now only talks about what we can take away from nature.
We have forgotten the virtues and joys associated with nature. Water was our language, rivers were our speech. We did not face the disasters of climate change. Ever since we have forgotten the language of water and the dialect of the river, the climate change disaster has started. If we want to celebrate Water Day, then our modern education will have to be turned into recognising what is sustainable and nourishing. Clouds still come, but we have to learn how to appreciate them.
To do such work requires political goodwill. There is no justification for celebrating Water Day without political goodwill.
The author, also known as Jal Purush, is a well-known environmental activist who has worked on water conservation for several decades. The views are personal.
Get the latest reports & analysis with people's perspective on Protests, movements & deep analytical videos, discussions of the current affairs in your Telegram app. Subscribe to NewsClick's Telegram channel & get Real-Time updates on stories, as they get published on our website.
Subscribe Newsclick On Telegram