Centre Proposes Decriminalising Law Providing Safety to Workers
The Public Liability Insurance Act, 1991, guarantees relief to victims of accidents in hazardous industries and imprisonment as penal action against owners.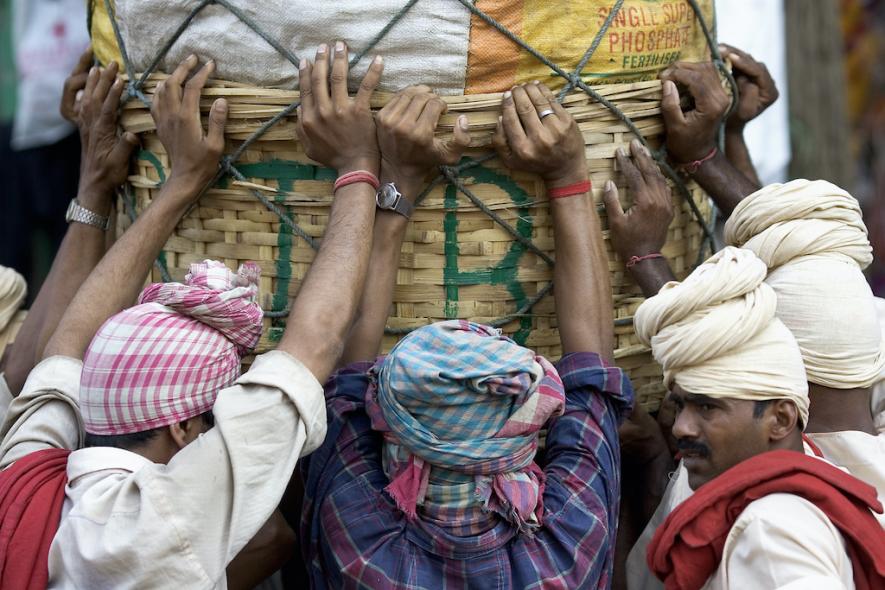 New Delhi: Exactly a week after the International Labour Organisation (ILO) formally adopted a resolution to add the principle of a 'safe and healthy working environment' to its Fundamental Principles and Rights at Work, the Narendra Modi government has proposed to amend a law that provides a safety net to those employed in industries handling hazardous substances.
The Union Ministry of Environment, Forest and Climate Change (MoEF&CC) issued a public notice on June 30 decriminalising the Public Liability Insurance Act, 1991, which guarantees relief to victims of accidents in hazardous industries and imprisonment as penal action against owners. 
As per the public notice, the Act will be amended to remove the provision that entails the prosecution of owners in cases of industrial accidents.
The aforementioned amendment has been justified by the government on the grounds that it will "help in substantial progress of the nation" besides providing a "conducive business environment" for industries dealing in hazardous substances.
"Elimination of the penal provisions under the PLI Act, 1991, will ameliorate fear of imprisonment for minor lapses such as delay or incorrect filing of a compliance report, etc.," the notice goes on to mention without explaining, however, as to why decriminalisation of the law would prompt industry owners to ensure greater degree of compliance with rules.
While violations of the Act will not attract prosecution, non-payment of penalty will be considered as a penal offence, as per the proposed amendments. Grievances pertaining to non-payment of penalty can be taken to the National Green Tribunal. Further, while provisions will be made for the imposition of "substantial" penalties, the limits of insurance policies, which owners of hazardous industries have to mandatorily obtain for workers in accordance with the Act, have been increased substantially.
"The increase in limits of insurance policies will benefit insurance companies, not ordinary workers. Commitments made by the Central government at various international forums have more often been diametrically opposite to its practices at home," Amarjeet Kaur, general secretary, All India Trade Union Congress, told Newsclick. "An amendment of this nature is clearly in favour of corporate entities and industries while it has close to nothing for workers." 
The addition of occupational safety and health as the fifth category to the ILO's Fundamental Principles and Rights at Work will be binding upon all member states, including India. Through a declaration issued in 1998, the ILO had adopted the Fundamental Principles and Rights at Work. As per the declaration, all member states, regardless of their level of economic development, are committed to respecting and promoting these principles and rights "whether or not they have ratified the relevant conventions".
Private insurance companies making hay from welfare schemes introduced by the government is not new. As per a report tabled by a Parliamentary Standing Committee on Agriculture in August 2021, private insurance companies have made landslide profits from the Pradhan Mantri Fasal Bima Yojana, the Centre's flagship welfare scheme for compensating farmers for crop loss.
Amendments to the PLI Act have been proposed by the Centre simultaneously with proposed changes to most major environmental laws. The government has sought responses from civil society on proposals to decriminalise violation of the Environment (Protection) Act, 1986, Water (Prevention and Control of Pollution) Act, 1974 and Air (Prevention and Control of Pollution) Act, 1981 as well.
These changes have been proposed almost concurrently with commitments made by government at international forums regarding its efforts for protecting the environment. On June 28, Union minister of state for earth sciences Jitendra Singh told the UN Ocean Conference in Lisbon that India is committed to protecting, at least, 30% of land, water and oceans in accordance with the goals of the High Ambition Coalition for Nature and People, an inter-governmental group of more than 100 countries, which India had joined at the One Planet Summit held in Paris in January 2021.
As per the proposed amendments to environmental laws, the government will create various corpuses for depositing penalties extracted from violators which will subsequently be disbursed amongst those affected by the violation of the norms. 
An 'Environmental Protection Fund' under the Environment Act, a 'Water Pollution Remediation Fund' under the Water Act and an 'Air Pollution Remediation Fund' under the Air Act have been variously mooted under the proposed amendments. Quantum of penalties have been sought to be raised against violation in most categories under the three different laws. At the same time, provision of imprisonment will be removed for violation of most norms under these Acts.
Will decriminalisation of these Acts lead to a situation whereby corporate entities get away with violations at the cost of polluting the environment and, at the same time, result in worsening the lives of local communities living in close proximity to industrial areas?
As per legal experts, convictions through criminal prosecutions under environment- and pollution-related laws have been abysmally low in the country. 
"A pollution control board has to file a case in the court of a judicial magistrate to undertake criminal proceedings against a violator. There has to be a mandatory notice period of 60 days. This is followed by gathering of evidence, documentation and recording of statements. It is a long-drawn process as all provisions of the Code of Criminal Procedure have to apply," senior environmental lawyer Ritwick Dutta told the Newsclick.
"It makes sense, instead, to extract heavy penalties from violators and award these amounts to affected communities," Dutta added. 
As per latest data of the National Crime Records Bureau (NCRB), a total of 61,767 cases were registered across the country in under various environment- and pollution-related Acts in 2020. This figure stood at 35,196 and 34,676 for the years 2019 and 2018, respectively. However, a very overwhelming number of these offences were recorded under the Cigarettes and Other Tobacco Products Act, 2003, which prohibits the advertisement of tobacco products and regulates trade, commerce, production, supply and distribution of cigarettes and other tobacco products. The number of cases registered for violation of the aforementioned Act are 23,517 (2018), 22,671 (2019) and 49,710 (2020), as per NCRB records.
Notwithstanding the NCRB data, many policy analysts have accused the Centre of adopting a techno-managerial approach in decriminalisation of the environmental regulatory regime at a time when the global discourse is centred around strict adjudication against environmental crimes.
"The biggest issue in criminal proceedings under Acts pertaining to the environment and pollution is fixation of liability. In instances of violation of laws meant for protection of wildlife or protection of forests, the violator is easily identified," Dutta said.
The problem arises in "pinpoint violators in cases of violation of provisions of Acts meant for the protection of air or water", Dutta said adding, "for instance, wildlife poachers or those involved in illegal felling of trees can be easily identified. On the other hand, it is difficult to exactly establish the agencies or the persons responsible for air pollution in a particular region or for pollution of water bodies." 
"Multiple agencies might be responsible for pollution of air and water," said Dutta, who is also the cofounder of the award-winning organisation Legal Initiative for Forests and Environment. "Since environmental laws operate on the precautionary principle, the whole basis of environmental jurisprudence needs to be civil and the focus needs to be on placing effective deterrents."
Nevertheless, it remains to be seen if compensatory penalties accumulated in specific funds reach aggrieved parties. The record of state governments in proper utilisation of existing remedial funds has not been particularly encouraging. For example, there have been multiple instances where state governments have diverted funds of the District Mineral Foundations for purposes other than that for which they are originally meant. Similarly, a fund like that of the Compensatory Afforestation Fund Management and Planning Authority has been questioned for its unlikely ability to ever make up for the loss of old-growth, carbon-rich forests. 
Policy analysts also apprehend that decriminalisation of environmental laws could promote an attitude of "pollute-and-pay" amongst rich corporate entities owning hazardous or polluting industries.
Data compiled by the NCRB show that merely 17, 160 and 589 cases of violation of the Air Act and the Water Act were registered in 2018, 2019 and 2020, respectively. On the other hand, the number of cases filed for violating provisions of the Forest Act, 1927, and the Forest (Conservation) Act, 1980, stand at 2,768 (2018), 2,118 (2019) and 2,287 (2020). 
Similarly, 782 (2018), 613 (2019) and 672 (2020) were registered for violation of the Wildlife Protection Act, 1972. The number of cases registered for violating Noise Pollution (Regulation and Control) Rules, 2000, where apprehension of violators is relatively easy, stood at 7,947 (2018), 8,537 (2019) and 7,318 (2020). Surprisingly, the NCRB records do not mention a single case filed under the Public Liability Insurance Act, 1991, in 2018-20
Get the latest reports & analysis with people's perspective on Protests, movements & deep analytical videos, discussions of the current affairs in your Telegram app. Subscribe to NewsClick's Telegram channel & get Real-Time updates on stories, as they get published on our website.
Subscribe Newsclick On Telegram