Change in the Air as Drones Aid Smart Farming, Self-Employment in Rajasthan
Farmers register around 50% reduction in use of fertilisers and pesticides, while youth use drones for photography or rent them out.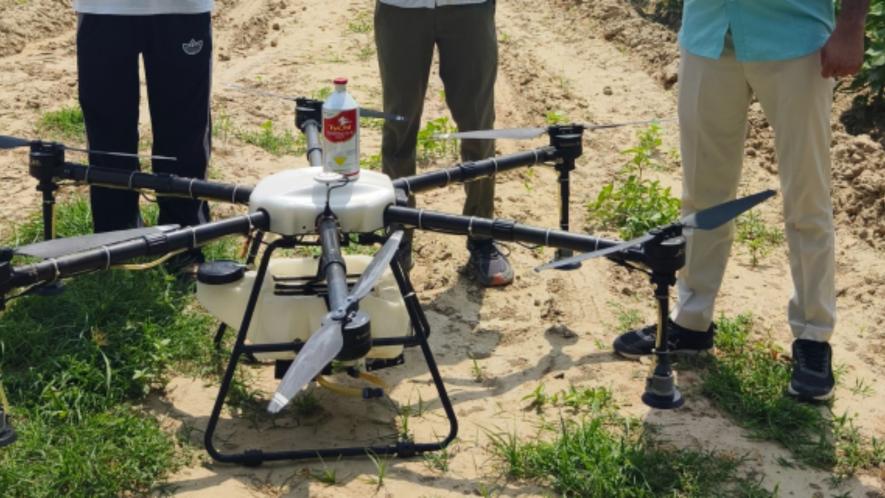 Preparation for spraying pesticides in fields with drones in a village in Hanumangarh district (Photo sourced by Amarpal Singh Verma, 101Reporters)
Sriganganagar: Drone technology has been making inroads into the lives of the people in Rajasthan, be it for land mapping under the government scheme SVAMITVA or for other purposes. Around one-and-a-half years ago, in a first in the state, drones were employed in the agricultural fields of Sriganganagar district.
Now, drones have made their way to Hanumangarh district as well to spray pesticides and fertilisers on crops. According to the available information, two farmers have drones, and three more are provided on rent for Rs 250 per bigha (.2 hectare). A drone for agricultural purposes costs at least Rs 10 lakh, so farmers are unable to purchase it.
Gurugram-based IoTechWorld Avigation Private Limited was the first to utilise drones for agriculture in this area. According to the company's distributor, Krishna Bhambhu, in the last one-and-a-half years, fertilisers and pesticides have been sprayed in the fields of about 150 farmers using drones.
Ashish Beniwal (24), an engineering graduate from Naiwala village in Hanumangarh district, obtained drone training and pilot licence from Gurugram in Haryana. "It has been a year and a half since I purchased a 10-litre capacity drone for Rs 9.50 lakh. I first used it on my paddy, cotton, guar [cluster bean] and sugarcane crops. There was a 40 to 50% reduction in use of fertilisers and pesticides. It saved a lot of water also," Ashish tells 101Reporters.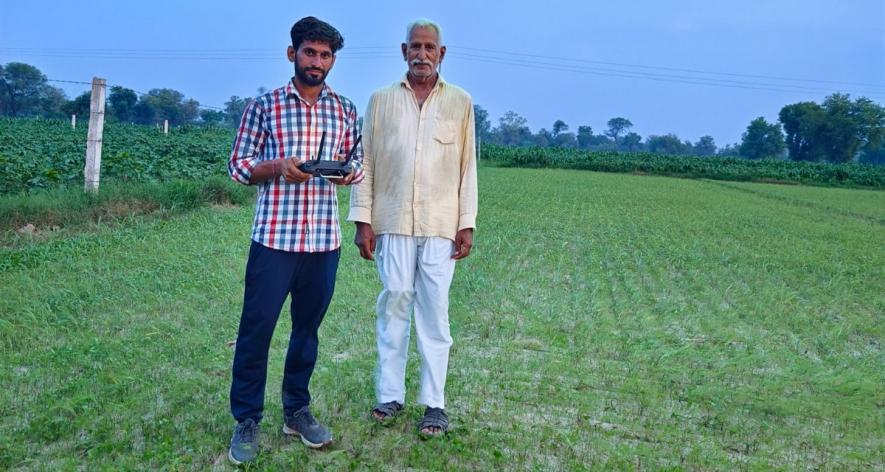 Ashish Beniwal spraying pesticides with a drone in a field in a village in Hanumangarh district (Photo sourced by Amarpal Singh Verma, 101Reporters).
He spent about Rs 2 lakh on pesticides and fertilisers for various crops on 30 bighas of land last year, whereas it came to only Rs 25,000 this year. At the same time, production was not affected in any way.
Ashish has been motivating other farmers to make use of his drone service. "I have sprayed pesticides and fertilisers on about 5,000 bighas in various parts of Hanumangarh and Sriganganagar districts and in the fields of 1,000 farmers in Sirsa and Adampur in neighbouring Haryana," he beams.
This way, Ashish earns Rs 200 to 250 per bigha. "I am going to get a licence for a medium-category drone soon," he adds.
Kuldeep Jalap (22) from Rawla in Sriganganagar district used drone service to spray pesticide on his cotton crop standing on 10 bighas this year. "Only half the amount of pesticide was needed compared to last year. The spraying was done very well. It was particularly effective on weeds in the moong [green gram] crop," Jalap says. He cultivates moong on 10 bighas.
Naiwala farmer Sarwan Ram Beniwal (60) is also happy with the drone service. Last year, as an experiment, he sprayed pesticide on paddy crops in four bighas. On finding it beneficial, he used the drone to spray pesticides twice on the paddy crop in his total 80 bighas this year.
"It took less time and less water. On foot, we could spray pesticides from drums on barely 10 bighas in a whole day, whereas the drone could do this work on 20 bighas in just a matter of hours. We will always use drones from now on," Sarwan tells 101Reporters.
An Upward Trend in Training
The state's first drone pilot training centre was established this June at Sri Karan Narendra Agricultural University, Jobner, Jaipur, in collaboration with Wissmo Agventure Private Limited, Gurugram. The training programme offered here is certified by the Directorate General of Civil Aviation.
Wissmo Agventure's director, Ved Pal Rose, tells 101Reporters that 20 youths have been trained since June in the first batch. The next batch of 20 is ready for training. "A large number of youth showed interest, but initially, due to the requirement of a passport, fewer applications were received. Now, the government has taken away that requirement. So, applications from more youth will come," he says.
Dhruvaraj Godara (50), a certified drone technology expert from Jet Aerospace Aviation Centre in Palakkad, Kerala, and a progressive farmer from Hanumangarh district is running a campaign to make farmers in the district aware of the drone technology.
"Drones will change the fate of farming in the coming days. So, there is a need to know about it today itself. Just as tractors arrived in the 1960s and then reached every home, drones are also going to spread rapidly. The best thing is that the government is promoting drones in farming," he says.  
According to Godara, 90 youth in the area talked to him and evinced interest in drone training. "There is a lot of enthusiasm among the youth of the district. I am also interested in enhancing my knowledge by training at various spots in the country. Drones will become a big medium of employment for the youth," he predicts.
Government Initiatives
The state government has been making efforts to improve agricultural activities by promoting the use of drones. Explaining these measures, BR Bakolia, Assistant Director, Agriculture Department, Hanumangarh, tells 101Reporters that nano urea was sprayed using drones in selected fields across the state in January.
"As per the Chief Minister's Budget announcement 2023-24, the agriculture department will spray nano urea through drones on wheat, barley, mustard and cumin crops this fiscal. For management purposes, 10,000 hectares of land will be divided into clusters of 10 hectares each. The objective is to introduce farmers to drone technology and to demonstrate the benefits and effects of nano urea on their fields," Bakolia details.
The target of spraying has been set at 591 hectares in the Hanumangarh district and 624 hectares in the Sriganganagar district. The first drone spraying of nano urea will be at 35 to 40 days of sowing, while the second spraying will be at 55 to 60 days of sowing. These sprayings will happen on the same crop in the selected cluster according to the crop cycle.
"Through traditional spraying, plants are able to absorb only 30% of urea. The rest 70% goes to waste, thus increasing environmental, groundwater and soil pollution, besides affecting human health. Plants absorb up to 80% of nano urea when sprayed by a drone. Nano urea is more effective and environment friendly than granular urea," Bakolia explains.
The state government has decided to provide drones on a subsidy under the Rajasthan Agricultural Technology Mission to farmers and agriculture graduates. Under the scheme, 1,000 drones will be made available to cooperative societies, custom hiring centres and farmer's producers' organisations at subsidised rates. Another 1,000 drones will be provided at subsidised rates to unemployed young agriculture graduates in the current fiscal.
According to Bakolia, 40% of the amount spent on drone purchases or a maximum of Rs 4 lakh (whichever is less) will be given as a subsidy. The agriculture department wants farmers to use drones because the spraying can be done in less time and with less amount of pesticides and fertilisers. Drones can survey crop damage caused by adverse weather as well.
Dr Anup Kumar, Senior Scientist, Krishi Vigyan Kendra, Sangaria, tells 101Reporters that drones can spray pesticides on up to 30 acres of land (48.39 bighas) in a day. "It requires less water and less pesticides. Time is also saved."
Multiple opportunities
During the floods in River Ghaggar in Hanumangarh district this July, drone cameras monitored the embankments of the river. In June last year, locusts devouring crops in the villages of Nokha in Bikaner and Nohar in Hanumangarh were eliminated only by spraying pesticides using drones.
Two years ago, the city council in Hanumangarh prepared a zonal plan for the city with drones. In Sriganganagar and Hanumangarh, police are using drones from time to time to monitor protests, demonstrations, festivals and public meetings.
On behalf of the All India Institute of Medical Sciences (AIIMS), Jodhpur, a successful experiment was conducted to send medicines by a drone to the patients in Arunava, 50 km from the Tribal Health and Research Centre at Taleti on Abu Road. While returning, the drone carried sputum samples of possible TB patients. AIIMS Jodhpur has plans to use drones for delivering medicines in tribal villages if needed in future.  
The increased use of drones in professional photography has provided employment to people in small towns and villages. Hundreds of people doing video and photo editing have purchased drones for their work and also to rent out to photographers for pre-wedding, weddings, birthday parties and religious functions.
Pointing to the demand, Pilibanga-based photographer Mela Rattan says nowadays, everyone demands photo and videography through drones. "We can get drones on rent for Rs 3,500 to 4,000 per day."  
Chahat Balana of Hanumangarh says he used to do video editing beforehand. "Three years ago, I started renting out drones. Now, I earn up to Rs 4,000 per day in a season." The wedding season in Rajasthan is generally from mid-January to April, May-June, and October-November.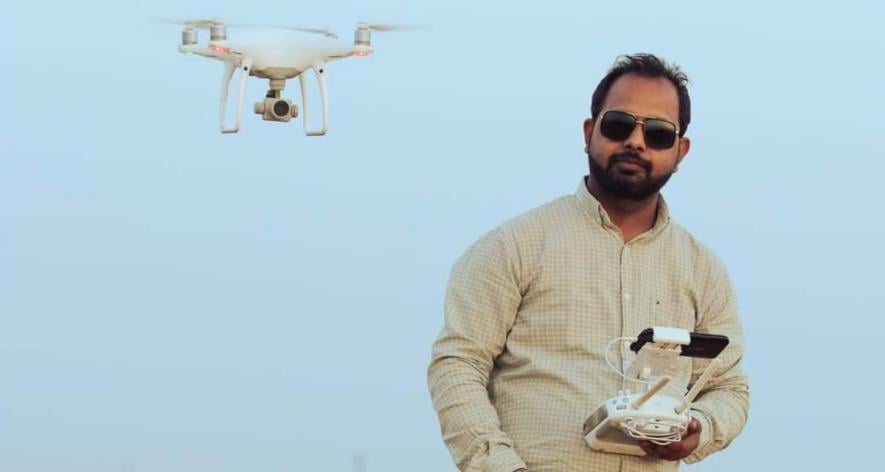 Chahat Balana doing drone photography in Hanumangarh (Photo sourced by Amarpal Singh Verma, 101Reporters).
Gurmel Singh of Hanumangarh has been renting out drones for the last three years, besides doing video editing. Sriganganagar-based photographer Sanjay Midha bought a drone six months ago. He uses it for his photography and also rents it out. "It can bring an additional income of Rs 3,000 to 4,000 daily," he says.
(Amarpal Singh Verma is a Rajasthan-based freelance journalist and a member of 101Reporters, a pan-India network of grassroots reporters.) 
Get the latest reports & analysis with people's perspective on Protests, movements & deep analytical videos, discussions of the current affairs in your Telegram app. Subscribe to NewsClick's Telegram channel & get Real-Time updates on stories, as they get published on our website.
Subscribe Newsclick On Telegram