Chenab Valley: 'A Volcano That Can Erupt Anytime'
Even as the curfew has been lifted, every Friday, locals observe civilian shutdown in Doda, Kishtwar and Baderwah.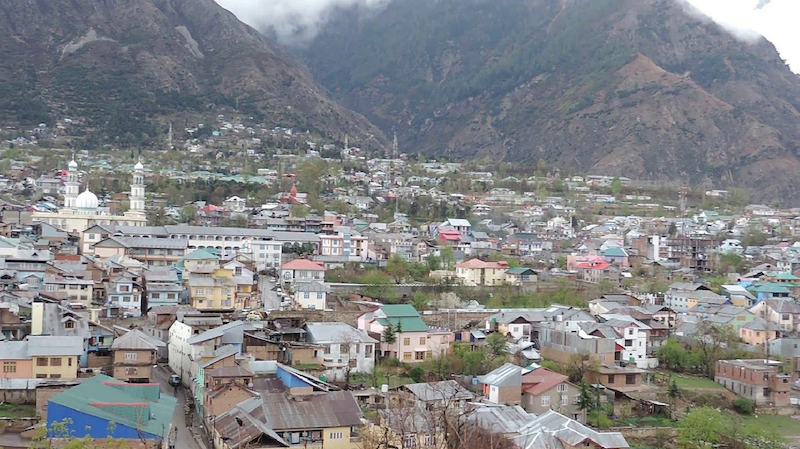 Image Used for Representational Purpose Only
Busy roads, people and kids going to offices and schools, no curfew, the normal hustle bustle of the daily lives along with the heavy deployment of the paramilitary forces is the picture one might witness as they enter the Chenab valley. But beneath this semblance of normalcy are disgruntled locals who are disappointed and angry. It has been 53 days since Article 370 was abrogated, stripping the erstwhile state of Jammu and Kashmir of its autonomy, and disintegrating the state into two Union Territories—Jammu & Kashmir and Ladakh. A day before the announcement, on August 4, heavy restrictions were imposed in the entire state including Chenab Valley.
The heavy restrictions and deployment of armed forces was followed by more than a month of complete communication blockade. While the entire focus of the media has been on Kashmir, the Chenab valley in Jammu suffered quietly with the communication blackout, heavy clampdown and hundreds of detentions, including of politicians from opposition parties, activists, and students.
Now, as the blockade has been lifted, people from the Chenab Valley are yet to come to terms with all that has transpired. There is a stillness in the air with locals being alert and communicating in hushed tones. 
"People are afraid to speak. They don't know what is in the store for them and the way media is reporting, their hatred for India is increasing. Will this solve the Kashmir issue? This will not. People should have been taken into confidence. This is another betrayal for them," said Mansoor Ahmed Bhat from Thatri, Doda. 
Surrounded by huge mountainous expanse dotted with dense forests between middle and outer Himalayan range in Jammu region of Jammu and Kashmir, Chenab valley is divided into three regions: Doda, Kishtwar,and Ramban. The valley shares its borders with the South Kashmir's Anantnag to the North and Chamba district of Himachal Pradesh to the South. 
NewsClick visited Chenab valley to take a stock of the ground situation. What we found was that the locals were not very willing to speak fearing repercussions in the form of detentions and PSA. 
Less than a month ago, Rehmatullah Bhat, a 22-year old student, was one of the locals arrested on the intervening night of August 4 and 5—before Government of India stripped the state of Jammu and Kashmir of its autonomy. According to Rehmatullah, he was not told why he was arrested. He was kept behind the bar for 17 days.
"At 2.30 pm in the night, police came along with the army and knocked on the door. They arrested me saying that they will not keep me in the preventive detention. The only question that I asked them was what my mistake is if there is curfew in the state. Am I responsible for that? They gave no answer and took me away with them."
Rehmatullah said, he was threatened with slapping of PSA. "I saw the PSA dossier, it was ready. I don't know what stopped them. The police kept me at the Doda police station from August 5 to 8, and then shifted me to the newly constructed Baderwah sub-jail on August 8 afternoon. I was released on August 22. I was treated as if I am a big criminal." 
Rehmatullah said he was warned before his release. "I was told ki bazzar mein kam chalna nahi toh fer se arrest kar denge [Don't wander the markets too much; otherwise, you will be arrested again]. I have not done anything to deserve jail."
Life has been difficult for Rehmatullah since his release. "Agar mein kahi bhi jaata hu tu police agency taang karne lag jaati hai. Kisi ke  ghar jaata hu, police unke ghar pahunchti hai and puchti hai ki mein ghar kyu aaya tha. Yeh zulm hai. [Police follow me everywhere. If I go to someone's home, they would ask the hosts what I am doing there. This is oppression]," he added. 
A senior leader of a prominent regional political party, who is under house arrest and didn't wish to named, said, "I have always supported India. I was the one who waved the Indian flag in the Chenab valley even when I was attacked several times for the same. But see today, I am under house arrest. This is not the India I fought for."
Hindu- Muslims Unite
Chenab Valley shares almost equal ratio of Hindu and Muslim population. After every kilometre, there is a temple followed by a Mosque with locals speaking different languages, but mainly Kashmiri. While Chenab valley has been in news for the communal strife, the brotherhood between the two communities has been least highlighted. In these times of crisis, the Hindus and Muslims of Chenab Valley have stood together. 
Prem Singh from Khelani division of Doda has allegedly been threatened by the BJP and RSS goons after the abrogation of Article 370. He sai that he doesn't open his shop much these days and tries to stay inside. "They are openly threatening Muslims. They are arresting and intimidating everyone who is speaking. The divide between Hindus and Muslims has increased after the abrogation. This is not democracy and let me tell you one thing. Sab Hindu khush nahi hai (Not all Hindus are happy)," said Singh. 
Many locals are concerned about employment, domicile and are unsure of what will happen in the future. Another local from Kishtwar, who didn't wish to be named, said, "I am a Hindu and I am concerned about my son's future. Abrogation of article 370 is going to affect the future of my son. When students from Delhi will apply for the same seat, there will be more competition. I don't want to comment on the politics of it, but it will affect the youth of Jammu and Kashmir."
A worker from Baderwah said, "I am poor. Will it change anything for me? It will not. Look, he is a Muslim waiter from Baramulla. He shall also remain poor and so will I, as a Hindu. What has changed for us? Nothing."
Locals protest
Even as the curfew has been lifted, every Friday, locals observe civilian shutdown in Doda, Kishtwar and Baderwah. "The police and the army force locals to open the shops even when they say they are going for prayers. They threaten to arrest them. We are not even allowed to pray. We can't speak. We can't move and they say everything is normal?" questioned Abdul Bhat, a retired headmaster from Kishtwar.
Locals said while they "fear speaking because of the atrocious nature of the Indian state, but there is a volcano that can erupt anytime soon". 
"There was nothing left in 370. It was just a symbolic representation of our autonomy. Revoking 370 is inciting hatred. People of J&K have been backstabbed. We are sure that people of Jammu will realise what has happened and they will be the first ones to revolt," said a local who is a senior doctor based out of the Chenab valley. 
"It was a Nikkah Naama between Kashmir and India that has ended. Now, we are currently under siege and India is an occupational force," said another local from Doda.
Get the latest reports & analysis with people's perspective on Protests, movements & deep analytical videos, discussions of the current affairs in your Telegram app. Subscribe to NewsClick's Telegram channel & get Real-Time updates on stories, as they get published on our website.
Subscribe Newsclick On Telegram