UP Civic Elections: How BJP Has Actually Lost The Battle
The ruling party has won just 18% of municipal council wards and 12% of municipal panchayat wards.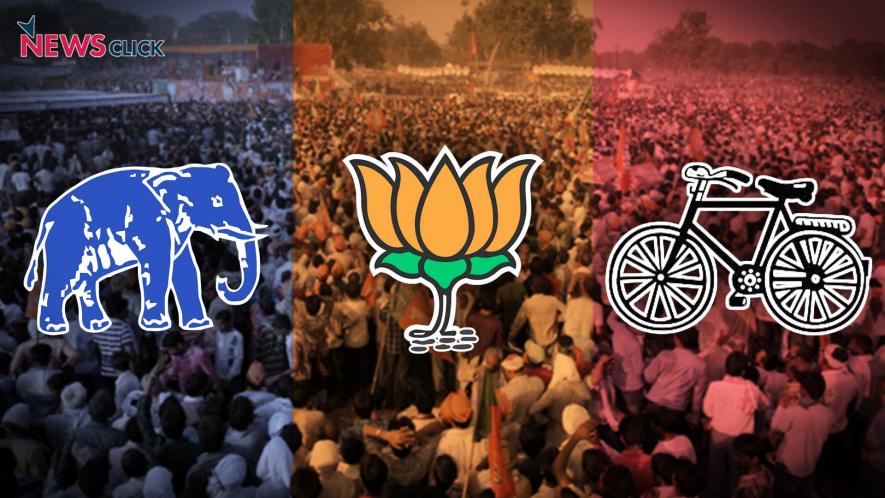 Newsclick Image by Nitesh Kumar
Contrary to the euphoria being exhibited by the mainstream media and BJP, results of the UP civic body elections are not a one sided victory of the ruling BJP. If anything, these results coming so close to the state Assembly elections held earlier this year, show the rapid disenchantment taking place with the BJP at the ground level, especially in peri-urban and semi-rural areas.
BJP carried out a high voltage campaign with CM Yogi himself addressing dozens of meetings across the state. Yet voter turnout was lukewarm at just about 53% reflecting increasing apathy towards this. Overall vote shares are yet to be officially released.
Three levels of urban civic bodies went for polls. These were 16 municipal corporations with 1.53 crore voters, 198 municipal councils with 1.2 crore voters and 439 municipal panchayats with 57.3 lakh voters.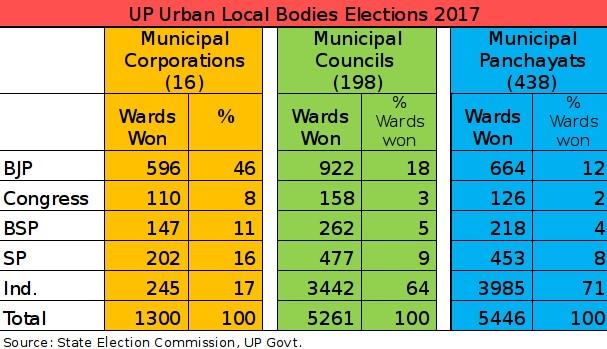 In municipal corporations (big cities like Lucknow, Kanpur, Ghaziabad etc.), BJP has scored a decisive victory, winning 46% of the total 1300 wards. This represents two, partly overlapping bases: the traditional RSS base which was largely confined to cities and the media-bewitched middle class influenced by PM Modi's rhetoric and not yet facing the economic hardship his govt.'s policies are causing to poorer sections of society.
The picture begins to change if you move to the next rung of 198 municipal councils for smaller urban areas which encompassed a total of 5261 wards. BJP could win only 18% of wards while independents cornered 3442 wards that is 64% of all wards. As is the tradition, some of these independent winners would actually have sympathies with one of the political parties or could align with the ruling party for opportunistic reasons. But the important thing to note is this: they contested as independents against BJP candidates (in most places) and people handed them a victory. So, the people chose these independents, rejecting BJP, and of course other contenders. There is only one way to interpret this: the BJP lost.
Coming to the third rung, the municipal panchayats, which are defined as areas transitioning from rural the rejection of BJP is even more dramatic. The ruling party could win only 12% of the 5446 wards with nearly three quarters (71% to be precise) going to independents. Again, these independents future political behavior is not the point – their election in opposition to BJP candidates is what shows the disaffection with BJP.
What these results indicate is that as you move closer to rural areas – in terms of distance, but more so in terms of proximity and intertwining with the rural or agricultural economy – the more people are discontented with the BJP.
This is not really surprising because the past three and a half years of BJP rule at the center have seen a sharp increase in farmers' distress and resulting anger at the governments. There have been farmers' protests across the country at low prices for their produce and also at mounting debt. MP, Rajasthan, Maharashtra, Karnataka and other states saw farmers on the roads for weeks. Suicides have increased. Loan waivers announced by govts. have turned out to be damp squibs, yielding only cosmetic benefits. This is a pan-Indian, systemic crisis of agriculture and its waves are lapping at smaller urban centers also.
The BJP should not be surprised at this. In Gujarat, where they have ruled for 19 years continuously, and claim that it is a model of development, the last round of local bodies elections in 2015 saw a deep urban-rural divide with the BJP losing to Congress in district and taluka panchayats even though it managed to retain the municipalities and municipal corporations with reduced margins.
UP's urban local body elections are a warning bell not just for the saffron chief minister Yogi Adityanath but also for Prime Minister Modi himself. The so called fortress of support he has built is crumbling rapidly, mainly because of his continued neglect of common people's problems, his inclination to side with the rich and powerful and also, reliance on hype to sustain himself.
Get the latest reports & analysis with people's perspective on Protests, movements & deep analytical videos, discussions of the current affairs in your Telegram app. Subscribe to NewsClick's Telegram channel & get Real-Time updates on stories, as they get published on our website.
Subscribe Newsclick On Telegram