CJI Gogoi's Treatment of Harsh Mander Reeks of Imperiousness
This, coupled with the admonition of the Chief Secretary of Assam, is quite disturbing.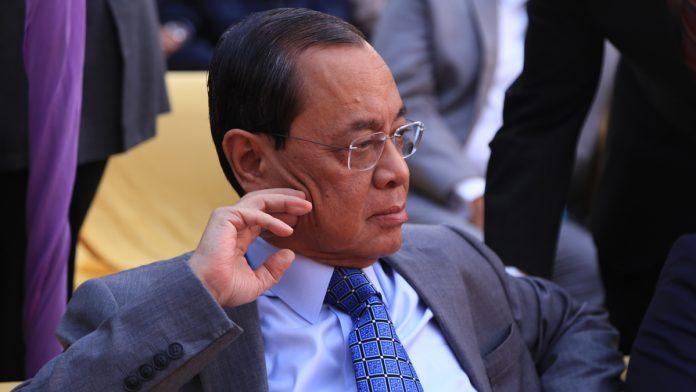 Image Courtesy: Indian Cultural Forum
From the very day that he assumed office as Chief Justice of India (CJI), Ranjan Gogoi has maintained the demeanour and countenance of one who is very strict, brooks no nonsense, and does not suffer fools gladly. Legal correspondents who cover the Supreme Court, and even lawyers, speak with trepidation and in hushed tones about what they term as Gogoi's 'high-handed' behaviour.
Well, these could be perceptions (since nobody is willing to stick his/her neck out and come up with proof), but when the Chief Justice's conduct prima facie suggests imperiousness and bias, it becomes incumbent upon a conscientious person to be vocal.
On May 2, 2019, when social activist Harsh Mander was arguing his petition praying for the recusal of CJI Gogoi from the cases involving the National Register of Citizens (NRC) and detention of thousands of people for years in Assam's detention centres, Justice Gogoi struck off Mander's name as amicus curiae  (friend of the court) from the matter. Gogoi's chief grouse was that Mander was relying upon media reports of the court proceedings  of March 13 and April  25, to doubt the impartiality of the CJI and the institution of the Supreme Court.
Read Also: Supreme Court Seeks Information on Assam Detention Centres
From what one can discern from the report on court proceedings as published by LiveLaw, CJI Gogoi took umbrage at the fact that Mander had relied on media reports.  But what recourse does one have when the court does not publish transcripts of arguments, and is yet to get the process started for live broadcast of proceedings in important matters?
Particularly significant is the fact that CJI Gogoi told Mander that since he was not a person well-versed in the law, he should no longer be allowed to continue as amicus curiae in the matter of prolonged incarceration of thousands of people who have been declared as foreigners by the Foreigners Tribunals in Assam which have gained considerable notoriety by now.
Read Also: Assam: Indefinite Detention for Those Without Documents
To be sure, there are no codified rules for the appointment of amicus curiae, or how they are to be removed. If one looks at legal history, especially that of the development and growth of public interest litigations (PIL) in India, one would see that not only lawyers, but professional experts, technocrats, and even academics have been appointed.  Therefore, it is entirely the discretion of the court, and in the absence of any codified rules to guide this discussion, it would be speculative to criticise CJI Gogoi's actions.
However, that is not where the matter should be laid to rest, because one has to see what exactly were the arguments Mander made that riled the CJI. At the outset, it must be mentioned that Mander had drafted the petition on his own, because no lawyer, even some of those who are otherwise very active in matters of human rights, declined to represent him in this case.
Arguments for a Humane View
On April 23, the Chief Secretary of Assam appeared before the Supreme Court and recommended the release of those who have spent five years or more in detention, subject to a set of stringent conditions. Mander contended that these conditions were so onerous as to be unconstitutional. Despite this, the CJI was in no mood to listen and even threatened departmental proceedings against the Chief Secretary--something all media houses reported in detail.
Referring to that incident, Mander contented that the CJI's comments would have a ripple effect not only on the judiciary but also on politicians and the public at large. He drew particular attention to Prime Minister Narendra Modi and Bharatiya Janata Party president Amit Shah talking about NRC and the Citizenship Bill in their election rallies.
All he was insisting on was the humane treatment of people declared foreigners, Mander said. All he wanted was the petition on detention and inhumane treatment of thousands be heard on merit, rather than being used as a tool to seek the mass deportation of people, he continued.
But, with all due respect to the CJI, he did not budge an inch from his imperious stance.
When NewsClick spoke to Mander, he said he was "wounded but undeterred", and was exploring all options of appealing against the order. He is still wondering which lawyer of standing will agree to represent him.
Some senior advocates whom NewsClick contacted declined to comment, Senior advocate Sanjay Hegde, who hardly minces his words, said that "This is the second instance in recent months where the tenor of the court has decided that it would not hear the petitioner, but yet engage with the issue. It did the same with the review petition filed by Sanjay Singh in the Rafale case. This is new jurisprudence where you dismiss the petitioner but continue with the petition. Adjudication of a petitioner's cause should not be contingent upon his respectful obedience."
On May 10, it was reported in the media that in the last fortnight, 110 persons were declared as foreigners, picked up and jailed in the detention centres. This is only the tip of the iceberg, believe those who have been closely following the issue. In such circumstances, did CJI Gogoi do justice by lambasting the Assam Chief Secretary and removal of Harsh Mander in the case?
The writer is an independent journalist based out of Delhi, and specialises in reporting on legal, human rights and gender issues. The views are personal.
Get the latest reports & analysis with people's perspective on Protests, movements & deep analytical videos, discussions of the current affairs in your Telegram app. Subscribe to NewsClick's Telegram channel & get Real-Time updates on stories, as they get published on our website.
Subscribe Newsclick On Telegram