Climate Change: Bhopal Loses 5 Lakh Trees in the Last Decade, Forest Cover Down by 26%, Reveals Report
G.SEED report states deforestation in the name of development behind declining forest cover.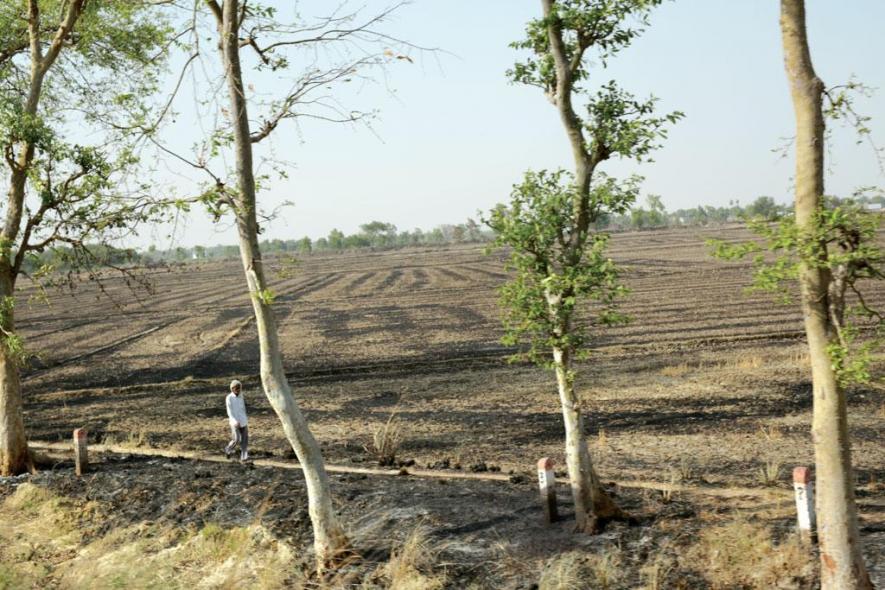 Representational Image. Image Coutesy: Down to Earth
Bhopal: The temperature of Madhya Pradesh state capital- Bhopal- has risen by 5 to 7 degree celsius in last one decade owing to the reducing forest cover in the city, reveals Global Earth Society for Environment Energy and Development's (G.SEED) report.
According to the report, more than 5 lakh trees have been uprooted in last one decade in the city and it has lost around 26% of it's forest cover because of deforestation in and around Bhopal in the name of different development projects launched in Bhopal.
On June 9, 2019, the city was boiling at 46 % celsius, highest in the last two decades. The same temperature was recorded in June 10, 1979 and June 5, 1995, before this, as per the state Meteorological Department (MET).     
G.SEED- led by well-known environmentalist Dr. Subhash C Pandey, is the only body registered with the government of Madhya Pradesh which is practically involved in the protection and conservation of the environment.
Taking a lead from a research paper by TV Ramchandra- professor at Indian Institute of Science, Bangalore, on 'The decadal deforestation or tree cover fall of Bhopal city', the organization has conducted a study on Forest Cover of last decade (2009 to 2019) of Bhopal and prepared a report based on it's findings. Professor Ramchandra and his team of researchers had also released a report on a study conducted on the forestry of Kolkata, Ahmedabad, Hyderabad and Bhopal in 2016.
According to the report released on June 14 by G.SEED, "Bhopal has been heading towards a city-without- trees, due to the massive decline in the forest area of Bhopal from 35 % to 9 % from 2009 to 2019." If the trend continues, the city will be left with only 3 % forest cover by 2025 and the natural forest will be replaced by a concrete jungle, the report revealed.
"Besides increase in air pollution and the pollution pressure in the capital, with cutting of over 5 lakh trees, many of them were as old as 50 years, in and around Bhopal in the last one decade have lead to a rise in average temperature between 5 degrees Celsius to 7 degrees Celsius."  said Subhash C Pandey , an environmentalist and a researcher.
Major points of the findings conducted on Bhopal (2009 to 2019)
Forest Cover reduced by 26 %

Population of the city has raised by 5 lakh

No. of trees cut in and around Bhopal are 5 lakh

Vehicular pollution arise by 45 %
" Making his report the basis of our study, we added some more parameters like BRTS corridor in Bhopal and Smart City project etc. and the cutting of trees linked with them, and when we analysed it, the results were startling," said Pandey.
Research officer Abhay Sharma of G. SEED said, "the study was spread over 13 sample points in Bhopal including the BRTS Hoshangabad road- the road leading to Kaliyasot Dam, the Smart City area of North Bhopal, the road patches on both sides of platform number 1 of Habibganj railway station, the area involved in Gammon India project opposite Tin shed, area near two Link roads at Van Bhawan and the region near Jagran LakeCity University among others."
"The study of these sample points was compared with the Google imagery of the past one decade and we found that on nine points, 225 acres of forest area or trees were removed completely," he said. He added that at these places about 1 lakh trees were as old as 50 years, which were cut down.
However, there are also some redeeming spots found in the report.
The report showed the number of the trees at Ekant Park had been the same while those at Barkatullah University campus and Swarn Jayanti Park, went up during the study's period. Pandey added, "when global warming is showing its impact, a 26 % decline in tree cover of the city is alarming".
While demanding a stop on unplanned urbanisation, he said, "the various government green watch dogs and development agencies are responsible for the degrading environment of the city." Discussing about the solution, Pandey said, "afforestation is the only answer to the present situation of the city."
What do the residents and students have to say?
Commenting on the rising temperature of the city, a resident of Bhopal New Market, Amrish Dubey, who runs a shop said, "the environment of the city has drastically changed in the last five years. Earlier, the maximum temperature recorded was nearly 40 or 41 degree celsius in June, but now the mercury has touched 46 degree and chances of heavy rain is bleak, this is alarming."
Another resident of Koh-e-Fiza, Sameer Khan said, "I was abroad for study for the last three years. When I returned to Bhopal this summer, I notice unbearable heat and heat waves blowing, even at night. Earlier, there was only one AC in my house, now, there are three."
A student, which came to Bhopal four years ago to pursue engineering from Patna, Vikash Singh said, "I spent the first two years of summer without any Cooler or AC, but, now, only an AC can save us from this heat."
Get the latest reports & analysis with people's perspective on Protests, movements & deep analytical videos, discussions of the current affairs in your Telegram app. Subscribe to NewsClick's Telegram channel & get Real-Time updates on stories, as they get published on our website.
Subscribe Newsclick On Telegram