Climate Change Leading to Erratic Agriculture in India
Around 50% of India's crop cultivation area is rainfed, making it particularly vulnerable to climate impacts. Agriculture depends on reliable, consistent, timely rainfall during the monsoon season, and any variability can have severe consequences.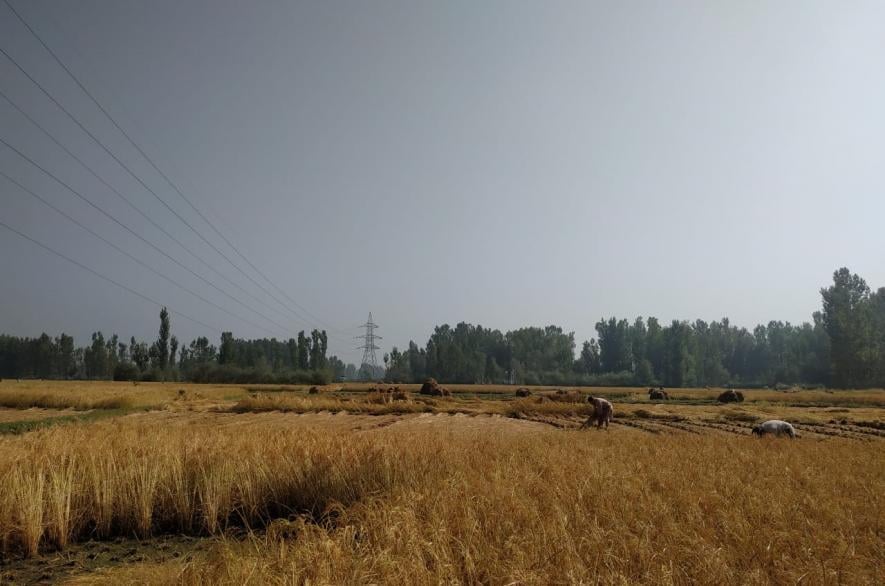 Kolkata: The summer monsoon season is the main agricultural season in India, with much of the central and western regions receiving more than 90% of annual rainfall during this period, and the southern and northwestern regions receiving 50- 75%. 
Around 50% of India's crop cultivation area is rainfed, making it particularly vulnerable to climate impacts. Agriculture depends on reliable, consistent, timely rainfall during the monsoon season, and any variability can have severe consequences. 
The Indian summer monsoon typically lasts from June to September. Overall, monthly totals average 200-300 mm over the country, "with the largest values observed during the heart of the monsoon season in July and August."
India is the "world's largest producer of milk, pulses, ginger, okra, banana, mango and papaya and the second-largest producer of onion, rice, wheat, sugarcane, peanuts and cotton. Rice occupies the biggest share of India's cereals export, accounting for 80% (in monetary terms) during 2022- 2023." 
Rice-wheat systems - "in which rice is primarily grown during the monsoon (Kharif) season, and wheat is grown during the winter (Rabi) season - dominate in India, with wheat and rice making up around 85% of total annual grain production." 
During the Kharif season, rice makes up three-quarters of the grain supply for domestic consumption. However, compared to other Kharif grains such as pearl millet, sorghum and maize, which make up around 8%, 2.5% and 15% of the grain supply during this season, rice is substantially more sensitive to fluctuations in monsoon rainfall. It is suggested that India's growing reliance on rice has increased its vulnerability to climate change-induced food insecurity. Diversifying kharif crops may help mitigate against this. 
Heat stress greatly limits crop yield and growth by causing leaf, seed and plant death and interfering with reproduction and growth cycles. For example, a sudden increase in temperature in India in 2010 during a critical growth phase in wheat reduced yields by up to 20% in some districts. 
Even a single heatwave during a critical growth phase has been shown to negatively impact wheat, maise and soybean yields. Extreme heat in June this year is believed to have interfered with the development of tomatoes, causing significant yield losses. Heat stress has significant health risks, particularly for farmers who work outdoors with little protection from the elements. 
A total of 153 billion hours of work were lost worldwide in 2017 due to heat exposure, 80% of which were lost in the agricultural sector - about 70% of India's rural population relies on agriculture for their livelihoods. 
From 1957 to 2000, hot days were associated with increased death in rural India, particularly in the growing season, with knock-on effects of reduced productivity and wages. 
A study attributed 59,000 suicides in India over the last three decades to crop-damaging warmer temperatures during the growing season. As per estimates, the 2022 heatwave led to at least 90 deaths in India and Pakistan. The vulnerability of people to heat is highly dependent on the level of humidity. When it is hot and humid, our bodies are less effective at cooling us down, which can be deadly. 
Humid heat is measured using the wet-bulb temperature, which can be considered the temperature measured by a thermometer covered by a wet towel: it will always be lower than the actual temperature until the air is completely saturated with moisture. It is believed that the wet-bulb temperature limit for humans - above which the body cannot regulate temperature, and there is a risk of death - is 35 degrees Celsius, which would be reached at a temperature of 39 degrees Celsius and a humidity of 75%, or 45 degrees Celsius and 50% humidity. But even lower wet-bulb temperatures can be deadly, particularly for the elderly, unwell, those exposed to the outdoors or those engaged in physical exertion: a heatwave in India in 2015 with a wet-bulb temperature of 30 degrees Celsius killed around 2,500 people.
Climate change is expected to increase the risk of deadly heatwaves in South Asia. Under a 'business-as-usual' climate scenario, the agricultural regions of the Ganges and Indus River Basin are projected to exceed the critical wet-bulb temperature limit. Crops are also sensitive to humidity: high humidity and an elevated minimum temperature are thought to have reduced wheat yields in 2012- 2013 in the Indo-Gangetic Plains. Humid conditions also exacerbate fungal plant disease outbreaks, and climate change is expected to increase the risk of outbreaks.
Food inflation in India fell to 9.94% in August 2023 from 11.51% in July, the highest since January 2020. The "cost of vegetables (26.14% vs. 37.3%), cereals (11.85% vs. 13%), pulses (13.04% vs. 13.3%) and milk (7.73% vs. 8.3%) increased at a slower pace while prices rose faster for spices (23.19% vs 21.6%)." 
Monsoons have been "below normal due to El Nino, impacting agricultural production and prompting a spike in food prices, especially vegetables. The government then subsidised vegetable prices and banned exports of some cereals, including sugar and rice." 
Get the latest reports & analysis with people's perspective on Protests, movements & deep analytical videos, discussions of the current affairs in your Telegram app. Subscribe to NewsClick's Telegram channel & get Real-Time updates on stories, as they get published on our website.
Subscribe Newsclick On Telegram