Climate Change Makes Asia's April Heat Wave 30 Times More Likely
India and Bangladesh will have similar heatwaves every one to two years if the global average temperature rises to 2°C, World Weather Attribution study shows.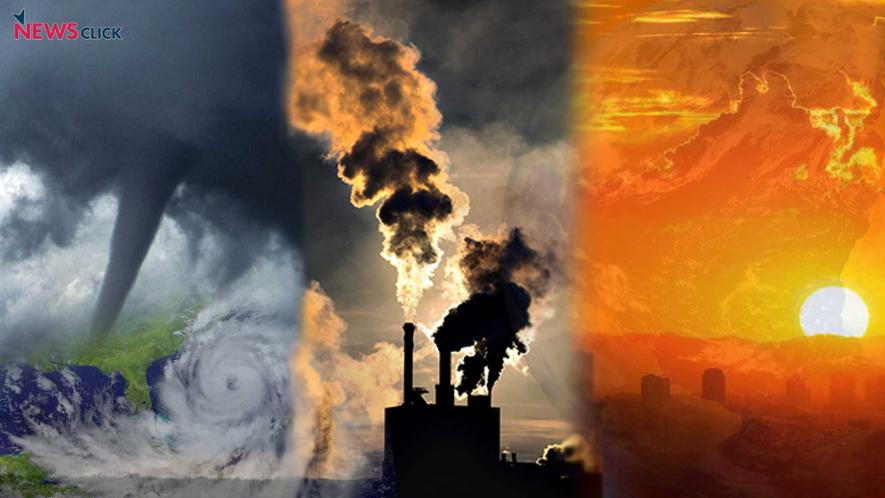 Kolkata: Climate change caused by humans made April's record-breaking humid heatwave in India, Bangladesh, Laos and Thailand, at least, 30 times more likely.
According to a study by an international team of leading climate scientists as part of the World Weather Attribution group, the high vulnerability in the region, one of the world's heatwave hotspots, amplified the impact.
The study, conducted by 22 researchers from universities and meteorological agencies in India, Thailand, Australia, Denmark, France, Germany, Kenya, the Netherlands, the UK, and the United States, assessed to what extent human-induced climate change altered the likelihood and intensity of the extreme heat in these four countries.
For example, several northern and eastern cities in India recorded maximum temperatures above 44°C on April 18, Dhaka observed the highest maximum temperature recorded in decades of 40.6°C on April 15, Thailand recorded its highest-ever temperature of 45.4°C on April 15 and Lao's Sainyabuli province reported 42.9°C on April 19.
"The main reason is the greenhouse effect. The Paris Agreement seeks to limit the temperature increase to 1.5°C above pre-industrial levels by decreasing carbon emissions. 
Sector-wise adaptation strategies include sectors most affected by heatwaves like health and agriculture," Sanjib Bandyopadhyay, deputy director general of IMD, West Bengal, told Newsclick.
"We had predicted that the maximum temperature in April or May would be above normal or heatwave frequency will increase in the state."
According to leading meteorologist and Shanti Swarup Bhatnagar Prize-winning scientist professor Gufran Ullah Beig, "Heatwaves have increased significantly compared to the last century with many Indian cities recording temperatures of 45°C. That is taking a toll on human life, and many call it 'Death by degrees'. Greenhouse gases are the main cause."
Beig added it is happening at a "much faster level in this part of the world. This is worrying as extreme events like excessive heat, cold and rain occur. We need to work much faster than the rest of the world if we want to control the emission of greenhouse gases".
India recorded the hottest April in 2022 and the hottest March this year. The cumulative number of heatwave-related deaths in India has been more than 24,000 since 1992. Moreover, the heatwave in the Indian subcontinent critically impacted the environment and health and caused extended power cuts and an increase in air pollution and melting of glaciers
The impact of heatwaves on public health and the economy is incredibly high. Long-term projections indicate that heatwaves could cross the survivability limit for a healthy human resting in the shade by 2050. Moreover, they will impact labour productivity, economic growth and quality of life of around 310–480 million people. Estimates show a 15% decrease in outdoor working capacity—for example, construction workers in high temperatures) due to extreme heat by 2050.
From January to October 2022, India recorded 242 of 273 days of extreme weather events, including co-occurrence of extreme heatwaves and cold waves in the north and western parts, drought in central India, high flooding in coastal plains and landslides in the Northeast. By 2100, India will concurrently have more frequent precipitation and consequent floods, cyclonic storms, warming, heatwaves and sea-level rise.
To comprehensively understand India's climate vulnerability, a cumulative representative index must account for the co-occurrence and collision of climate events. India assesses its climate vulnerability through a national Climate Vulnerability Index designed by the department of science and technology and based on the Intergovernmental Panel on Climate Change (IPCC)'s SREX framework.
Furthermore, a Lancet report projected heatwaves will intensify from these 2050 baseline estimates, affecting around 600 million Indians by 2100. The increased heat is expected to cost India 2.8% and 8.7% of its GDP by 2050 and 2100, respectively.
A recent report by the World Meteorological Organisation showed the connection between lethal heatwaves and Sustainable Development Goals (SDGs), implying that global mean surface temperature rise will affect all the 17 SDGs and increase in the next five years.
Across the world, climate change has made heatwaves more common, longer and hotter. To quantify the effect of climate change on the Asian heatwave, scientists analysed weather data and computer model simulations to compare the climate as it is today after about 1.2°C of global warming since the late 1800s with the climate of the past.
The analysis looked at the average maximum temperature and maximum heat index for four consecutive days in April across two regions, one covering south and east India and Bangladesh, and a second including Thailand and Laos. The heat index is a measure that combines temperature and humidity and reflects more accurately the impacts of heatwaves on the human body.
In both regions, the researchers found that climate change made the humid heatwave, at least, 30 times more likely with temperatures, at least, 2°C hotter than they would have been without climate change.
Until overall greenhouse gas emissions are halted, global temperatures will continue to increase and events like this will become more frequent and severe, the study concluded.
In Bangladesh and India, events like the recent humid heatwave used to occur less than once a century on average. They can now be expected around once in five years, and if temperature rise reaches 2°C—as will happen within around 30 years if emissions are not cut rapidly—events like this will occur, on average, at least, once every two years.
In Laos and Thailand, the scientists found that the recent humid heatwave would have been nearly impossible without the influence of climate change, and it is still a very unusual event that can only be expected around once in 200 years even with the result of human-caused climate change. But if the temperature rise reaches 2°C, it will become much more common and occur about once in 20 years. 
While high temperatures are common in south and southeast Asia, early heatwaves such as this one are particularly damaging. People who are most exposed to the sun and vulnerable population are routinely the worst impacted. The current patchwork of heatwave solutions must be improved to account for inequalities and existing vulnerabilities, the scientists said, adding that heat action plans should be inclusive and comprehensive and ensure access to basic services, such as water, electricity and healthcare. 
Chandra Sekhar Bahinipati, from the Indian Institute of Technology Tirupati, India, who was part of the study, said: "Although we have recognised heatwaves as one of the deadliest disasters, particularly in countries like India, Bangladesh and Thailand, there is a lack of knowledge with respect to who is vulnerable, loss and damage estimation, household coping mechanisms, and the most effective heat action plans." 
He added that economic and non-economic loss and damage indicators are not documented except for human casualties. "This creates a dearth in assessing the extent of risk, who is vulnerable and also operationalising any adaptation planning."
Friederike Otto, a senior lecturer in climate science at the Grantham Institute for Climate Change and the Environment, said: "We see again and again that climate change dramatically increases the frequency and intensity of heatwaves. Still, heat action plans are only being introduced very slowly across the globe. They need to be an absolute priority adaptation action everywhere, particularly in places where high humidity enhances the impacts of heatwaves." 
Emmanuel Raju, director of Copenhagen Centre for Disaster Research, University of Copenhagen, said: "This is another disaster that highlights the need to reduce vulnerability and think deeper about the limits to adaptation."
As often happens, marginalised people are the worst affected. "Many of them are still recovering from the pandemic and past heatwaves and cyclones, which leaves them trapped in a vicious cycle. Implementing mitigation and adaptation strategies is fundamental to avoid visible and invisible loss and damage."
Get the latest reports & analysis with people's perspective on Protests, movements & deep analytical videos, discussions of the current affairs in your Telegram app. Subscribe to NewsClick's Telegram channel & get Real-Time updates on stories, as they get published on our website.
Subscribe Newsclick On Telegram