Communal Strife Now a Regular Occurrence on West Bengal's Calendar
Prior to the TMC winning the Assembly elections in 2011 and dislodging the 34-year Left Front regime, West Bengal had little tradition of Ram Navami processions, save for a few peaceful ones organised by local religious leaders.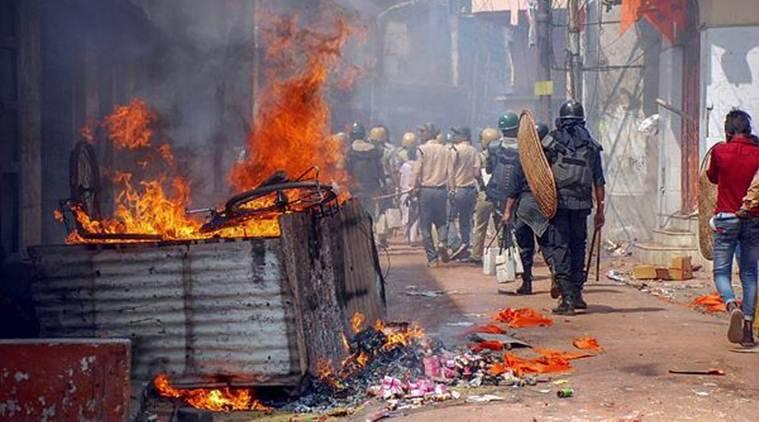 Image for representational purpose. Credit: The Indian Express
Kolkata: Until 2011, communal strife was arguably a rare occurrence in the state of West Bengal. In fact, the state was, according to some, regarded as a "bastion of harmony"; many victims of the 2002 Gujarat riots had expressed their desire to settle there. The Left Front Government, led by Jyoti Basu in the 1990s, had a zero-tolerance policy towards riots and took a firm stance against any attempts to incite communal violence. Many believe that the police and other law enforcement dealt decisively with any instances of rioting in the state.
However, the change of government in the state seems to have brought about significant changes in governance style. There were gaps in governance that were "exploited" by political leaders and communal organisations. Experts believe that the ruling TMC government adopted a policy of soft communalism, which allowed such organisations to proliferate across the state. The RSS, for example, was able to establish schools that purported to impart education but it has been accused of establishing "training grounds for religious extremists".
In 2013 alone, according to police sources, there were 59 incidents of communal violence in West Bengal. The infamous Dhulagarh riots occurred in 2016, followed by riots in Basirhat and Baduria of North 24 Parganas district. Similar incidents took place in Nadia (2015), Malda (2016), Hazinagar (2016), Dhulagarh (2016), and Baduria (2017), leading West Bengal to be recognised as one of the leading states for communal violence. Interestingly, during the last panchayat elections in the state, the Basirhat riots took place, leading to the polarisation of votes between the BJP and the TMC.
According to Biswanath Goswami, an RTI activist and social researcher, who recently submitted documentary evidence, the Howrah City Police alone registered 59 cases of rioting in just 18 months (36 in 2021, 23 in 2022). He further alleges that the recent Howrah riots were "deliberately orchestrated", and were not a failure of intelligence.
CPI(M) State Secretary MD Salim has accused Chief Minister Mamata Banerjee of orchestrating the riots, claiming that the whole incident was a ploy to divert attention from the corruption and scams plaguing TMC's governance, at a time when people are taking to the streets in protest. He alleges that this is a calculated attempt to bolster the TMC-BJP binary in the state, as the BJP has failed to make an impact in past elections. Salim also questioned why the police remained inactive during the riots, while during peaceful mass movements, police forces are deployed to disperse the protesters using teargas shells and lathicharge.
It is interesting to note that while Ram Navami rallies with weapons are permitted by the Mamata Banerjee-led administration in West Bengal, peace rallies following communal violence are often disallowed by the police citing Section 144 or claiming that such rallies may disrupt communal harmony in the area. This has led to accusations of bias and favouritism towards certain groups.
It is worth noting that last year, during Ram Navami celebrations, the Kazipara area of Shibpur in Howrah witnessed clashes. This year, despite the previous incident, the police reportedly failed to maintain adequate surveillance and vigilance in the area, allowing for the outbreak of violence when the Ram Navami procession unexpectedly diverted into the PM Bustee area. Allegedly, VHP activists created chaos by burning parked cars and motorcycles, resulting in several shops being engulfed in flames.
Prior to the TMC winning the Assembly elections in 2011 and dislodging the 34-year Left Front regime, West Bengal had little tradition of Ram Navami processions, save for a few peaceful ones organised by local religious leaders. However, in recent years, most of the Ram Navami processions have been reportedly sponsored by BJP and TMC politicians, including MLAs, MPs, corporators, and panchayat members. The VHP, an organisation linked to several communal riots in the state, has taken a leading role in organising these processions and is often supported by TMC leaders, both openly and covertly, according to political analysts.
 The Vishwa Hindu Parishad and Bajrang Dal were believed to be non-existent in West Bengal before 2011, but under the TMC rule, they have gained strength – similar to their supposed role in North Indian states. During the Basirhat riots, it was observed that the RSS may have played a role and the Poudrya Kshatriya sub-caste, which owed allegiance to the Hindu Sanhati Manch, a peripheral outfit of the Sangh Parivar, allegedly led the attacks on minority communities during the riots.
Get the latest reports & analysis with people's perspective on Protests, movements & deep analytical videos, discussions of the current affairs in your Telegram app. Subscribe to NewsClick's Telegram channel & get Real-Time updates on stories, as they get published on our website.
Subscribe Newsclick On Telegram