Communal Violence: Police Raid on Muslims' Houses in 2 Separate Incidents in Gujarat
One incident took place in Anand district where a mob allegedly gheraoed and vandalised Muslim homes, and the police arrested many Muslims later.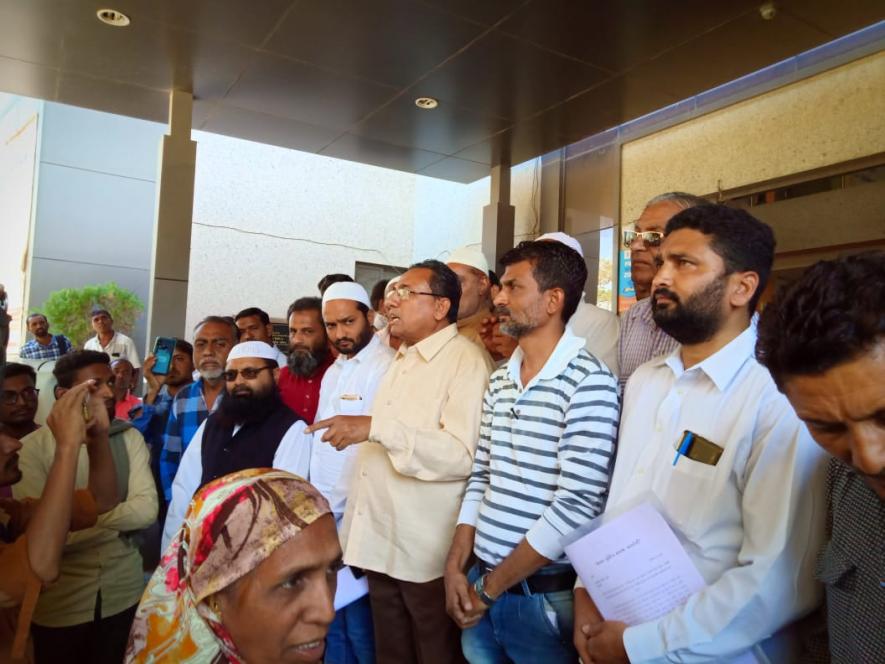 Villagers of Semeradi, Amreli with activists after a representation before Collector
Khambat, a communally sensitive coastal town in Anand district was gripped in tension on February 24, at around 3 pm when a group of men gheraoed homes of Muslims in Akbarpura area, pelted stones, and burnt the homes down.
"Akbarpura area is a slum area flanked by bus station on one side and railway tracks on another with only one outlet. The residents of the slums are all daily wage earners who come from Machimar or Kharwa community, belonging to both [Hindu and Muslim] the religions. We don't know why a group of about 50 men gheraoed the area, and started pelting stones, and set about eight houses ablaze," a local eyewitness told Newsclick.
"Akbarpura is a communally sensitive area, and such clashes have happened in 2012, 2015 and 2016. Two days before the incident, people from the two communities clashed in Teen Darwaza area of Khambat over a social media post on Pulwama attack," the eyewitness added.
A Muslim youth was reportedly hit with a bullet, and is undergoing treatment in Civil Hospital, Ahmedabad.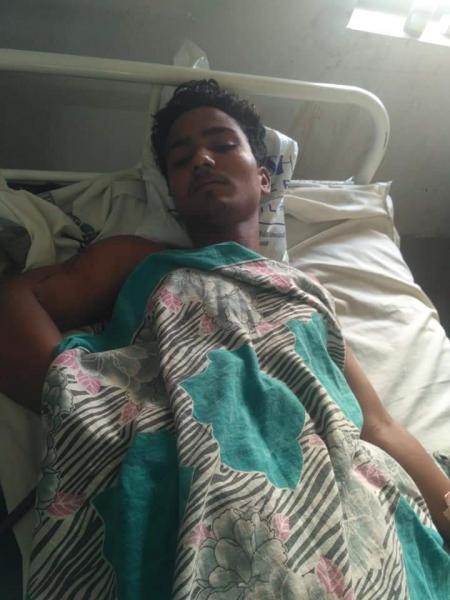 Abdul Hafiz, suffered a bullet injury during the communal violence in Anand in hospital in Ahmedabad 
"Abdul Hafiz, who is not a resident of the area and was visiting his sister, got caught amid the stone pelting. He was running for shelter when a bullet hit him," added another local.
Noticeably, an FIR has been registered naming 52 people out of which, 35 names are of Muslims.
"A total of 52 persons have been identified in the FIR, and 800 to 900 people have been booked. Of the 52 identified, 27 have been arrested, while the rest are absconding. Combing operations are underway, and more arrests will be done soon," said Govind Patil, the investigator officer in the case.
The accused have been booked under different sections of India Penal Code including 148 (rioting), 186 (obstructing a public servant in discharge of functions), 307 (attempt to murder), 353 (assault on public servant) and 504 (breach of peace).
According to the FIR, a mob vandalised houses, and set fire to three of them, as they pelted stones for nearly half and hour. The mob also shouted slogans like "attack and kill", as the police tried to intervene to curb the situation. The mob also vandalised police vehicle following which, police had to open seven rounds of fire in the air, and lob 22 rounds of tear gas to disperse the mob, and gain control of the situation.
Khambat police stated that a quarrel between children, belonging to two different communities, over a game on Sunday afternoon turned into a communal clash when elders from the communities charged at each other with sharp weapons including knives and swords.
Also read: Bahraich Communal Clash: After Withdrawing UAPA, Muslims Accused Now Charged With CLA
The FIR, however, stated that the clash broke out due to an old animosity between the two groups.
Following the communal tension, the main market of the town was shut down, and opened the next day amid heavy police patrolling that has continued across Khambat.
"People who lost their homes and were victims of violence have been named in the FIR. This is phenomenon is not new. Following riots in Vadavali, Patan in 2017, cases were filed against Muslims," Advocate Shamsad Pathan stated.
"Interestingly, role of an outfit named Sriram Sena formed about three years ago in Khambat is being played down," added Pathan, who is also the convenor of Alpsankhyak Adhikar Manch, a Gujarat-based organisation that advocates for rights of the Muslims.
According to locals of Akbarpura, one Jaiveer Joshi named in the FIR is the Pramukh of Sriram Sena, Khambat, a Hindu extremist outfit whose members reportedly meander around with sticks, wooden and iron rods, as they raise provoking slogans.
Police clash with Muslims, vandalise homes in Dhari, Amreli
Semeradi village in Dhari taluka of Amreli district, bore a deserted look after the local police clashed with the villagers, reportedly vandalised their homes, and thrashed them thereafter.
Semeradi, the last village before the forest limit begins is abode of about 35 odd Baloch families, a community of Muslim cattle grazers. They claim that this was not the first time the villagers have been met with high-handed behaviour of the local police.
"This is not a one-off incident. Locals of Semeradi have been subjected to police's highhandedness since long. Semeradi village is the last village in the area before the forest limit begins. It is a small hamlet of about 35 Baloch families who own about 750 bigha of land around the village. Due to the presence of lions in the forest, the area is witness to a growing number of hotels and guesthouses that has been reason for many villages of the area being displaced without any rehabilitation. Semaradi remains the only village in the area surrounded by hotels and guest houses," Mehboob Rahman Qadri, a local activist associated with Minority Coordination Committee, a Gujarat-based rights organisation, told Newsclick.
"On February 16, one Zafar Baloch, allegedly a local bootlegger, engaged in a feud with Dhari police. Following this the police thrashed his father, and in retaliation, Zafar Baloch attacked the police personnel. However, Dhari police had nabbed the father-son duo from their residence by the night. Despite that, next morning, Dhari police along with reinforcement of Amreli district police and officials from Forest Department, brazenly vandalised Semeradi village, thrashing men, women and children indiscriminately. They also got officials from the Paschim Gujarat Vij (PGVCL) to disconnect the electricity connection for two days. Villagers were injured and scared, and fled the village to live with their relatives in the district," added Qadri.
Noticeably, Amreli police has stated that on February 17, two constables of Dhari police station – AV Patel and Mahendra Vala – had gone to Semeradi village to investigate an application made by one Hamida Naya against one Zafar Baloch and Hussain Jahangir accusing them of harassing her.
"The members of Zafar and Jahangir's family attacked us. Vala was stabbed in stomach while I suffered injuries on elbows," Constable AV Patel told media.
When situation went out of control, the two constables reportedly called for reinforcements, and district police and forest officials arrived to the spot, Amreli police further stated.
Dhari police also claimed that they combed the entire village and recovered knives, swords and a rifle with ammunition.
"The knives that police showcased are usual ones used in kitchen. This apart, villagers keep an axe for protection, as the village is on the forest border inhabited by lions. Besides that, police have just confiscated wooden sticks and stuff usually carried by the villagers or used in daily chores," added a local.
"The villagers of Semeradi have now returned to their homes, but they are scared. Some of them have decided to spend the nights away from the village for safety. Men of the families who have nowhere else to go have decided to stay awake in turns and guard the village," said Qadri.
Also read: Is Gujarat Government Trying to Segregate Muslim Students Appearing for Board Exams?
Get the latest reports & analysis with people's perspective on Protests, movements & deep analytical videos, discussions of the current affairs in your Telegram app. Subscribe to NewsClick's Telegram channel & get Real-Time updates on stories, as they get published on our website.
Subscribe Newsclick On Telegram