Communists Blaze a New Trail in Nepal
India could not afford to deal with Oli's government as one with a bias towards China, for that would only have driven Kathmandu deeper into Beijing's embrace.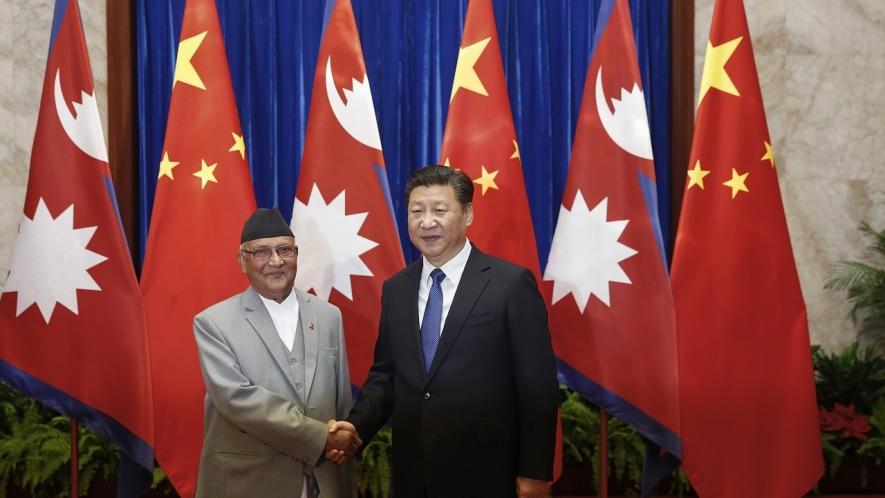 The coming together of Nepal's two communist parties – Unified Marxist-Leninist and Maoist Centre – which are already in office as the Left Alliance is a landmark development signifying a decisive political turn in the Himalayan country. The unified Nepal Communist Party (NCP) is South Asia's largest communist party and one of the three ruling in Asia – the other two being bigger ones in China and Vietnam. Unlike the ruling parties of China and Vietnam, the NCP has the unique distinction of rising to office through the parliamentary process by proving its superior credentials as people's representatives in a free and fair election, which saw discredited mainstream liberal democratic parties bite the dust.
The NCP government has promised to promote democracy, bring about socio-economic transformation, uphold nationalism and ensure social justice. That is a dream and a quest as old as Nepal's first democratic stirrings, which were inspired by socialist ideals nearly 70 years ago.
When the legendary founder of the Nepali Congress, B P Koirala-led Nepal's first revolution that overthrew the 104-year-old Rana regime in 1951, he was hailed as the "Lenin of Asia". The charismatic Koirala was a democrat to the core. He was convinced that constitutional provisions of political rights and civil liberties would never transform Nepal, one of the world's poorest countries. He believed that democratic socialism alone could put Nepal on the path to progress and development.
The revolution of 1951 forced the monarchy to come up with a new constitution, under which the kingdom's first free parliamentary elections were held in 1959.  Koirala's Nepali Congress won a landslide victory. That political spring was short-lived. Koirala was ousted, democracy snuffed out and his party as well as parliamentary forces and activists were driven underground or into exile; and, an autocratic, partyless panchayat system was established by King Mahendra in 1960.
It would be another 30 years before Koirala's party – in alliance with the Communists and in the vanguard of a popular movement – would succeed in bringing about multi-party democracy under a constitutional monarchy. The first phase of multi-party democracy from 1991 to 2008 was a cruel joke on the people with the government a revolving door through which every party passed; by itself and in every conceivable – and inconceivable – permutation and combination.
During the period, there were as many as 14 prime ministers from the NC, the Communist Party of Nepal (Unified Marxist-Leninist) and both factions of the royalists. Every party was, at one time or the other, sleeping with every other party; with both the NC and the UML at opportune times joining or breaking with the parties of the palace. BPK's brother G P Koirala was prime minister for five short periods; K P Bhattarai of the NC twice; Sher Bahadur Deuba, also of the NC, thrice; Lokendra Bahadur Chand and Surya Bahadur Thapa who led their respective factions of the party patronised by the palace also had two shots each at being prime minister; and, there were also two spells of direct rule by the king.  And, not all changes of prime ministers were because of elections.
Formal democracy turned out to be a cynical merry-go-round of venal politicians in ruthless pursuit of personal ambitions compounded by widespread corruption, willful negligence of economic development and scant regard for democratic values.  In the event, it was no surprise that the communists, with a history of 70 years, were broadly split into a parliamentary stream (CPN-UML) and an underground movement of the Maoists, which adopted a "mass line". The mainstream liberal parties were getting steadily discredited with every successive prime minister and round of elections. The UML of Manmohan Adhikari, Madhav Kumar Nepal and K P Oli, caught as it was in the parliamentary circus, was also losing ground.
In 1996, five years after the first multi-party election under a new constitution, the Maoists led by the likes of Pushpa Kamal Dahal alias Prachanda and Baburam Bhattarai launched a "People's War", which went on for 10 years and claimed over 19,000 lives of both civilians and armed forces between 1996 and 2005. In 2006, the Maoists entered the parliamentary mainstream in a deal brokered by the Government of India. In the elections that followed in 2008, the Maoists won handsomely and Prachanda became prime minister of the Federal Democratic Republic of Nepal.
The promise of a New Nepal in 2008 proved to be a false dawn for the revolving door was back and, again, in the nine years until 2017, there were nine prime ministers. Prachanda was PM twice; K P Oli – now Prime Minister and chairman, along with Prachanda, of the new, united communist party (NCP) – was PM once; as were two other leaders of the UML; and, three of the NC including Sushil Koirala and Sher Bahadur Deuba.
During Oli's first term as the prime minister, when the new constitution was finalised and promulgated, it was evident that the communists commanded more popular support than the NC or the royalists. However, New Delhi played its cards badly. First, the government of Prime Minister Narendra Modi sought to dictate the terms of the new constitution; and, when that failed, the Government of India sent the foreign secretary on the eve of the statute's promulgation to thwart it. However, Kathmandu rebuffed New Delhi, which led to violence in the plains (Terai) and Nepal being subject to an economic blockade. The issue figured in the United Nations, where Oli described the blockade "as an act of inhumanity worse than war". The blockade and the attendant violence of 2015-16 was devastating for Nepal's economy; it also vitiated both the political atmosphere within Nepal and India-Nepal relations.
As a consequence, Oli was ousted as Prime Minister and replaced first by Maoist leader Prachanda and then NC's Deuba. Modi's government and his National Security Advisor Ajit Doval were firmly opposed to Oli and his UML as much as the UPA and its NSA; M K Narayanan had set themselves against the Maoists in the parliamentary election of 2008. New Delhi's aversion to the Maoists could not stop them from forming the government. Oli showed that he was made of sterner stuff. He raised the stakes and capitalised on the blockade, "Indian interference", his ouster and wounded Nepalese nationalism to script his political success.
The script included unification of the leading communist parties. They joined hands as the Left Alliance (LA) to fight the parliamentary and provincial elections, and pledged to merge after the elections. The LA won 174 of the 275 seats in parliament and, much to the chagrin of GoI, Oli returned as the prime minister. The LA's absolute majority at the federal, provincial and local levels of government was a resounding political rebuff to New Delhi. Initially, churlish about even congratulating Oli and the LA on its spectacular victory, GoI realised that there was no way it could live in denial of the political reality in next-door Nepal. Soon enough, External Affairs Minister Sushma Swaraj went on an ice-breaking visit to pave the way for Oli's visit to India as well as a return visit by Modi.
Oli made the customary first overseas visit as newly-elected Prime Minister to India. There were no effusive expressions of friendship especially as Oli had been repeatedly referred to in Indian media as the "pro-China PM" and "pro-China Oli". It was a business-like meeting where exchanges were correct and cordial, with both sides testing the ground for how the past could be put behind. Although the bitterness of 2015-16 had not faded, India had to accept that it could not persist with its hostility to Oli; nor could it afford to deal with his government as one with a bias towards China, for that would only have driven Kathmandu deeper into Beijing's embrace.
During the blockade, when supplies of essentials such as petroleum were cut off, China seized the opportunity to go to Nepal's rescue and build a basis for a long-term relationship by partnering development. There was no way New Delhi could turn the clock back. The best it could do was to woo Nepal anew so that it was constrained to maintain a balance between India and China. Nepal, for its part, realised that the civilisational ties and commonalities binding it to India cannot be wished away any more than the geography and history that required them to live in harmony. China can never be for Nepal and the Nepalese, millions of whom are in India, what India is.
Miraculously, after Oli's visit, the media stopped tagging him as "pro-China" as had become its wont; and, Modi's own visit to Nepal became something of a Hindu pilgrimage. At the same time, Modi stooped to conquer when he offered that India could be the "Sherpa" for Nepal to attain the peak of economic development. Nepal knows that ill-will and tensions in bilateral relations with India could be disastrous for its political stability and economic advancement; and, that Nepal cannot resist even the Hindu dimension of India's politico-diplomatic thrust, which message Modi drove home emphatically. Oli, and Prachanda, who gained electorally in 2017 from the upsurge of Nepalese nationalism pumped up by the events of 2015-16 are, perhaps, confident that this nationalism may serve as a cautionary tale for the Hindu establishment in India.
In any case, resisting India's intentions and influence is not a pragmatic option for either Oli or the NCP if they want five years of political stability to pursue their agenda for economic transformation and growth with social justice. The NCP knows that the odds are stacked against it and that, beyond a point, China's support could come in handy for India to put off the international community from cooperating with Nepal; and, therefore, India's support is important for dealing with the West.
In order to address the irrational anxieties that the electoral success of a communist party gives rise to, the NCP – at its reunification on May 17 – vowed to safeguard and promote democracy. Its six-point joint unification declaration stated that the party will establish its superiority through peaceful competition and commit to the supremacy of the constitution, the rule of law, an independent judiciary and a guarantee of human and fundamental rights. The NCP has adopted Marxism-Leninism as its guiding principle to establish a socialist-oriented "people's democracy." 
Regardless of whether that happens, Nepal may have ended its long and painful period of transition (to democracy). Since 1991, Nepal has had 23 prime ministers and no elected government has completed its term. The unification of the communist parties holds out prospect of the NCP ministry completing its full term. That alone could be a huge benefit of Left unification, which came about at a time when the world is observing the bicentenary of Karl Marx.
The author, an independent journalist writing on political and foreign affairs, is co-editor of the book State of Nepal
Get the latest reports & analysis with people's perspective on Protests, movements & deep analytical videos, discussions of the current affairs in your Telegram app. Subscribe to NewsClick's Telegram channel & get Real-Time updates on stories, as they get published on our website.
Subscribe Newsclick On Telegram