UP: Community-based Kangaroo Care Is Helping Improve Mortality Rate
Earlier, it was presumed that giving Kangaroo Mother Care was duty of the mothers, but now, more than 500 fathers have saved the lives of their newborns in the last one year through this therapy.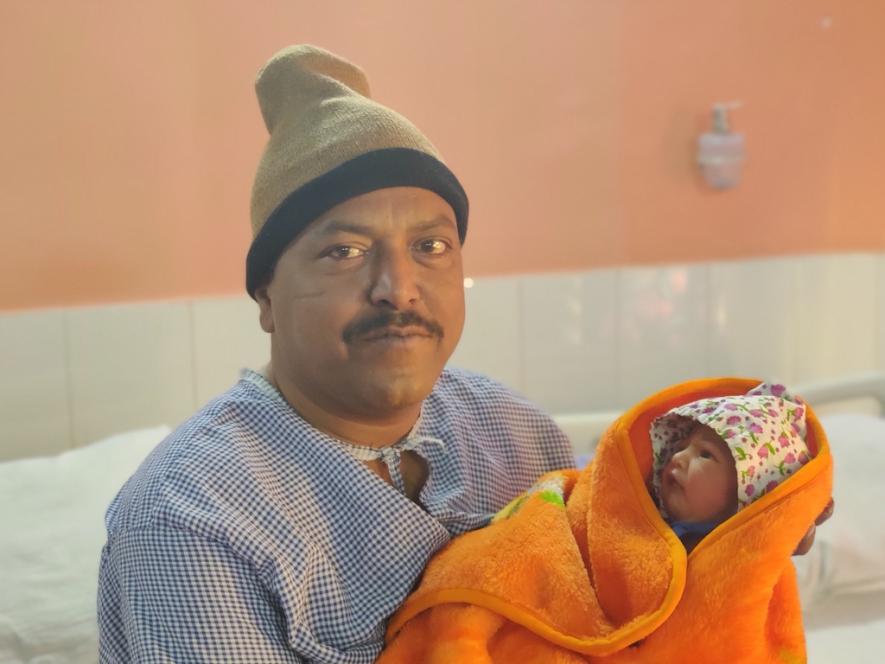 Niyamatullah Khan/ Photo by Saurabh Sharma
Lucknow: Niyamatullah Khan, 48, a commercial photographer by profession, has taken two weeks' leave from his work only to give the Kangaroo Mother Care to his newborn underweight daughter Shaheen Khan.
Shaheen Khan was born on January 8 and was 300 gram short of the average weight. She was immediately advised to go for the Kangaroo Mother Care as newborn kids lose weight in the first few days. Niyamatullah, without giving it a second thought, told the doctors at the Avantibai Memorial Hospital in Lucknow that he is ready to give the care himself as the wife's condition post delivery was critical.
"I am already a father to five boys who are young now and always wanted a daughter. I played with the neighbour's daughter and even fostered one girl child, but there was still a grudge in my heart that I do not have a daughter. I planned with my wife and Allah fulfilled my dream. I have been with Shaheen since the day she was born and the feeling of keeping your newborn daughter on your chest can only be understood by a mother," Khan says.
Khan further adds, "I got a bit worried when the doctors told me that Shaheen was underweight and his wife was also critical as the delivery was caesarean. The doctors here told me about the scientific method of keeping the baby in warmer and also about the natural way of KMC [Kangaroo Mother Care] and I agreed. With each passing day, our attachment is increasing and I love this feeling. Also, Shaheen is showing improvement as she has started gaining weight and now she weighs 2140 gram after the initial weight loss. The doctors here are also hopeful of discharging us within a week."
According to the World Health Organization's Department of Reproductive Health and Research, the Kangaroo Mother Care is a concept where underweight infants are kept in constant skin contact with the mother, father or any caregiver to maintain body temperature and avoid hypothermia. Usually, incubators are used for this purpose.
The Lancet research done between July 30, 2015, and October 31, 2018 in Haryana interprets that community-initiated Kangaroo Mother Care substantially improves newborn baby and infant survival and it has benefits other than protecting the preterm babies from hypothermia. The research also witnessed improvement in survival rate by 30% in babies till 28 days and 25% till six months of age.
The family and community care
Heena Khan, 29, who gave birth to a daughter on January 17 says that her daughter was a preterm kid and was weighing only 1140 gram when she was born. "I could not spend much time with my daughter giving the KMC, but my family members like husband, brother-in-law and even the uncle who live in our neighbourhood have been helping us to give KMC to my daughter. She presently weighs 1270 gram and is showing signs of improvement," she says.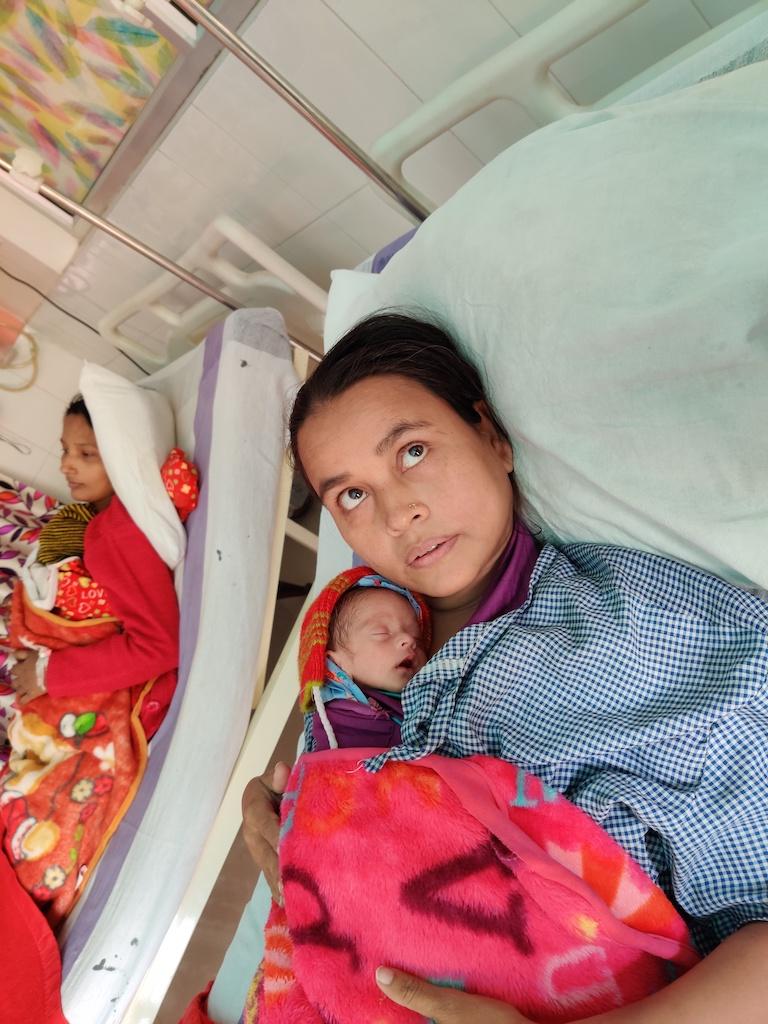 Heena Khan/ Photo by Saurabh Sharma
According to the doctors at the Avantibai Hospital, Heena gave birth in 32nd week of her pregnancy and the baby was very weak at the time of birth and they opted for KMC in order to save the baby.
"I am seeing improvement in her. Everyone is also getting attached to my daughter. Even as my in-laws were against having a girl child, they have also started to love and care for her. My breast milk has also increased," said Heena.
Changing Perceptions
Earlier, it was presumed that giving Kangaroo Mother Care was duty of the mothers, but now, more than 500 fathers have saved the lives of their newborns in the last one year through this therapy.
Dr Salman Khan, a paediatrician at a state-run hospital in Lucknow says that KMC has not just helped in improving the mortality rate, but is also changing the perception of the society. "Now, a large number of male members turn up to give KMC to the newborn preterm babies. In rural places or in remote areas, we have witnessed people turning up for KMC. It feels great knowing that this has always been seen as a job of a mother. People hesitated initially, but now, they talk about it and in over 60% cases of KMC I have witnessed, it has been given by the male members," Dr Khan says, adding, "The KMC helps in maintaining the body temperature which is 98.6 degree Celsius and there is no maximum time limit for giving KMC. But a baby should maintain skin contact for at least one hour in a cycle of 12 hours. Usually, the warmers where babies are kept have a temperature between 36.5 to 37.5 degrees with a room temperature of 26 degrees."
Dr Salman says that the baby is fit to be discharged once he/she achieves the average weight. "The best thing about the KMC is that the caregiver and kid need not stay in the hospital for a long duration and can also be given KMC at home with basic precautions like the surroundings should be clean, etc. One can also do household chores simultaneously by using the belt and maintaining the skin contact with the baby," he said.
A research organisation, Community Empowerment Lab (CEL), which is working with the National Health Mission (NHM) in the Northern Indian state of Uttar Pradesh, has been working at Community Healthcare Centres since 2017 and has facilitated KMC for over 1,03,459 kids. They have developed 171 KMC lounges across Uttar Pradesh, India's most populous state.
According to CEL, a few of the benefits of the KMC are that the it lowers the risk of severe illnesses by 70% while the survival rate goes high up to 40% and this is when about 97% of the world's underweight infants are born in developing countries and India accounts for about 40% of them.
Arti Sahu, one of the office bearers of the CEL, explains that the KMC also lowers the repeat hospitalisation by 40%, improves the exclusive breastfeeding by 20%, apart from lowering the risk of hyperthermia by 72%.
Also read: Over 68% Under-five Deaths Due to Malnutrition: Report 
Get the latest reports & analysis with people's perspective on Protests, movements & deep analytical videos, discussions of the current affairs in your Telegram app. Subscribe to NewsClick's Telegram channel & get Real-Time updates on stories, as they get published on our website.
Subscribe Newsclick On Telegram