Comparing National Curriculum Framework 2023 With NCF 2005
There are subtle ideological differences between the two frameworks regarding some critical components of education, viz., learners' agency; and identity formation.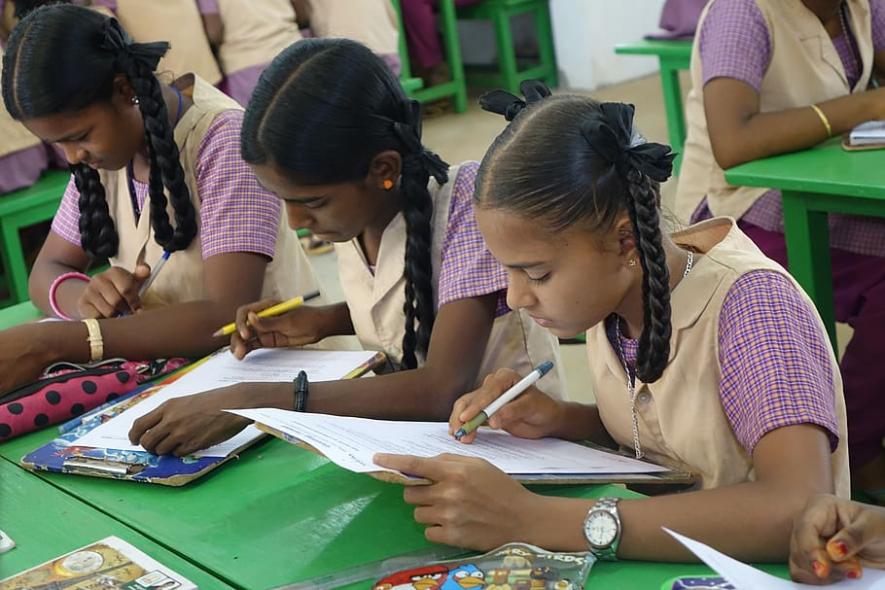 Representational Image. Image Courtesy: Pxfuel
The Central government has recently released a draft National Curricular Framework for School Education. Curricular frameworks provide certain guiding principles for textbook developers. NCERT textbooks are particularly designed according to the national curricular framework (NCF) in practice.
Till now, there have been four revisions in the national curricular frameworks – NCF 1975, NCF 1988, NCF 2000 and NCF 2005. This article intends to compare the new draft curricular framework (NCF 2023) with NCF 2005 to highlight their subtle ideological differences regarding some critical components of education, viz., learners' agency; and identity formation.
Learners' Agency
Theories of learning are broadly classified into behaviourist, cognitive, and constructivist schools. According to behaviourist theories, learning, i.e. behavioural change, occurs when a learner's response/action in a given situation is rewarded or punished. The learners' agency is therefore controlled by the reinforcement it gets for its action.
On the other hand, cognitive theorists believe, as a complex process, any type of permanent behavioural change comprises many internal processes like information processing, memory and perception. And for constructivists, learning is making meaning from one's own experience and in conversation with others in society.
NCF 2005 is rooted in cognitive philosophy (pg. 39) and constructivist perspective (pg. 17 & 19) and emphasises the active agency of learners as they construct their knowledge. Excerpts in new NCERT textbooks -published one year later- from books such as Tetsuko Kuroyanagi's Totto Chan and Alexander Ruskin's When Daddy was a Little Boy bear proof of the shift in NCF's basic understanding of learning and learner's role.
Chapter 2 of NCF 2005, titled Learning and Knowledge, gives "Primacy to Active Learners" and acknowledges barriers to learners' active engagement in the section "Learners in Context". This chapter says that "curriculum must enable children to find their voices, nurture their curiosity —to do things, to ask questions and to pursue investigations, sharing and integrating their experiences with school knowledge— rather than their ability to reproduce textual knowledge" (pg.13).
The NCF 2005 also highlights the role of problem posing in learning and encourages the reader to visualise learners asking questions. "[T]he ability to make a set of questions", it suggests, "is a valid test of learning" (pg. 18).
For NCF 2023, "curiosity and wonder are at the core of learning, and with this disposition, students can become lifelong learners". However, the words curious or curiosity is often referred to in the context of the foundational stage (3-6 years) as the innate disposition of a child as a natural learner. In other instances, it seems to suggest that teaching-learning materials can "develop curiosity" (pg. 195 & 213) in a subject or recommends "encouraging and sustaining curiosity" (pg. 235) as a pedagogic principle.
The mention of constructivist abilities of children is found only at the foundational stage. Quoting from NEP, 2020, a passing reference to constructivism is made, saying, "renewed emphasis on constructivist rather than rote learning – must be accompanied by parallel changes in school textbooks". But this seems to be a way to justify the present government's ongoing cuts in Science and Social Science textbooks.
In this context, the vision of NCF 2005 suggesting a decentralised approach to textbook writing to incorporate children's diverse experiences and a future of "multiple textbooks for schools" (pg. 119) gives true imaginations of constructivist schools.
NCF 2023 wants learners to become 'creators of change' (pg. 213) or 'content creators' (pg.519). Here too, creation is envisaged as a future outcome of today's learning. This contradicts the constructivist approach, which requires learners to actively create knowledge in the present.
NCF 2023 provides a detailed plan of what needs to be taught in various curricular areas at different phases in school life. Such detailed teacher-proof material is a continuation of experts' authoritarianism and is a clear departure from the vision of "teacher autonomy… [for] ensuring a learning environment that addresses children's diverse needs" as envisioned in NCF 2005 (pg. 98).
Identity Formation
One of the five principles guiding NCF 2005 is "nurturing an overriding identity informed by caring concerns within the democratic polity of the country" (pg. viii). The NCF 2023 seeks to "instil (sic.) among the learners a deep-rooted pride in being Indian" and uses phrases like ancient Indian, Indian knowledge, and Indian traditions in different sections. Using instil signifies the behaviourist tilt and no attempt to define what "being Indian", "ancient Indian", and "Indian knowledge/tradition" mean, hinting towards a top-down notion of knowledge as given, thereby reducing the role of the learner.
NCF 2023 uses the phrase "constitutional values" at various places as against the NCF 2005, which clearly re-iterates constitutional values (on pg.7) and underscores that "India is a secular democratic state" where "all faiths are respected" but "the Indian state has no preference for any particular faith".
Without glorifying the past, NCF 2005 suggests that "to strengthen our cultural heritage and national identity, the curriculum should enable the younger generation to reinterpret and re-evaluate the past with reference to new priorities and emerging outlooks of a changing societal context" (pg.7).
Readers must not be surprised that there is no mention of the word "Secularism" or "Secular" in the NCF 2023. Synthesis of recent developments suggest that by writing "constitutional values" instead of elaborating the values in any detail, the government is trying to conceal its attempts of changing the Constitution's Preamble itself and is thus playing safe.
This is particularly visible in the curricular suggestions for Social Science. The NCF 2023 seeks to foster in students "a true rootedness and pride in India with a forward-looking spirit to continuously improve as a nation" (pg. 254), while NCF 2005 suggested an "epistemological shift … to accommodate the multiple ways of imagining the Indian nation" (pg. 51).
The NCF 2023 talks about developing the ability to think critically and the skills of problem solving and reasoning in students (pg. 22), however, it suggests that content to be taught at grade IX under Individuals in Society "should not ignite extreme views or passions" (pg. 375).
This stands in stark comparison to the constructivist stance of using "conflict as a pedagogic strategy" in NCF 2005, where it says, "[w]hen children and teachers share and reflect on their individual and collective experiences without fear of judgement, it gives them opportunities to learn about others who may not be a part of their own social reality. This enables them to understand and relate to differences instead of fearing them. If children's social experiences are to be brought into the classroom, it is inevitable that issues of conflict will need to be addressed" (pg. 24).
Neoliberal Economic Reality
The present draft is a 625-page document, and it announces that it is "developed based on the vision of the National Education Policy (NEP) 2020, and [aims] to enable its implementation". Many states and stakeholders are, however, opposing the NEP 2020.
The policy also states that the "unfinished agenda of NPE 1986 is appropriately dealt with in this policy". This unfinished agenda was the beginning of the neoliberal onslaught on the education sector in India. With the NPE 1986, education came to be seen as an investment in the future, requiring expansion through the participation of the private sector and privatisation of the public sector.
This also sheds light on the fact that despite being a forward-looking curricular framework, the NCF 2005 did not change how teaching-learning is organised in our schools. When teachers are uncertain about their immediate future, they won't risk their jobs with innovative pedagogical approaches. Another reason is the lack of necessary teacher education.
The National Curricular Framework for Teacher Education, NCFTE, 2010 gave considerable thought to developing teachers who could bring the constructivist vision of NCF 2005 into classrooms. But, self-financing teacher education institutions -which dominate the teacher education sector- don't have any motivation to create conditions for helping future teachers understand the radical approach.
There is another link to understanding how neoliberalism works. The progressive stated aims, as in NCF 2005 or NCFTE 2010, can be underplayed by the unstated aims of textbooks or the syllabuses adopted in teacher education programs. "Radical change in the school curriculum without changing the central reality of teachers in Indian classrooms can do little to alter educational processes and outcomes," said Prof. Batra. This is true. But what's also true is that the "central reality of teachers" and students cannot be changed without transcending the capitalist system that treats education as a profit-making business.
Harleen Kaur is pursuing PhD from NIEPA and is a Researcher at Tricontinental Research Services Pvt Ltd.
Get the latest reports & analysis with people's perspective on Protests, movements & deep analytical videos, discussions of the current affairs in your Telegram app. Subscribe to NewsClick's Telegram channel & get Real-Time updates on stories, as they get published on our website.
Subscribe Newsclick On Telegram