Congress Bid to Flare up PSC Controversy Ahead of Assembly Elections in Kerala
The protest by Youth Congress is going on despite the state cabinet extending by six months all PSC rank lists whose validity ends in February.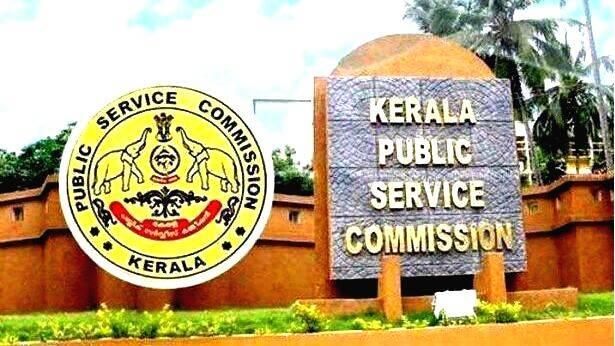 Image Courtesy: Kerala Kaumudi
Ahead of the upcoming Assembly elections in Kerala, several youth backed by the Youth Congress began protests at various centres across the state, including Thiruvananthapuram, demanding government jobs. The protesting youth said they  had been denied employment opportunities though they were included in the state Public Service Commission (PSC) rank list.
The immediate trigger for the protests is the state government's decision to regularise contract employees. According to the state cabinet's decision on February 3, those who have completed 10 years in service are being regularised on humanitarian grounds. It also decided to make permanent 114 employees who have been working on contract with C-DIT for over 10 years. The Youth congress and its parent Congress, who have sensed a political opportunity before the Assembly elections due in April this year, are therefore in the forefront of these protests.
The protesters have been demonstrating in front of secretariat at Thiruvananthapuram since January 26, demanding an extension of six months in the validity of the Last Grade PSC rank list published in 2017.
"The validity of our rank list published in 2017 is only till June 2021. Our demand is to extend the validity by six more months," a rank holder told the media.
Incidentally, on February 3, all PSC rank lists ending in February had already been extended by six months. This was because the COVID-19 outbreak had affected the PSC examination schedules and there was delay in the publication of rank lists. Keeping in mind the delay in the recruitment processes, the Left Democratic Front (LDF) government had decided to extend the validity of the rank lists.
"With this, the vacancies which will arise during April and May, when most retirements happen, will also be made available to existing rank lists," chief minister Pinarayi Vijayan had said.
The Kerala PSC conducts various levels of exams for different posts and prepares rank lists valid for a certain period. Once the lists expire, PSC conducts the next exam.
Kerala has over 5.28 lakh state government employees with around 20,000 staffers retiring every year. So, for the posts lying vacant, the respective departments recruit eligible candidates from the existing PSC rank list. Sometimes, when there are no effective rank lists, the departments recruit temporary candidates from employment exchanges. Over 34 lakh youths are registered in these employment exchanges across the state.
The protesting youths claimed that all these processes are being bypassed to fill the posts with nominees of political parties on a temporary basis. The government, however, has dismissed these allegations.
On Wednesday, the Vijayan described as "baseless" the campaign by Opposition parties that making temporary appointments permanent will eliminate the chances of those in the PSC rank list.
Speaking to reporters in Thrissur, Leader of Opposition and Congress leader Ramesh Chennithala alleged the cabinet had considered a file to make permanent around 2,600 contract staff in the government service.
The chief minister, however, made it clear that the government was making permanent only those who had been working for more than 10 years in government institutions "where appointments cannot be made through PSC or are not left to the Public Service Commission".
"Today's cabinet meeting has decided to make permanent some who have been working continuously for more than 10 years, including 'Vidya volunteers' teaching in single- teacher schools located in isolated coastal and forest areas," Vijayan said, adding that allegation of "backdoor appointments" will not stand as those who are being made permanent were appointed during the term of the previous Congress-led United Democratic Front (UDF) government, and that the LDF government came to power only five years ago.
"...None of them were appointed by the Left government. This includes those who have been in service for 20 years or more also. No one was included or excluded for political reasons. They were made permanent based on humanitarian consideration," Vijayan said.
44,000 New Posts Created
Including the 27,000 permanent posts, the LDF government has created 44,000 new posts in the past five years and appointed 1,57,911 people through PSC.  "This government has released 4,012 rank lists in five years, which include nearly four lakh people. Only one-fifth of the people are normally recruited," said the chief minister. It was also pointed out that during the previous UDF government, only 1.15 lakh persons had been appointed.
"Currently, there are 5,28,231 government staff across the state. Every year, only 25,000 appointments can be made for  government service. This government has made more appointments than was possible," he said.
Vijayan said it was impractical to give a job to everyone in the rank list as the PSC includes five times more candidates than the existing vacancies. As a large number of people are waiting for government jobs, the state government and service sector have limitations. In this context, the chief minister pointed out that there were lakhs of vacancies in central services and central public sector undertakings but there was recruitment freeze, adding that attempts were being made to "cover up all these facts and spread misunderstanding among the job seekers".
"Some elements with vested interests are trying to lure innocent youths into the streets. We also witnessed some dramatic events the other day. Even people who were not on any list performed some dangerous acts that could endanger people's lives..," Vijayan said. He was referring to the suicide attempt by two persons after pouring kerosene over themselves during the protest by PSC rank holders.
Finance Minister T M Thomas Isaac alleged that the protests were "instigated" by the Congress party. "The Opposition has  been misleading the youngsters that everyone who comes in the rank list will get a job," Isaac said.
Special Recruitment and Community Participation
With 40,000 more appointments than the Oommen Chandy-led UDF government in the state, the current LDF government said it had created many new posts in the government sector. Under the current government, special appointments were made by recruiting tribals into the police force and fisherfolk as coastal wardens.
In June 2019, a total of 177 selected fisherfolk, who were part of 2018 flood rescue mission, are set to take charge as Coastal Wardens in the Coastal Police of Kerala after completing a four-month-long training procedure. The state estimates that the recruitment of fisherfolk to Coastal Police will help in achieving community participation in the maintenance of coastal security.
In January this year, 25 candidates were handed over 'advice memos' for appointments from districts such as Wayanad, Palakkad and Malappuram. In 2017, another 65 candidates had been appointed in these districts. In May 2019, 74 tribal people, including 24 women, were recruited to the Kerala Police as constables by this special recruitment procedure.
The government has also decided to post 500 beat forest officers from the tribal community to the Forest Department. These special recruitments are intended to boost community participation in forest conservation.
According to Mumbai-based think-tank, Centre for Monitoring Indian Economy, the unemployment rate in Kerala is moderate compared with states. As per CMIE data, the unemployment rate in Kerala in January this year is 5.5%. But in Congress-led Rajasthan, the unemployment rate is high with 17.7% and in Punjab it is 8.1%. The unemployment rate in neighbouring Tamil Nadu is 4%.
(With inputs from PTI)
Get the latest reports & analysis with people's perspective on Protests, movements & deep analytical videos, discussions of the current affairs in your Telegram app. Subscribe to NewsClick's Telegram channel & get Real-Time updates on stories, as they get published on our website.
Subscribe Newsclick On Telegram