Congress Will Not Find Another Ahmed Patel
The party has lost a crisis manager at a time when it is caught up in multiple predicaments.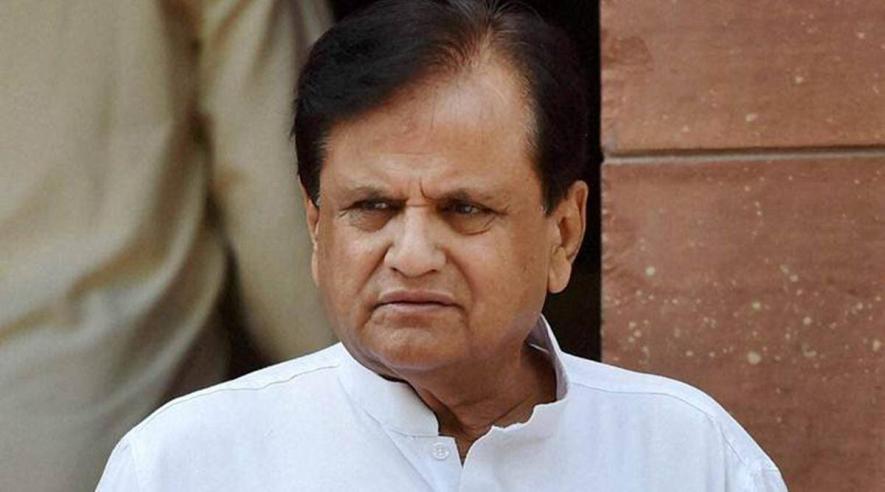 Ahmed Patel. Image Courtesy: The Indian Express
Ahmed Patel, popularly known as "Ahmed Bhai" in political camps of the country and "Babu Bhai" in his native state Gujarat, died on 25 November at Medanta Hospital in Gurgaon. He had been battling Covid-19 for nearly a month and said to have heart and respiratory problems earlier.
Patel was political advisor to the Congress president Sonia Gandhi and a party strategist, trouble-shooter and fund manager. Even in a severe crisis, Patel never let his worries become apparent and it is said he could solve complex problems easily. No doubt, cultivating very good relationships in all parties helped. It can be gauged from this that even if the Congress' relationship with any other party deteriorated, its leaders rarely, if ever, commented on Patel.
It was Patel who used to get in touch with senior political leaders such as the Nationalist Congress Party chief Sharad Pawar, the Bahujan Samaj Party supremo Mayawati, or Samajwadi Party leader Mulayam Singh Yadav or Rashtriya Janata Dal leader Lalu Prasad Yadav on behalf of the Congress president. That is why, from morning and until late in the night, his government residence, 23 Mother Teresa Crescent, was flooded with ministers, leaders and activists.
Patel's death is a major loss for the Congress, especially as it faces one of its worst crises ever today. On the one hand, the Congress is losing its ground in the public and on the other, the voices of internal opposition are intensifying. Particularly after the Bihar Assembly elections, there is deep disappointment and discontent within the party. It has become a challenge for the Congress to convince the public that it can defeat the ruling Bharatiya Janata Party. Former party general secretary Janardhan Dwivedi said as much on Patel's demise—"It is very sad and untimely. Now the Congress will not be able to find another Ahmed Patel."
Certainly Patel's mastery over political management took almost 40 years to develop. During this time, no leader in the Congress could challenge his strength or status. Now, hardly anyone in the party can get such long innings to play. Not only political management, but at the grass-roots level too, Patel kept a strong grip. He started his political career from Panchayat elections in Ankleshwar in Bharuch district of Gujarat. He won the Lok Sabha elections in 1977, 1980 and 1984 and was sent to the Rajya Sabha five times. In 1984, when Rajiv Gandhi became Prime Minister, he was appointed his Parliamentary Secretary. Even after Rajiv's assassination, he stood firmly with the Gandhi-Nehru family.
It is said that when a strong Congress lobby was trying to stop Sonia Gandhi from entering politics, Patel supported her. Due to this loyalty, Sonia made him her political secretary as well.
It is worth mentioning that in 2003, when leaders like Comrade Harkishan Singh Surjeet, AB Bardhan and Sitaram Yechury were engaged in uniting the leaders of Opposition parties to compete against the National Democratic Alliance led by Atal Bihari Vajpayee, it was Patel who built bridges with them on behalf of the Congress. He is the one who attended the meetings that were held at Comrade Surjeet's residence at Teen Murti Lane in Delhi. Not just that, sources say that it is on the advice of Patel that Sonia Gandhi started contacting the leaders of Opposition parties. That is when she walked across from her party office on 24 Akbar Road to meet Ram Vilas Paswan personally at his residence on 12 Janpath, creating quite a stir.
Even after the formation of the Congress-led United Progressive Alliance-I government, if there was a disagreement with Left parties on any issue, it is Patel who helped her sort it out. It is said that it was Patel's idea that Sonia Gandhi should take a bouquet to Mayawati's home as well, although a section of the Congress party criticised it. He played an important role in all affairs and key decisions of the party in the last four decades.
However, after Rahul Gandhi became the party president, he stopped getting directly involved in routine organizational matters—now his advice was taken from time to time. Rahul's climb up the party had many infer that Patel's strength had proportionally diminished, but during the 2017 Rajya Sabha election in Gujarat, he once again proved how important he can be. The BJP had applied its full force to defeat them, but failed. It is also true that in states like Karnataka and Madhya Pradesh, Patel could not work any charisma worth saving the Congress party's governments, but when Ashok Gehlot's government was in the doldrums in Rajasthan, he gathered enough mettle to fight back. Similarly, along with Sharad Pawar, he also played an important role in forming a coalition government in Maharashtra in 2019.
There is no doubt that Ahmed Patel was also very important to the Congress because he was its biggest "fund manager" and "secret-keeper". For the past six years, the Income Tax Department has been raiding Congress leaders and allegedly unearthing its hideouts. Besides, almost all businessmen and corporates have stopped giving funds to the Congress, but Patel is credited with not letting this affect the organisational and electoral expenses of the party, by collecting funds from various sources. At the time of the Madhya Pradesh Assembly elections in late 2018, there were a number of raids on the Congress party and its accountant was also targeted. Patel sensationally reached the house of this employee and challenged the Shivraj Chauhan-led state government to prove its allegations. Even in March this year, the Income Tax Department tried to clamp down on him, but found no evidence.
People who knew Patel say his working style was completely different from other leaders'. Their political meetings were held mostly at night. He would drive around in an ordinary car, with only his driver. No security contingent was ever seen hanging around him. There were one or two places in the Lutyens zone of central Delhi where he used to hold "special meetings" with Congress leaders on important issues related to the party. He often made his way home after 2.30 am. Journalists knew he was a night bird for he used to reply to their text messages even in the wee hours of the morning. Yet, even at 11 am, he would be back at the residence of the Congress president.
Patel was a powerful leader and he was kind in his behaviour. This is also why he could convince angry leaders in minutes and even opponents did not attack him, not openly at least. Congress leader Imran Kidwai says, "Patel believed in humanity. No one in need returned disappointed from him."
The author is an independent journalist. The views are personal.
Get the latest reports & analysis with people's perspective on Protests, movements & deep analytical videos, discussions of the current affairs in your Telegram app. Subscribe to NewsClick's Telegram channel & get Real-Time updates on stories, as they get published on our website.
Subscribe Newsclick On Telegram