Covert to Overt: The Changing Nature of India-Israel Strategic Tie
The relation between Israel and India has witnessed a paradigm-shift after the rise of rightwing Hindu party led by Narendra Modi in India in 2014.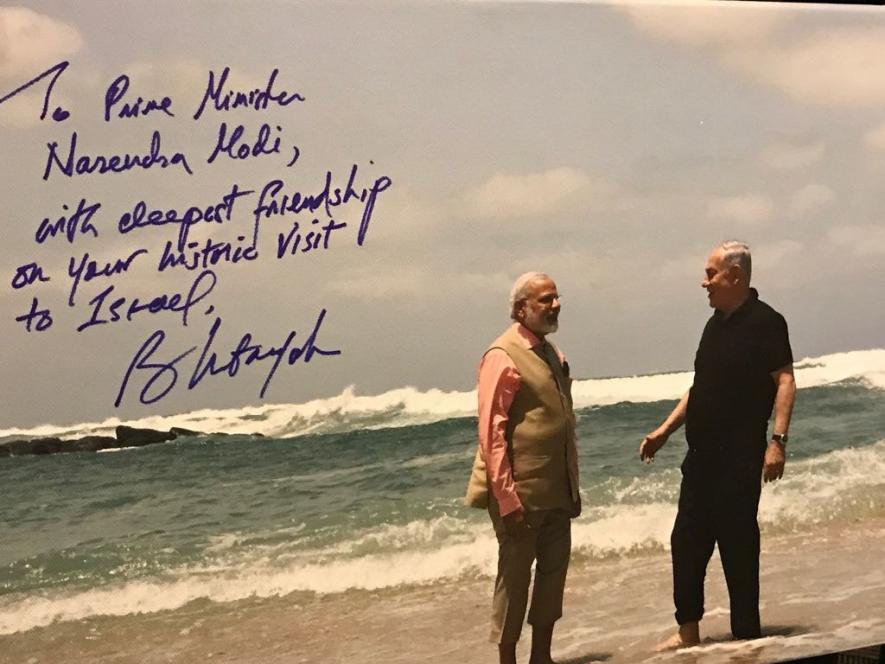 On November 9, Members of Indian Air Force's Garud Commando Force participated in the Exercise Blue Flag which is believed to be the largest drill ever exercised in Israel. Six European nations besides the United States (US) took part in the major drill which comprised of 100 aircrafts and thousands of supporting staff. India participating for the first time and was the only Asian nation in the military exercise.
The relation between Israel and India has witnessed a paradigm-shift after the rise of rightwing Hindu party led by Narendra Modi in India in 2014. The diplomatic ties between the two countries adhering to opposite ideologies – the "world's largest democracy" and "the religion born nation" – has increased considerably.
The improvement in bilateral ties is a result of strengthening India's relationship with Israel ever since both nations first established diplomatic relations in 1992.
This year, between January to October almost 49,000 Indian tourists visited Israel. The Israel Ministry of Tourism data suggests that October 2017 saw a 58 percent increase compared to October 2016.
Many political observers argue that Israel is the only example in the Middle East that stands out doing realpolitik in the otherwise Muslim dominated region. The main reason for Hindu nationalists in India to consider Israel as a model-state is to replicate the same for gaining political influence in South Asia, according to the experts on South Asia politics.
Indian government is one of biggest arms exports client of Israel, spending about $10 billion USD over the past decade. As per Israel Ministry of Economic and Industry data trade between them has grown from $200 million USD to over $5 billion USD from 1992-2015.
Israel's defence support to India deepened by signing $2 billion USD arms deal. India in April this year signed a major contract with Israel's Aerospace Industries, which is the largest in the history of Israeli defence industry. "It is mainly for the supply of Medium Range Surface-to-Air Missiles to the Indian Army," noted Ajay Shukla, an Indian defence expert.
Israel Model in Kashmir
After 2014, the right-wing government has consistently called for 'Israeli security-model' to be replicated as an instrument to contain the 'anti-India' uprisings in Kashmir.
India tried to test the prototype of 'Israel policy' in the disputed Kashmir region, using pellet shot-gun on civilians, using human shield, attempting to create an Israel-type separate colonies for migrated Hindus. India's recent claim of conducting the surgical strikes against Pakistan seems to be a following of Israel type military adventures. Israel's military defence has been conducting preemptive attacks outside its "border" with the Lebanon militia and Palestinian insurgents.
All these tactics used to secure India's 'national interest and maintain its status quo' has failed to win over Kashmir's populace— politically and morally.
Former Indian Union Minister P Chidambaram in February 2016 stated that because of Central government use of brute force in Kashmir, India is further alienating the region's population.
India-Israel Affair
In September 1950, three years after its independence, India was the first Asian country to officially recognise the sovereignty of Israel. For many decades, the diplomatic ties between the two nations remained covert. India meritoriously used the "non-aligned strategy" to avoid any tacit controversy with Arab world, over its secret Israel affair.
Following with the exponential economic rise of China, and downfall of Soviet Union in 1990s, India began its pro-Israel shift. The rising fear within US reportedly called its ally Israel, to limit its arm and military dealing with China.
Amidst the US pressure and Israel's policy-change, India exploited the opportunity using its secret-affairs for strategy gains.
The rise of Narendra Modi to power in 2014 accelerated the strategic ties between India and Israel. Modi's Israel visit in July 2017 was remarkable for two reasons, notes Bobby Gosh, the former editor of Hindustan Times. "First, that it was the first visit to the Israel state by an Indian head of government; and second, that it will in all likelihood raise no eyebrows—never mind hackles—in the Arab world", Bobby noted.
After Modi's visit, Israel's Prime Minister Benjamin Netanyahu will be coming to India in January 2018. "I will make a reciprocal visit to my dear good friend, Narendra Modi, the prime minister of India, whose population is a significant part of humanity," Netanyahu told media in October.
"India and Israel are changing our world and maybe changing parts of the world. Because this is a cooperation, it's a marriage really made in heaven, but we're implementing it here on earth," he noted.
Indian and Israel's security agency RAW-Mossad is believed to have a history of collaboration. During 1999 Kargil war, Israel facilitated the imagery about Pakistani positions using its unarmed vehicles (UAVs) and provided it to India. This turned the war around for India. Similarly, in June 2002 notes Harsh Pant, an International Relations expert, India undertook a limited military strike "Operation Parakram" against Pakistan, Israel then supplied hardware through special planes.
As Amir Oren, a correspondent with Haaretz noted there exists an ideological affinity between Right-wing, anti-Muslim politicians and voters in both countries of India and Israel. "However, Modi seems to be playing his cards pretty deftly vis-a-vis the Middle East by being overtly pro-US as the cold war between Riyadh and Tehran heats up once again," Aamir Ghauri, the founder of South Asia Future Forum, said.
Disclaimer: The views expressed here are the author's personal views, and do not necessarily represent the views of Newsclick.
Get the latest reports & analysis with people's perspective on Protests, movements & deep analytical videos, discussions of the current affairs in your Telegram app. Subscribe to NewsClick's Telegram channel & get Real-Time updates on stories, as they get published on our website.
Subscribe Newsclick On Telegram