Covid-19: Indian Women Urgently Need Gendered Response and Recovery Plan
As with vaccine management, so with women hit by the pandemic—a year after the government knew what lay ahead, it has spectacularly failed to evolve a response.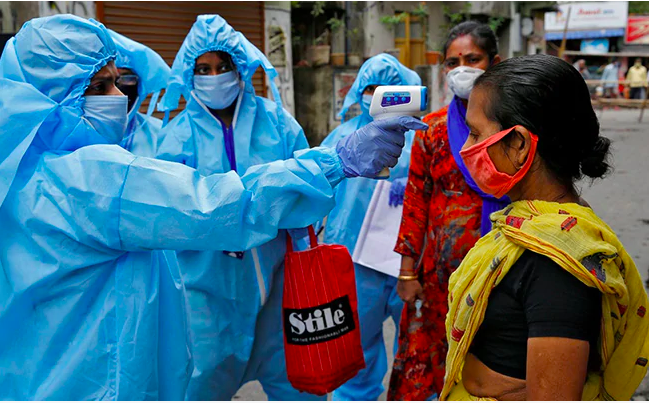 When the Global Gender Index 2021 was released the week before last, it got tiny headlines here and there, earned a few perfunctory comment pieces, then the Index as well as the issue it focuses on—endemic gender inequality—were off news radars. This means it barely registered in the public consciousness, busy as people are with the election kerfuffle and Covid-19 vaccination programme which was turned into a baffling festival called "Tika Utsav" by the Narendra Modi government. If it was not on the media and public agenda, it would hardly be on the government or policy agenda. And thereby India lost one more chance to evolve a gendered response to the Covid-19 crisis. 
This lack of a gendered policy response matters more than ever given the stinging second wave across India with the all-too-familiar themes of lockdown restrictions, migrant workers heading back home, breaking supply chains including of vaccines, and more. As with vaccine management, so with women hit by the pandemic—a year after the government knew what lay ahead, it has spectacularly failed to evolve a response that factors in known variables; with this virus, there are many unknown variables as we learn every week. 
On the vaccination front, the government can be accused of rank mismanagement, partisanship, arrogance, and playing petty politics with states that have non-BJP governments. This is unpardonable but then pettiness and malevolence are among the defining characteristics of this government. Its inability or unwillingness to take on board the gender aspect has meant a near-total absence of a gendered policy response to the pandemic. This is galling because the pandemic deepens the inequalities and worsens the disparities that women suffer due to poverty and patriarchy.
Academic studies of epidemics have brought out that women are affected by outbreaks differently from men and carry long-term socio-health impacts that set them back by years. This was observed during the Zika and Ebola outbreaks in the last decade too. In Sierra Leone, one of the countries hit by the Ebola, more women died of obstetric complications than the disease itself between 2013 and 2016 but this attracted less attention than the outbreak. 
There has been a steady flood of data, study reports, news information, expert opinions, and recommendations on the gender aspect of the pandemic. It was up to governments across the world to use these to formulate policy responses to the pandemic, and to design recovery programmes specifically to counter its impact on women. 
There is no nice way to put this: the government of India fell woefully short. The gender aspect of the pandemic—and the lockdown—has been mostly in the margins, if at all. Against this backdrop, the Global Gender Index came as a necessary reminder. A government obsessed with India's international rankings and image should have considered at least this index seriously. Alas, it sank. 
The Global Gender Index is the developed world's neo-liberal metric unveiled by the World Economic Forum but it grabs the attention of the suits that frequent the Davos Summit, and to that extent, familiarises opinion leaders in various countries with gender disparity. It maps gender inequality or lack of parity on four parameters namely Economic Participation and Opportunity, Health and Survival, Political Empowerment, and Educational Attainment. These are not entirely comprehensive but include critical aspects of women's lives across different economies. Read with related global indices, the Index is a fair measure of gender inequality or disparity. 
In its 14th edition this year, the Index showed that women across the world will have to wait for at least one more generation—34 years more than estimated last year—to achieve parity. "On its current trajectory, it will now take 135.6 years to close the gender gap worldwide (instead of the 99.5 years last year)," stated the report. This was another affirmation that the pandemic impacted women more severely than men, and deepened the prevalent—also silent—crisis of gender inequality. 
The gap in Political Empowerment remains the largest followed by Economic Participation and Opportunity. The latter has been linked to the pandemic. "The data available for the 2021 edition of the report does not yet fully reflect the impact of the pandemic. Projections for a select number of countries show that gender gaps in labour force participation are wider since the outbreak of the pandemic," it pointed out.
The Global Gender Index ranked India 140th among 156 nations studied—a drop from last year's 112th position among 150 countries. India is also the third-worst among South Asian countries with only Pakistan and Afghanistan trailing. India fell back on three of the four parameters that the Index measures; the only exception was Educational Attainment. 
The immediate and direct toll in terms of caseload and mortality has been on men but the lingering and long-term impact has been—and will continue to be—on women. That's nearly 49% of India or 590 million women.
In India, it is acknowledged that women's participation in the labour force has been declining in the last 15 years. The pandemic made it worse. Between May and August last year, as the economy resumed its rhythm, the labour force participation for women was barely 9% compared to 67% for men. And worse, "women's labour force participation rate was a low 11% compared to 71% for men and they faced a much higher unemployment rate of 17% compared to 6% for men. The much fewer women who seek work find it much harder to find work compared to men," according to a report by the Centre for Monitoring Indian Economy (CMIE). The economic recovery, much like the pandemic, has been unequal and called for a gender-specific recovery effort too. 
India mirrors what UN Women put out last September. The pandemic-induced poverty surge will also widen the gender poverty gap meaning more women will be pushed into extreme poverty than men. "In 2021, it is expected there will be 118 women for every 100 men aged 25 to 34 in extreme poverty and this could rise to 121 by 2030," according to its report. Studies eloquently brought out that nearly half the women employed in the formal sector reported a worsening work-life balance. This is only the tip of the iceberg because an overwhelming 90% of India's women workers are in the informal or unorganised sector. 
On health, women globally have a 93.6 per cent—or 6.3 per cent less than men—of surviving and getting healthcare. This is ironic considering that the majority of healthcare workers and a fair number of medical professionals are women. India is ranked in the bottom five in the world on this parameter in the Global Gender Index. Anecdotal evidence and dipstick surveys have shown that except for the higher mortality of men from Covid-19, women have been the hardest hit in terms of bearing a double burden, putting up with domestic violence, loss of work, neglect of regular sexual and reproductive healthcare including access to safe abortions, disrupted regular health services, and mental health issues. 
The Foundation for Reproductive Health Services India had estimated last year that disruptions caused by the lockdowns could leave up to 26 million couples without access to contraception resulting in two or three million unintended pregnancies and possibly 80,000 unsafe abortions. The Population Foundation of India had, in July last year, issued a policy paper specifically underlining the need for "a gender lens, using gender-disaggregated data and evidence to address programmes and policies around COVID-19" and recommended that women and girls must be central to the government's COVID-19 response and recovery efforts. 
To the extent that news about the pandemic featured women, it focussed on the domestic abuse and violence they suffered. This social element of a health outbreak was not mapped as such in the Global Gender Index but its importance cannot be overlooked. From Argentina to Malaysia and Italy to Kazhakstan, intimate partner violence within a shared shelter was a common theme. India was not an exception. The staggering prevalence of domestic or intimate partner violence pushed the UN to term it "the shadow pandemic." 
UN Women data points to nearly 243 million women and girls between 15 and 49 years globally who were subjected to sexual and/or physical intimate partner violence last year. The pandemic made it worse. Women's support organisations across the world reported a rapid increase in violence against women and girls between March and September last year when most countries were locked down by government fiats. India's National Commission for Women (NCW) saw complaints of domestic abuse or violence peak from March to May and independent studies showed that the increase was 131% higher in red zone districts (stringent lockdown) than in green zone districts (restricted movement).
"When you are thinking about a pandemic, you have to differentiate between what comes from being infected and what comes from being affected," Clare Wenham, assistant professor of Global Health Policy, London School of Economics and Political Science, told The Atlantic last March in an essay headlined "The Coronavirus is a Disaster for Feminism". Wenham later tried to fill gender gaps in research and, in a signed article with co-authors in July 2020, published in Nature called for "COVID-19 research, response and recovery efforts that are tailored to support women. The three priorities are to tackle domestic violence; ensure access to sexual- and reproductive-health services; and support women's livelihoods". 
There is overwhelming evidence that India's women need a robustly discussed and well-planned gendered response to the pandemic and a recovery programme designed to include their specific needs. That the government of India will not meaningfully engage in this is unfortunate, to say the least.
The author is a senior Mumbai-based journalist and columnist. She writes on politics, cities, media, and gender. The views are personal
Get the latest reports & analysis with people's perspective on Protests, movements & deep analytical videos, discussions of the current affairs in your Telegram app. Subscribe to NewsClick's Telegram channel & get Real-Time updates on stories, as they get published on our website.
Subscribe Newsclick On Telegram