COVID-19: Recounting Many Forms of Losses and Hardships
These stories are from Manikpur block of Chitrakoot district in Uttar Pradesh, mostly inhabited by the Adivasi Kol community. All these stories were narrated at a public hearing organised by All India Forest Workers' Union.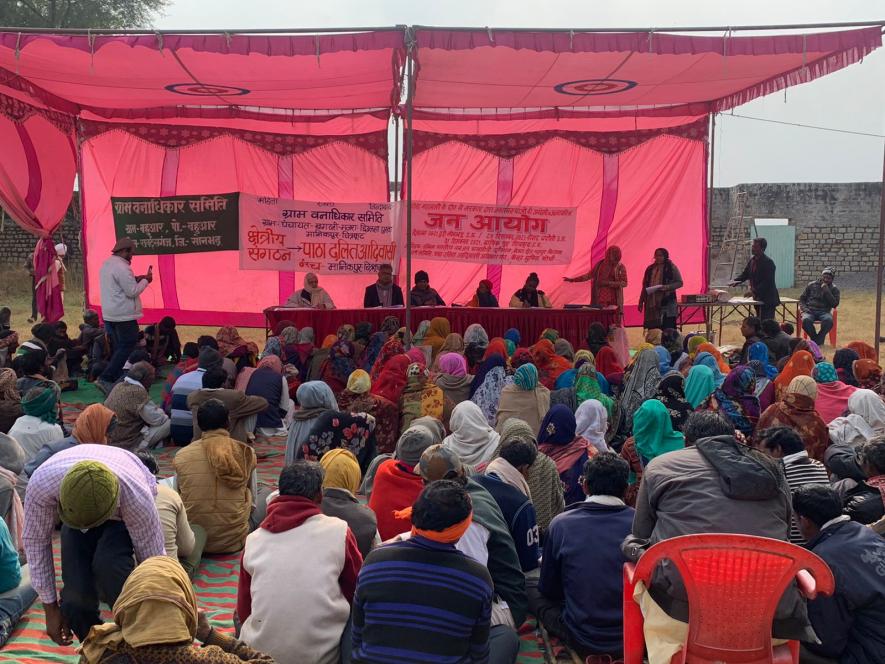 This piece was written as part of the public investigation process into human rights violations during ongoing Covid-19, set up by various people's movements. This piece is part of a larger upcoming report based on three public hearings organised between December 21 and 23, 2021 in Chandauli, Sonbhadra, and Manikpur in eastern Uttar Pradesh.
Things fall apart and the centre cannot hold… These immortal lines by W B Yeats have been quoted so many times that they seem to have become a cliche. And yet, the world we inhabit today seems to be an exact replica of this cliche. Imagine the predicament of a family that was forced to remain inside the house during the official lockdown announced by the government while their standing crops were burnt down by the Forest Department – using their confinement as an opportunity. Or the thousands of Adivasi labourers working in far-off factories of Chennai, Bhubaneshwar or Ambikapur, who were forced to trek for days or borrow thousands of rupees to return home – forced to live in unhygienic conditions in quarantine upon their return and then again forced to return to the same places of semi-servile labour in order to pay off their loans. Or take the situation of the pregnant woman, who was denied treatment despite her family running from pillar to post, denied entry in government hospitals and private nursing homes, eventually losing her unborn child. Or imagine the situation of the family of a father-son duo – who lost their lives in quick succession after being administered vaccines – as the family still awaits any compensation. For all these families, things not only fell apart, but have continued to sink lower, relentlessly, to this day.
These stories are from one single block of Chitrakoot district – Manikpur – in Uttar Pradesh, mostly inhabited by the Adivasi Kol community. All these stories were narrated at a public hearing organised by All India Forest Workers' Union to investigate the three Ds: Death, Debt and Distress due to the ongoing COVID-19 pandemic – or rather the State's response to it. A total of 17 depositions were made covering experiences of about 150 families of Manikpur block at the hearing. The break-up of the cases shows that less than 45% of presentations concerned medical issues, whether COVID-19 or otherwise. Fifty-five percent related to other types of traumatic  experiences during this period. As a jury member observed: "In 55% of the cases, the problems experienced were the direct result of the Central government's policy of not treating the pandemic as an illness where people should be protected by the state but (instead, the policy of) spreading terror."
What seems to be emerging from this public narration of trouble and misery is how everyone abandoned the narrators and their families – their employers, state officials, health systems, whether public or private. Moreover, their misery was used to exploit them more and more. If we broadly categorise these tales of misery, then they would fall into five or six types of cases: denial of timely and affordable health services or complete mis-treatment, debts and ordeals of long travels on foot during peak summer, joblessness and further denial of due payments under schemes like MGNREGA, forcible evictions from the property and burning of standing crops during the lockdown, threats to stop provision of basic entitlements like ration in order to ensure vaccination, deaths and infections due to vaccines of dubious quality (possibly infected syringes or lack of hygienic practices during vaccination).
Bitti, who hails from Ranipur Panchayat, had her husband fall sick during the first wave of COVID-19. No doctor agreed to see him. He was taken to the Community Health Centre situated at the block level, which again refused him treatment. Eventually, he was admitted to a private nursing home and the family had to sell their ration and goats to meet the cost of around Rs 40,000. Even that couldn't save his life. During the second wave, Bitti's son fell sick who was taken to the district hospital situated in Karvee, where once again, he was refused treatment and was sent back home. He died after two weeks, leaving behind his family including two small kids and a wife. The family hasn't received any form of compensation whatsoever. 
Similar are the stories of Bhola Kol, who lost his one foot due to poor and delayed treatment at the block CHC, Mahadeiya, who lost her unborn child in the process of being sent from Manikpur CHC to Karvee district hospital and then to Prayagraj district hospital – losing thousands of rupees in the process.  In all these stories, the State is either a negligent bystander or a willing partner in denial of any relief to these families.
The tale of Sobha, Sonu, and Rabi is that of millions of labourers who were stuck during the lockdown without any food or ration, thousands of miles away from their homes. All coming from the Kol community, they belong to the Unchadeeh Panchayat and worked in a factory on the outskirts of Chennai. With the unprecedented and unplanned lockdown, they ran out of their savings in 15 days. Their employer also refused to give them any relief. They walked for miles to reach Chennai, reached out to their families back home, who arranged a loan of Rs 40,000 with 10% monthly interest and transferred it to their accounts. They finally managed to rent a vehicle to reach their homes only to be locked outside their village in unhygienic conditions. In absence of any local means of livelihood, they were forced to return to Chennai soon, once again, this time to pay off their additional debts. 
Pooja, on the other hand, worked on a printing machine in Faridabad and suffered perhaps a worse fate. She, along with her two kids, was forced to walk back all the way to her village in the burning heat during the lockdown – without any access to food or milk for the small children. She used her small savings to buy some basic food; but all along the way passing through three states of Haryana, Delhi and Uttar Pradesh, she didn't get any help either from the community or the state. By the time they reached home to face 15 days of quarantine, their feet were torn, and nails were bleeding. 
Rajkumari, along with many other families, has been tilling the land in Sakraunha panchayat for years just like her ancestors. During the lockdown, their standing crops of peas, gram, and barley were either burnt down or fields were dug open by the officials of the Forest Department on the grounds that they were "illegally" tilling these lands. When they went to meet the District Magistrate of Chitrakoot to lodge their complaint, they were reportedly told: "What do you have to do with the land? You are shudras. Your job is to labour. Better go and work under MGNREGA."
Even though their ownership claim forms have been filed in the block, they have repeatedly been denied access and rights to till. And this is the story not just of one village or Panchayat, but many of notwithstanding the Forest Rights Act. In another case, many families' standing crops were crushed under the tractors and false cases were filed against them for which they must repeatedly appear before courts with no relief in sight.
While the state officials ask these labourers to go and work under MGNREGA, there are many cases in which the labourers were given payment for just 12 or 15 days as against 45 days of work. This was the case with about 100 labourers in Amarpur village, at a time when no other means of income were available.
All these stories are not merely a recount of ongoing miseries faced by the poor villagers of this block, but in many adjacent areas like Sonbhadra too. They also tell us that poverty is not an abstract thing forced by the hand of God – which many people said about the Cobid-19 pandemic – but an active perpetuation by the institutions of state and profit-seeking market (health care in this case) going rampant in absence of any accountability. The point, however, is to change this world. The point is to tell the world that the pandemics are manmade in more than one way.
'Public Inquiry Committees' and 'Truth, Accountability & Justice Commission (People's Commission' on COVID-19 Pandemic in India)' is a collective formed across India is  in the process of forming public inquiry committees , empowering people to investigate/question and initiate a public process of asking for state and private sector accountability. The author is part of this process and he is a researcher and activist working with human rights issues.
Get the latest reports & analysis with people's perspective on Protests, movements & deep analytical videos, discussions of the current affairs in your Telegram app. Subscribe to NewsClick's Telegram channel & get Real-Time updates on stories, as they get published on our website.
Subscribe Newsclick On Telegram