COVID-19 in Rural India-XIV: Children and Cattle Will Die of Starvation, Say Landless Agri Labourers in Haryana's Nuh
The lockdown has made feeding cattle very difficult for owners of livestock in the village. Since the straw obtained during the harvesting of last year's crop is over, most households have to buy straw from outside the village during this time.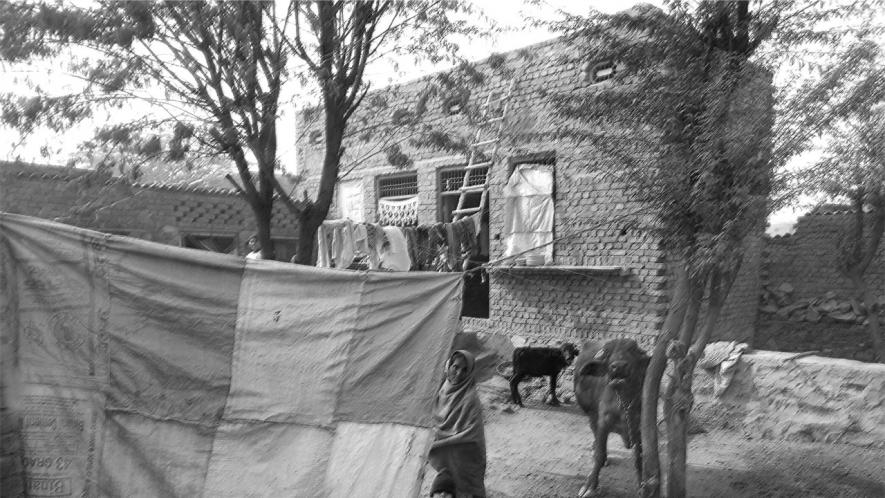 Representational image. | Image: NewsClick
This is the 14th report in a series that provides glimpses into the impact of COVID-19-related policies on life in rural India. The series, commissioned by the Society for Social and Economic Research, comprises reports by various scholars who have been conducting village studies in different parts of India. The reports have been prepared on the basis of telephonic interviews with key informants in their study villages. This report describes the impact of the COVID-19 pandemic and the nationwide lockdown on the economy, lives and livelihoods of inhabitants of Bhadas village in Nuh (Mewat) district of Haryana.
Bhadas village is situated in Nuh (Mewat) district of Haryana, in a region that has been identified as a hotspot of COVID-19 cases. The total geographical area of the village is 726 hectares, and it is 20 km away from the tehsil headquarters, Firozpur Jhirka. Bhadas is a Muslim-majority village; when I surveyed the village in 2018, 696 out of 961 households belonged to the Meo caste. About 100 households in the village were Hindu, and the majority of them belong to the Saini caste. In total, 18 caste groups are represented in the village.
Most of the Meo families in Bhadas own agricultural land. Muslim households that belong to other communities, such as Mirasi, Miyan, Fakeer, Jogi and Teli, are dependent on wage labour. Apart from agricultural labour, they are also employed as truck drivers, construction workers and manual workers in various small commercial establishments, such as roadside restaurants. Some of them are also self-employed, engaging in occupations like tailoring or street vending (for example, street stalls selling biryani). Most of the Saini families in Bhadas also own agricultural land, while households belonging to castes such as Dhobi, Bhadbhuja, Valmiki, Koli and Kumhar mainly work as casual labourers. Their main employment is truck driving, which requires them to stay away from their families for prolonged periods of time. There are also six Jain households in the village, all of which are dependent on petty trade.
Mustard and wheat are the major rabi crops grown in Bhadas. In the kharif season, millets such as jowar (sorghum) and bajra (pearl millet) are cultivated. Scarcity of water, both for irrigation as well as for domestic use, is a major problem in the village. Insufficient rainfall often leads to drought-like conditions. Mustard is the most preferred crop in the rabi season as it requires less irrigation than wheat. On unirrigated land, masur (lentil) is also cultivated in the rabi season. Unlike in other parts of Haryana, most agricultural operations are carried out manually in Bhadas. 
My respondents reported that the harvesting of wheat is currently underway in Bhadas, but a shadow of fear hangs over the process because the police do not allow many people to gather in one place. Since fewer people are working in each field, the work is taking a lot longer to complete. Farmers are also concerned that they have not yet been able to sell the harvested mustard crop. There is still no clarity on when will they be able to sell the mustard, which is the most important crop they grow in the year.
One of the landless respondents said that, in the past, he and other members of his family migrated for work to Palwal (Haryana) during the wheat harvesting season. Harvesting work would be paid in kind (usually 1.6 or two quintals of grain and an equal quantity of straw for every acre harvested by the family), and the grain earned by the whole family, about 50 mons (20 quintals), during the wheat harvesting season, would feed the family all through the year. The wheat straw they obtained as wages usually sufficed to feed the family's two buffaloes for about seven months. However, given that they have not been able to travel this year during this period, the family will be forced to purchase the wheat and straw they need throughout the year.  
Also read: COVID-19 in Rural India-XIII: Lack of Labour, a Key Anxiety for Farmers in Theri Village
The lockdown has made feeding cattle very difficult for owners of livestock in the village. Since the straw obtained during the harvesting of last year's crop is over, most households have to buy straw from outside the village during this time. In addition, they also buy other types of feed, such as oilcake and cotton seed, from the market. The respondent mentioned above reported that his current stock of straw would last only four days, and, since he is unable to procure more straw in order to feed his cattle, he has been forced to glean wheat straw left in the fields after the harvest using a broom. 
He added grimly, "Children and cattle will die of starvation, and we will be forced to commit suicide."
Job Loss
The lockdown has led to job losses among those who were employed in roadside restaurants and in construction activities in the NCR region. One of the respondents used to work in a restaurant in Badkali and earned Rs 6,000 per month. He is the sole breadwinner for a household of 10 people, but has been out of work since March 22. 
Another respondent worked as a mason and used to earn, on average, Rs 6,000 per month. He and other workers engaged in construction activities have all been out of work since the lockdown started. The weddings of two of his sisters were scheduled for March 29, for which purchases had been made, and an advance amount of Rs 2,000 towards the wedding arrangements had been paid. The weddings had to be postponed. 
As noted earlier, many individuals in Bhadas work as truck drivers, and as drivers, conductors or helpers on buses. They regularly travel far away and are usually away from their homes for seven to ten days at a stretch. Many of them used to manage a trip home only once in a month. 
A truck driver said that he gets a monthly salary of Rs 14,000, which is credited to him on the 10th of every month. He received his last salary on March 10. He was in Hyderabad when the lockdown was announced and was worried, for he did not know when he would be able to see his children again. On March 22, his employer told him to go home but did not give him money for travel. He is not sure when, and how much, he will be paid for the work he did in the month of March. He is also unsure whether his employer will re-employ him when the lockdown is lifted. His household has two and a half acres of land of which one and a half acres had to be mortgaged to obtain a loan of Rs 3 lakh for his daughter's wedding. The income from the remaining one acre of agricultural land–-on which the household grew wheat and mustard in the rabi season—is too meagre for them to survive on and the respondent's salary as truck driver is crucial for their survival. He worries that a loss of employment will bring extreme hardship to his family.
Also read: COVID-19 in Rural India -I: Harvesting and Selling Anxiety Grips Farmers in Haryana's Birdhana Village
Another truck driver had a similar story to tell. He used to earn Rs 20,000 to 25,000 per month. He owns 10 bighas (three bighas = one acre) of unirrigated agricultural land. Due to the low productivity of his land, he earns only a meagre income from agriculture. He worries that he might not find employment after the lockdown ends, and also, if the lockdown is extended, that his family "may die of starvation".
No Mahatma Gandhi National Rural Employment Guarantee Act (MGNREGA) work has been available in Bhadas for many years. Only one of the nine respondents was aware of the MGNREGA. scheme. All other respondents said that they did not know what the MGNREGA was.
The lockdown has also hampered access to banking facilities. There is no bank branch in Bhadas; the nearest branches are in Badkali and Nagina. The lack of transport during the lockdown has made it difficult for people to travel to these bank branches. In addition, policemen posted at the branches chase people away if too many come to the bank to withdraw cash. Fear of getting into trouble with the police is making people avoid travelling to the bank to withdraw cash. Although women with Jan Dhan accounts have received Rs 500 in their accounts, withdrawing the cash has not been possible for most. In these circumstances, many are forced to use private agents to withdraw cash from bank accounts. These agents charge a one per cent commission for withdrawing cash from their bank accounts and giving it to people in the village.
There are a number of small shops near the bus stand in Bhadas. These shops used to supply the village with essential commodities. According to the respondents, all shops except the grocery and vegetable shops are closed because of the lockdown. This has made it impossible for the villagers to get various other essential commodities. Items that are available have become more expensive during the lockdown; the price of potatoes has risen from Rs 25 to Rs 50 per kg, while the price of bottle gourd (lauki) increased from Rs 20 to Rs 40 per kg. 
The public distribution system in Bhadas is in very bad shape. Earlier during the survey in Bhadas in 2018, it was found that beneficiaries only get wheat from the ration shop, and they often did not get the amount of grain they were entitled to. The Government of Haryana has announced that, given the lockdown and other restrictions, all beneficiaries of PDS will be given sugar, rice, pulses, and mustard oil for free for a period of three months, as well as being given five kg of additional grain for free every month for these three months. However, all the respondents reported that they had received only the usual amount of grain this month (and not for free), and that they had received nothing else.
Mewat has been a hotspot of COVID-19 infections. Given this, and because the village has a lot of migrant workers who returned to the village after the lockdown was announced, the village has received specific attention for COVID-19 testing. The sarpanch of the village panchayat made a list of everyone who had travelled from outside and arranged for them to undergo RT-PCR testing at the testing centre in Nagina. On April 3, three vehicles carrying police personnel and two vehicles carrying doctors arrived in the village, and went door to door to check if anyone had symptoms of COVID-19. About 200 individuals who had travelled to the village have been tested for COVID-19 and thus far, they have all tested negative. One round of the spraying of disinfectants has also been done in the village. 
The truck driver discussed above, who was in Hyderabad when the lockdown was announced, managed to return to the village with his brother after his employer relieved him of work and told him to go home. He has undergone testing for COVID-19 twice. The first time, the test was arranged by the sarpanch. However, since he had a cough and a cold, and was very worried that he might infect other family members, he went to get tested a second time on his own. Luckily for him, he tested negative both times.
[This report is based on telephonic interviews with nine informants including three truck drivers, two farmers, one industrial worker, one commission agent, one restaurant worker and one construction worker. The interviews were conducted between April 10 and April 12, 2020.]
The author did her PhD from Indira Gandhi University, Meerpur, Rewari and is State Joint Secretary of Janwadi Mahila Samiti, Haryana. Translated from the original in Hindi by Umesh Yadav.
Get the latest reports & analysis with people's perspective on Protests, movements & deep analytical videos, discussions of the current affairs in your Telegram app. Subscribe to NewsClick's Telegram channel & get Real-Time updates on stories, as they get published on our website.
Subscribe Newsclick On Telegram