Cowshed, Gambling, Toilet: Bundelkhand Anganwadis in Shambles
Most Anganwadis are either shut or rarely open and have no ration for children and women.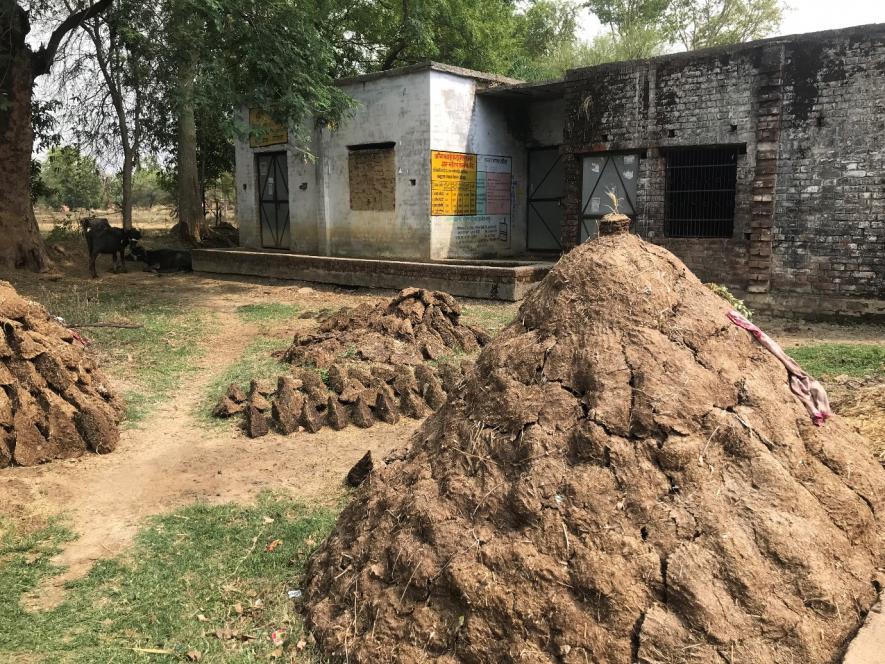 Banda/Chitrakoot: The one-room building in Nirala Nagar hamlet of Bisanda Block, Uttar Pradesh's Banda district, is an Anganwadi for children on paper. However, it's a virtual cowshed with scattered dung cakes and cattle tied on the playground, which was planned as a kitchen garden to provide nutritious food to children and lactating and pregnant women under Integrated Child Development Service (ICDS). 
Nirala Nagar has around 20 houses with most families from Scheduled Caste (SC) and Scheduled Tribe (ST) communities.  
The Anganwadi centre, being used as a storeroom for cattle feed and dung that are used manure and cooking fuel, was shut down two months ago, depriving children between six months and six years of rations that they are entitled to under the ICDS. 
"The Anganwadi centre here opens only once a month. The primary school never opened since its establishment while other government schools closed down during the pandemic. Our children are neither getting education nor ration," Sant Saran, whose two children go to the neighbouring Aau village to attend school, tells Newsclick. 
"The number of malnourished children has increased. We don't know to whom we should complain to. It seems hunger and helplessness are our destiny. Perhaps, our children are born to die like this," Saran adds. 
The Centre announced ration distribution at Anganwadis of all states and Union Territories to tackle widespread malnutrition under the ICDS in December 2021. Known as Anupurak Pushtahar (supplementary nutrition), UP was supposed to distribute ration for children between six months and six years, pregnant and lactating women, malnourished children and adolescent girls between 11 and 16 through its 1,89,309 Anganwadis. 
Each child beneficiary is entitled to 1,300 gm of porridge, 260 gm of black gram (raw), 130 gm of jaggery and 130 gm of roasted black gram. Each pregnant woman should be provided 1,690 gm of porridge, 260 gm of black gram (raw), 130 gm of jaggery and 130 gm of roasted black gram. 
Bachhei village of Naraini Block shares the same story of government apathy and neglect. The village, which has around 6,000 residents, has three Anganwadi centres on paper, of which only one is functional, that too occasionally. The villagers allege that the premises have become a public lavatory and a gambling and drinking spot, forcing children to walk 2 km to a school in a nearby village.  
Om Prakash and Bablu Tiger, whose kids are deprived of dry ration, say, "What is the use of buildings constructed with lakhs of rupees if they are non-functional? The one that opens occasionally refuses to give ration saying that the machine (to weigh) is not working. Therefore, we have stopped sending our children to the centre." 
When Newsclick visited a few Anganwadis in the Bundelkhand region between May 8 and 10, most had neither students nor teachers—a typical scene in the last years. Villagers played cards at one of the centres in the early hours of the day. This seems to have been going on for years. 
The villagers were worried as cases of malnutrition were on the rise and blamed the "callous attitude" of the government toward the healthcare that was preventing children access to food they are entitled for.
The similar situation in the adjacent Chitrakoot district was visible with Anganwadis were found locked till noon. The helper at the Anganwadi in Karwi informed NewsClick that an Anganwadi worker visits the centre occasionally, as she had started living in the town.
FAILURE OF NUTRITION & REHABILITATION 
In Piprahari village of Banda district, almost all children within the age group of three-four years were visibly pale, weak and malnourished with bloated stomachs and dry skin. No ration is available at the Anganwadi centre, which exists only in name. 
Most children within the age group of three to four years in Piprahari village of Banda district are malnourished.
The village, with a population of 2,200 in 104 households, mostly SCs, has no school.
Fifteen-month-old Rani looks emaciated and is recovering from "some disease" which caused a month-long fever, violent chills and vomiting.  
"Three of my six children are malnourished. The Anganwadi is useless as we do not receive ration," her other Saroja says.
Saroja's fellow villager Sheelu, whose four children are malnourished, also complains about the unavailability of ration. 
"Ration isn't available. Shall we provide it from my house?" the lone Anganwadi centre in the area tells her whenever she asks for ration for her children. 
When asked if she has consulted any doctor to cure the abdominal bloating in her children, she says, "When we don't have money to travel to town, how will we arrange for medicines? The quack says the stomach distention is caused by consuming outside food," Sheelu says.
Sunita, a mother of a two-year-old, says, "My child has never been weighed. We never get proper attention or care at the Anganwadi."
Many villagers alleged that their children up to the age of three were being denied nutrition by the centre, adding that most of the time, they return empty handed as the Anganwadi worker and helper are not present to cater to the beneficiaries.
When NewsClick spoke to some Anganwadi workers, they said they were not receiving adequate quantities of dry rations from the department concerned and had to often face the ire of villagers.
Malnutrition among UP children is high. According to the National Family Health Survey (NFHS)-5 2019-2021, 41.3% of under-5 kids were stunted, 33.1% were underweight, 17% wasted and 7.1% were severely wasted. It improved from 2015-16 when, according to NFHS-4, 48.5% were stunted, 41% underweight, 17.9% wasted and 5.8% severely wasted.
Raja Bhaiya, head of non-profit Vidya Dham Samiti, who works to improve the socio-economic status of the marginalised in Bundelkhand claims that Anganwadis in Bundelkhand "don't follow government guidelines".
"Not just Banda, Anganwadis in Chitrakoot, Mahoba, Jhansi and other districts of Bundelkhand region are being used for illegal activities after school hours. The gram panchayats and top officials haven't acted despite numerous complaints," he alleges.
"Anganwadis were set up to end malnutrition among children by providing nutritious meals—but there are dozens of malnourished children in every Bundelkhand region," he tells Newsclick.
According to the Samiti, around 48% of tribal children under five are malnourished. Acute malnutrition causes stunting in infants and toddlers, making them highly vulnerable to diseases and preventing overall development.
Bhaiya further alleges that social welfare officers in Bundelkhand sell off Anganwadi ration and provide low-quality ration to them, thereby playing around with the nutrition of several poor children.
Recently, the Allahabad High Court's Lucknow Bench expressed concern over a PIL alleging that the UP government was not paying "proper attention" to malnutrition among children and women and asked the state government to take immediate steps to tackle the problem and submit details in court.
UNUTILISED FUNDS RAISE QUESTIONS
As the Yogi Adityanath government tabled its 2023-24 Budget, the low utilisation of funds earmarked in the earlier Budgets (2019-23) questions its claim on eradicating malnutrition.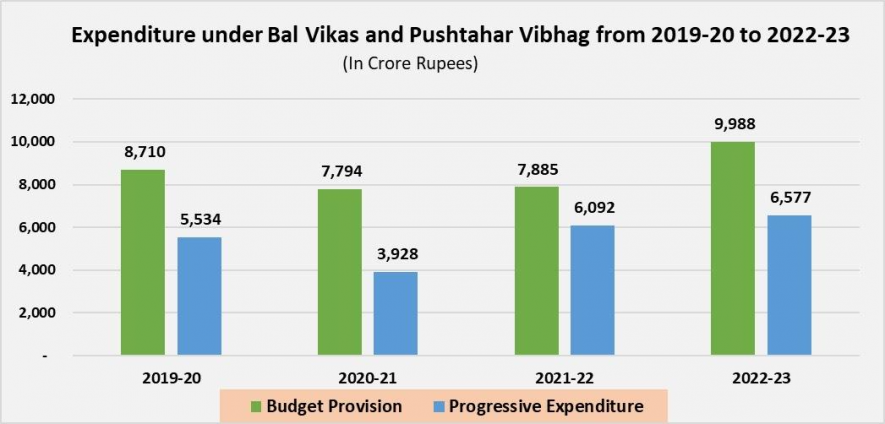 Source: Koshvani, UP government.
Progressive expenditure is a type of public spending which is directed towards lower-income groups of society.
According to the data accessed by Newsclick and available on Koshvani, gateway to finance activities in Uttar Pradesh", the government did not spend Rs 12,245 crore allocated to the Bal Vikas and Pushtahar Vibhag in the last four financial years.
An analysis of the budgetary allocation shows that in 2019-20, Rs 8,710 crore was allocated but the progressive expenditure—a type of public spending directed towards lower-income groups—was Rs 5,534. Similarly, Rs 7,794 crore was allocated in 2020-21 but the progressive expenditure was Rs 3,928 crore.
The graph improved in 2021-22 as Rs 7,885 crore was allocated while Rs 6,092 was spent. But the low utilisation of funds in 2022-23 is worrying as the government spent only Rs 6,577 crore in progressive expenditure against the allocation of Rs 9,988.
If not used within the given financial year, allocated funds are not carried over to the next financial year.
Though the UP government has consistently claimed that it 'monitored' the utilisation of funds, low expenditure in such a crucial department remains a cause of concern.
Data analysis by Peeyush Sharma 
Get the latest reports & analysis with people's perspective on Protests, movements & deep analytical videos, discussions of the current affairs in your Telegram app. Subscribe to NewsClick's Telegram channel & get Real-Time updates on stories, as they get published on our website.
Subscribe Newsclick On Telegram