Cramping Period: To Talk or Not to Talk — the Perpetual Menstrual Gag
Qinwen Zheng is the latest in a very short list of women athletes talking about the difficulty of competing while menstruating. It has provided a great sound byte for most observers but few if any are willing to use it to create change or at the very least, awareness about something still considered taboo across the globe.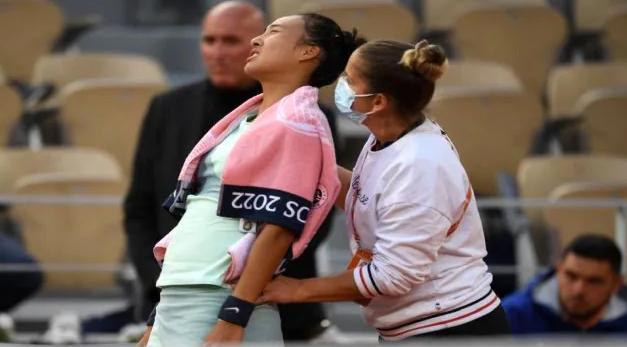 Qinwen Zheng is attended by her physio during her French Open fourth round match against Iga Swiatek last week. The Chinese player lost the match after struggling from menstrual cramps and a leg injury (Pic: Firstpost, Twitter).
"I really wish I can be [a] man [so] that I don't have to suffer from this."
The words, exasperation brimming, is every woman's reality. The reasons may vary, but the circumstances around which these words are uttered remain the same. Or worse, the words are not uttered at all, and the emotion and life situations which fuel them get swept under the carpet, subdued, obscured, beaten down, or trivialised. 
Exceptions are there, of course. Are there? Are we sure? 
Then again, we should not be addressing exceptions but the lives of women pursuing any enterprise in a world whose outlook and yardstick is skewed by a lens primed for men.      
We can go on and talk about life in terms of success — measured in tangible terms in any walk of life — be it on Wall Street, or the Parliament or the tennis court. Women have indeed conquered them all. Phenomenal women. Success, however, is a skewed benchmark, and, when the system itself doesn't provide the basics for it for one segment of the population, then citing the journey against odds as examples of emancipation is hypocritical. Everything begins with recognition of effort and enterprise, and, we may not realise that even this commodity is frugally rationed for a woman.
When Chinese tennis player Qinwen Zheng pulled out of her French Open match after suffering from menstrual cramps last week, her words echoed around the world, beyond the power corridors and courts of tennis. 
"It's just girls' things, you know, '' said Zheng, after losing her fourth round match against World No. 1 Iga Swiatek of Poland. 
"The first day is always so tough and then I have to do sport and I always have so much pain on the first day. And I couldn't go against my nature," added Zheng.
Then came the words that should stir our consciousness.
Also Read | Asian Cup Qualifiers: How to Kill Home Advantage, the Indian Football Way
"[Sic] I wish I can be a man on court, but I cannot in that moment…I really wish I can be [a] man [so] that I don't have to suffer from this."
Zheng, of course, was not wishing to go against nature. She was possibly trying to tell the world that her success, even failure, which takes tremendous amounts of hard work, mental and physical discipline and conditioning, also requires the significant matter of her biological clock ticking in sync with the daily schedule of a fortnight-long Grand Slam tennis tournament. 
Well, it did not sync at the 2022 Roland Garros, and after fighting cramps, Zheng lost her match against Swiatek despite winning the first set. The 19-year-old World No. 74 could have gone on to score a memorable upset on Paris clay. 
Zheng spoke out. The reason for loss is one of the first questions thrown at a professional athlete. Tennis players are no exceptions. The question is so common that everyone, including the players, take it in its stride, forgetting that it is not something great to ask someone who had just lost. Cruel even when asked mere minutes after the fall.
Zheng replied, but the words came out measured. She chose her words like any socially conditioned woman would. In fact, one has heard the same line in different social strata and classes, in different age groups. Girl thing!
Nearly half the population of the world menstruates. And yet, have you wondered why women — successful or not, whatever platform they are on or not — shy away from stating it as a fact? Point blank. It is period cramps. Yes it happens to women or girls. But it has a name and it is a process as intricate and important as any other physiological process we can think of. 
The reason is simple yet complex and deeply entrenched in our society. Women's periods are still a taboo topic, culturally smoke screened so much that it is still only spoken in hushed tones. So much of a taboo that in certain parts of the world — for instance India — that sanitary napkins bought at a chemist are only given out to the customer wrapped in a newspaper or brown paper bag. As if the contents in the packet, if revealed to the world, would become a threat to existence itself. The culture of concealment is so entrenched that it cuts across classes, borders and professions, as is evident in Zheng's case. 
Also Read | Amit Panghal, Shiva Thapa in Indian Boxing Team For Commonwealth Games
Karen Houppert, author of The Curse: Confronting the Last Unmentionable Taboo, Menstruation, was quoted by CNN talking about how the culture of concealment stems from the basic fact that spaces — be it office or the tennis court of a Grand Slam — are in essence "men's spaces".
"Even grown women in the office, when they make the walk from their cubicle to the bathroom discreetly tuck a tampon or pad up their sleeve or decide whether to carry their purse with them — not to hide the blood itself, but the fact that they're bleeding," Houppert said after the then British No. 1 tennis player Heather Watson cited fatigue due to periods as a reason for her loss at the 2016 Australian Open. 
Watson had sparked a global debate at the time with pundits suddenly talking about menstruation and athletes. Has the taboo been broken in sport?, the headlines shouted. This was as recent as 2016 and Watson used the exact same words Zheng did. Girl things!
"I wish she could have just been direct about it, because I think that adds to the weirdness surrounding this topic," Houppert had commented. "Our history of talking about menstruation is really full of euphemisms that people have used for centuries: Wrong time of the month; Communists in the summer house; The misery; Under the weather; Weeping wound; Package of troubles."
There is also this added fear that periods, if cited, could be used against women for any form of dip in productivity in work spaces. HR policies — the progressive ones to start with — are mulling period leaves at offices, taking cognizance of the need. These will go a long way in removing the stigma associated with periods, something even elite tennis players struggle with.   
Zheng is not the first tennis player to speak about the challenge women face while on the professional tour. But the bad part is she is one of a handful, even though at least a few times a year, the periods of a player would coincide with a match. At times a big match. And how periods affect performance of the athletes have been a topic of research. Physiologically and psychologically, there is added pressure on the player. And cramps are just one of the many factors that weigh down on them. If the bleeding is high, there is an instant deficiency of iron which leads to fatigue. That in turn would affect the endurance of the players on court and open them up to injuries as well.
The players learn to live with it, cope with it rather, with some opting to use medication to delay their periods in case it is due during a major tournament. That, in turn, comes with its own set of problems.
Also Read | Korea Deny India a Spot in Final of Asia Cup Hockey
The issue is not to make airwaves about a woman's physiology or criticise a calendar. Instead, this is an opportunity to educate, advocate and instigate large scale societal change surrounding a natural human process that is shunned in most societies. In India, for instance, women are not allowed to enter temples for worship during periods, associating the natural process with impurity. That trickles down to homes as well. Ultimately the women are so conditioned to believe the impurity narrative which is a product of centuries of patriarchal powerplay. Such cultural shackles — in various forms — are present in many societies. And this is where elite tennis players talking about periods and menstrual challenges could make a positive change in perception simply because of their reach through star power.
Zheng mentioned a scenario where she wished she was a man. We are left wondering if the approach to this would have been different if gender biology was flipped.
In a satirical essay published in the October 1978 issue of Ms. magazine, feminist activist and journalist Gloria Steinem "flipped the script" and presented a hypothetical situation. She elaborated that in such a scenario the natural reproductive process, stigmatised because it is associated with women's bodies, would become positive and worthy of attention and pride if men were involved. 
"Menstruation would become an enviable, boast-worthy, masculine event: Men would brag about how long and how much," Steinem wrote. "Boys would mark the onset of menses, that longed-for proof of manhood, with religious ritual and stag parties…"
Her attempt was to illustrate how the narrative would flip if it was an attribute of the dominant gender. It has happened in tennis previously. When Roger Federer became father to twins, there were huge debates on how fatherhood would impact his career, with presumptions that the new dad would have sleepless nights with the infants. While similar discussions had happened when Kim Clijsters returned to court after giving birth to her daughter and then went on to win a Grand Slam, the tonality, arguably, was different. Same applies to Serena Williams not winning a Slam after becoming a mother. The tennis world is yet to deliberate wholeheartedly on that and shout out the fact that for a woman playing professional tennis the choice is a ruthless one, made even more unforgiving by the performance-centric policies of sponsors and other stakeholders in the game. 
It also illustrates the hypocrisy with which the world looks at women sportspersons. They are considered and expected to perform as professionals. But, in a larger game of societal politics and gender powerplay, they are always a rung below their male counterparts.
Equality is what the tennis world has been striving for, of late. With demands of equal pay and some tournaments adhering to that. But beyond that, when incidents such as Zheng's transpire, we also get to see the real picture. Tennis, much like all other professional spaces in the world, is a long way from offering an equal platform for both men and women. And this fact should not be spoken in hushed tones, period!
Get the latest reports & analysis with people's perspective on Protests, movements & deep analytical videos, discussions of the current affairs in your Telegram app. Subscribe to NewsClick's Telegram channel & get Real-Time updates on stories, as they get published on our website.
Subscribe Newsclick On Telegram