Crisis Looms for Maharashtra's Sugar Industry with Cutters Mulling Strike
The cutters are planning a strike to demand an increase in wages as well as other facilities ahead of the next session of the state assembly.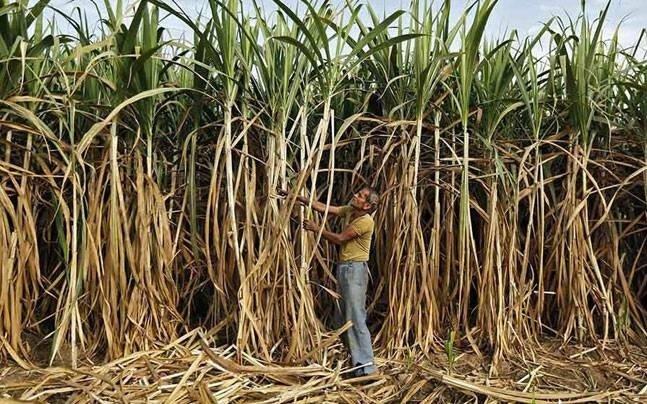 Representational image. | Image Courtesy: India Today
Maharashtra, India's second-largest sugar producing state after Uttar Pradesh, could be faced with a crisis. The labourers who cut the cane in the fields are an essential part of the industry, as important as farmers and the sugar mills. However, they remain the most neglected cog of this multi-thousand crore industry.
Kalyan Shirsat is a 48-year-old is sugarcane cutter from Dharur tehsil in Beed district, which falls in the Marathwada region. He travels to western Maharashtra's Kolhapur district each year between October and April – the cane cutting season. He travels with his wife, brother, two children and a bullock cart. The contractor pays him an advance of up to Rs 30,000 at the beginning of the season in September. However, this year, Shirsat has not received a single rupee from his contractor.
"We were supposed to get more money this year and the state government had guaranteed it. So, we decided to take an advance only after new wages are finalised," he said. He has not given his word to any of the contractors who generally take him on to work at the sugar mills.
The 16 districts and about 52 tehsils in Marathwada, Vidarbha and north Maharashtra supplies cane cutters to the state as well as neighbouring Karnataka. More than 12 lakh cutters travel for a season which lasts between seven and eight months, often with their entire family. These labourers generally are contracted to middlemen or a contractor.
Traditionally, the wages of cane cutters are finalised in a tribunal. It consisted of one representative from the cooperative lobby, one member from the cane cutters, two from the contractors' lobby and two to three actual labourers. In the past, the sugarcane cutters were represented by Babanrao Dhakane, who united them in a struggle for their rights almost 35 years ago. From 1993 to 2014, Bharatiya Janata Party leader Gopinath Munde was their representative. He was the tallest leader of the community – the Vanjaris – who account for about 60% of all cutters. The cooperative lobby was then representated by NCP chief Sharad Pawar.
Since 2015-16, Munde's daughter Pankaja Munde and NCP's Jayant Patil took on the positions held by Munde and Pawar respectively. In their first meeting, they decided on conducting the next meeting five years later. Till then, the tribunal used to hold a meeting every three years to revise wages. However, the five-year wait has hurt the cutters.
According to their current wage, cutters get Rs 238 per ton of cane and the contractor gets 18.5% of the entire payment to the labourers he brought. Now, cutters organisations are demanding a 150% hike in their wages, which would result in Rs 600 per ton for the cutters and a 37% commission to contractors.
The various labour organisations have started mobilising to the corner state government and the sugar mill lobby in the matter. The internal politics within certain outfits however, may derail their prospects. For example, on Monday, September 28, Vinayak Mete, a BJP MLC held a rally in Beed where he took jibe at Pankaja Munde. Pankaja generally operates out of Mumbai so Mete, taking a jibe, said that "the labourers representatives are taking a position which will help the (sugar) mills lobby. Those who stay in Mumbai can't understand the problems of labourers."
It could be a case of internal jockeying, but it harms the cause of cane cutters. Bhagwat Taware, a senior journalist from Beed said that due to such politics, the demands of cutters always take a backseat. "Only the communists and the Vanchit Bahujan Aghadi's organisations talk about facilities and security for cane cutters. All other organisations keep demanding an increase in wages. These labourers will need gloves, and COVID-19 related facilities at every sugar mill. But no one is talking about this. It is true that they should get more money per ton and it is their right. But these facilities and securities are also their right," said Taware.
Various demands by sugarcane cutters have been pending over the years. The cutters wanted a statutory body which would deal with their issues. The BJP had announced the formation of the body but appointments to it were not done till the end of its tenure. The current government has assured that it will make the statutory body active but nothing substantial has been done as of now.
"Our agitation is for various demands. The sugarcane cutters also deserve insurance like other labourers. Many of them come with their block carts or tractors. So, mills should hike their transportation rates. Until the tribunal and state government do not come up with a concrete proposal, we won't pick up our sickles," said Mohan Jadhav, leader of a cutters organisation affiliated to the CITU.
The COVID-19 pandemic has also hit sugarcane cutters. They have had to go without work for half of March and all of April. Their payments are pending with various mills. Navnath Parikhe from Georai tehsil in Beed was one such labourer. "I had no work in the last week of March and in the first two weeks of April. The contractor did not give me money during this period. In mid-April I returned to my village. However, there was no work under MNREGA there as well," said Parikhe.
Organisations are demanding an immediate transfer of at least Rs 2,000 thousand to the accounts of these labourers as compensation. "The state government should have transferred it by now. It provided food grains but that it not enough. They need money for other expenses. The state government could have asked the mills to transfer an amount," said Mohan Jadhav.
On the ground, agitations have already begun in Beed, Parbhani and Jalana districts as of now. On the night of September 27, organisations stopped tractors carrying cane cutters to western Maharashtra. They requested the contractor to wait for a few more weeks so that the cutters would get more money as well as other facilities from the government and the mills. In the coming days, the protest is likely to intensity across 16 districts of Maharashtra. Will the state government take pro-active measures to pacify the agitation is a key question now.
Get the latest reports & analysis with people's perspective on Protests, movements & deep analytical videos, discussions of the current affairs in your Telegram app. Subscribe to NewsClick's Telegram channel & get Real-Time updates on stories, as they get published on our website.
Subscribe Newsclick On Telegram