Cut, Copy, Waste: Indian Sports's Social Media Has Been Co-Opted To Serve A Nationalist Agenda
In times of crises, arise the PR stuntmen, whose slick messaging and wordplay has become a feature of sportspersons Twitter feed in recent times. The problem isn't what is being said, the problem is how badly the stunt is pulled off, with multiple personalities saying the same thing, in the same words at the same time. This mass hypnosis has been called out, but continues unabated.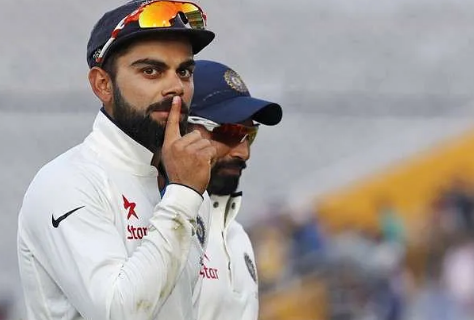 That Virat Kohli, usually brash on field and silent on larger issues off it, and Anil Kumble can stand together on one issue at least is the biggest takeaway from the episode of Rihanna's tweet about farmers' protest and the uniform reaction that came from players.
The name, Anil Dey, doesn't ring a bell these days. A gifted midfielder, Dey was the darling of the Mohun Bagan crowd in the 1940s and early 1950s known as much for his handsome looks as his football. He was such a stylish and glamorous footballer that a leading lady of the Bengali film industry was a regular at the Mohun Bagan ground in those days, only to cheer Dey in action.
That the duo married and split after a few years is another story. But Dey would be remembered for an altogether different reason.
At the height of the Quit India movement in 1942, sporting activities came to a halt at the Calcutta (now Kolkata) Maidan. A bunch of Englishmen, which included star batsman Denis Compton, decided to go ahead with a local outing at the Eden Gardens nonetheless.
The match, however, couldn't be completed. A group of volunteers, led by Anil Dey, carrying the Congress flag, marched onto the pitch and forced the match to be stopped immediately. In his autobiography, Compton made a bitter mention of this incident and followed it up with some hugely uncomplimentary remarks on India's "disruptive" nationalistic politics.
Also Read | Will Scheduling Woes Pour Water over Stimac's Plans for India?
No one cared to remember Dey. Not even those who enthusiastically cheered for the USA winger Megan Rapinoe's scathing criticism of former US president Donald Trump on social issues over the past few years. This isn't a surprise. Likes of Anil Deys are not encouraged in the Indian sporting world anymore, especially these days, when "cut and paste" Twitter posts are considered the easy road to instant stardom. 
To have an opinion is never an issue. It's a welcome sign instead. Albert Camus famously said, "Our world does not need tepid souls. It needs burning hearts, men who know the proper place of moderation." 
He would have been delighted to see how strongly India's celebrated top sportspersons react to every national issue these days. Perhaps never before have men and women in the Indian sporting world been so politically aware and given such timely reactions whenever they felt the nation needed their "services". 
Every talented athlete has their own special way of unleashing flair on the pitch. But there is a notable unity in diversity now. Off the pitch too they practice this, in the way they tweet; their language strikingly similar every time they choose to "rise to the occasion". 
The recent incident around farmers' protests notwithstanding, the examples are too many in the past few years. In October 2019, when Prime Minister Narendra Modi launched the Bharat Laxmi initiative during Diwali, eight top female sportspersons came calling to congratulate him. All of them, including shuttler PV Sindhu, world champion boxer MC Mary Kom, and London Olympic bronze medallist Saina Nehwal tweeted identical messages thanking the PM. 
Also Read | Tokyo Olympics Head Yoshiro Mori In Eye Of A Storm After Sexist Remark
"I thank @narendramodi for his initiative to honour and empower women this Diwali. Acknowledgement motivates us to work harder and make India proud. #bharatkilaxmi," all eight of them tweeted.
Interestingly, one of the first to thank PM Modi, wrestler Pooja Dhanda, had the word, "Text:" before her congratulatory message, a clear indication that she had received a prepared text from someone to tweet instead of sharing her own views on the campaign. As it went viral, the wrestler had to (or was told to) delete it.
But then, what's the point in blaming sportspersons? A few days ago, a woman journalist tweeted how she was nearly molested by protesting farmers. Demanding arrest of culprits, she wrote (in Hindi): "I am not only a journalist, a woman, too." A similar post appeared through the Twitter handles of many other woman journalists. A male journalist, too, tweeted the same! 
Coming back to sports, top present and former cricketers of the country couldn't be blamed for any such faux pas after singer Rihanna took to Twitter to request the world to take note of the farmers' protests. Like true soldiers of a team sport, the cream of the cricket fraternity asked the country to stay united and not to allow outside forces to interfere in the country's internal matters. 
Critics may say a lot of things, like how the cricket board is now akin to an office of a particular political party and every past and present cricketer, who was on the same page on the issue has something to gain from the current set up. But here, every one of them, like responsible citizens of a great democratic nation, spoke in their own language.
Sachin Tendulkar said, "India's sovereignty can't be compromised. External forces can be spectators, not participants." Kohli called upon people to "stay united in this hour of disagreement." Stand-in skipper Ajinkya Rahane displayed his Down Under form by saying, "Let's remain united." Coach Ravi Shastri said it was an "internal matter" and his predecessor Anil Kumble felt "India are more than capable of taking her internal issues to amicable solutions." 
From the cricketing point of view, Rihanna's tweet has raised new hopes among Indian fans. That Kohli and Kumble can still stand together on one issue at least, is certainly the biggest takeaway in this crisis.
Also Read | Ministry Gives National Federations Time to Comply With the Sports Code
This is an issue that raised a storm in the last few days. But there is another side of the story too, that rarely received a mention. There are still some people in the Indian sporting world who feel the heavens will not fall if a Barbadian singer talks about farmers' protests in India. They are not national idols with have millions in banks. But they have minds of their own and prefer to think independently.
Consider Chennaiyin goalkeeper Karanjit Singh. His best days with the national team were over a decade ago but now, in his mid-thirties, he is still a regular in Indian Super League (ISL). The shot stopper sprang a surprise by slamming star cricketer Shikhar Dhawan for his posts on the farmers protests. 
In the football fraternity, Karanjit is not alone. Hugely promising youngsters like Germanpreet Singh, Anirudh Thapa and Deepak Tangri have sung a different song so far. Twenty-two-year-old Tangri, who represented India at the junior level, said in his tweet, "Whether the world is watching or not, these are real issues faced by real people, the ones on whose backbones are great country is built (sic)."
Arguments and counter-arguments are part of life, everyone is entitled to have his own opinion. But this also is causing an unwelcome divide in the sporting world, especially in cricket. There is definitely a strong feeling (however misplaced it may be) among a section of cricketers, at least it appears so, that those who buy the government's views, could gain more in the bargain. 
Also Read | Contrasting Fortunes On Tennis Tour Highlighted By Quarantine Conditions
A few tweets from cricketers opposing Kohli and company's views are laced with sarcasm – the issue of farmers' protests has taken a backseat there. This is a dangerous trend, but such things are inevitable when administrators show little restraint in dragging sportspersons to achieve their political targets. Sadly, the trend is rampant now in the country's number one sport and has spread its wings in other disciplines also. In the recent elections of the boxing federation, an active pugilist coming out in favour of a particular candidate was in complete bad taste, but no red flags came out. 
What Anil Dey did 79 years ago was of his free will; he never cared about his position as a footballer in Mohun Bagan or in British-dominated IFA. But he had an advantage, too. Those who ran sports in India those days, didn't ask athletes to tow their line. Off the ground, Dey was free to lead his life the way he wanted to. He died an unsung hero, didn't make a fortune from the game he played. But, perhaps, he was luckier than many in the present generation.
(The author is a senior journalist based in New Delhi. The opinions expressed are personal) 
Get the latest reports & analysis with people's perspective on Protests, movements & deep analytical videos, discussions of the current affairs in your Telegram app. Subscribe to NewsClick's Telegram channel & get Real-Time updates on stories, as they get published on our website.
Subscribe Newsclick On Telegram