Dalit Family Targetted by Upper-caste Mob in Bhima-Koregaon Violence Still Awaits Justice
While they have faced a bureaucratic runaround in trying to get the government officials to do their duty, they have been subjected to various kinds of pressure.
A Dalit family, which faced the wrath of the upper caste mob in the anti-Dalit violence that gripped areas around Bhima Koregaon near Pune on January 1, has now spent five months awaiting action from a seemingly reluctant Maharashtra government. From May 31, they have been sitting in a protest outside the District Collectorate in Pune, having run out of all other forms of recourse.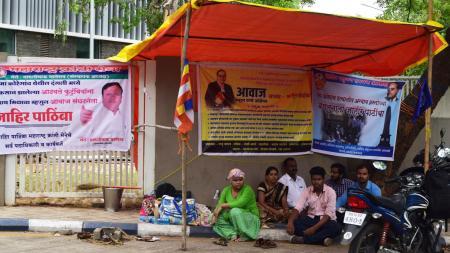 Ashok and Rama Athavale were successful entrepreneurs and social organisers in their community in the Sanaswadi village. Ashok owned a welding and fabrication business, which employed eight local youth. Their three sons are in college – Sachin is in his second year of a BA, Satish is in his fourth year of Chemical Engineering in Mumbai, and Pritesh is studying Hotel Management. The couple together ran an organisation named Panchsheel Bauddheshi Trust, through which, they conducted a variety of activities, including organising women's health camps, blood donation camps, and running a small free-of-cost library. This had raised hackles of a local RSS worker – who the couple identified as Midgule – and Ashok described to this reporter how he had often attempted to dissuade them from conducting such events.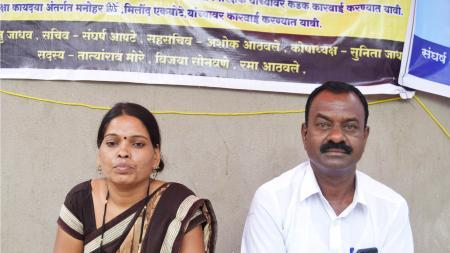 It was as a part of their work through the Trust that Rama and Ashok used to set up a stall serving tea and pohato people passing through the village to visit Bhima Koregaon on January 1 every year. They did so this year as well, in defiance of a "resolution" by the Gram Panchayat that the day was to be observed as a "black day" and no businesses were to remain open.
Sanaswadi is located on the Pune-Ahmadnagar highway, a mere 7 kilometres away from Bhima Koregaon, and thus has large crowds passing through the village on the day when Dalit Bahujans from across Maharashtra arrive at Bhima Koregaon to celebrate and commemorate the victory of a Mahar army of 500 soldiers over the 28,000-strong Peshwa army, in 1818. The celebration was initiated by Babasaheb Ambedkar in 1927 as an assertion of Dalit pride and as a recognition of their success in overthrowing the Brahmin-controlled Peshwai, which is remembered as a regime which strictly enforced inhuman caste rules of untouchability.
This year marked the bicentennial of the battle and thus, a much larger crowd was anticipated than in previous years. In the lead-up to the event, on December 31, a group of Ambedkarite and left organisations had conducted a conference titled "Elgaar Parishaad" at the Shaniwarwada fort in Pune – which used to be the seat of the defeated Peshwa rulers. After the event, many individuals and groups were on their way to Bhima Koregaon.
This year had also seen a campaign against both the Elgaar Parishaad and the celebration and commemoration of the battle itself orchestrated by Brahmin and right-wing elements. Statements issued by Hindutva ideologues Milind Ekbote and Manohar Bhide (who Prime Minister Narendra Modi has hailed as his 'guru' in the past) as well as several other outfits such as the Akhil Bharatiya Brahman Mahasangh objected to the speakers who were to participate at the conference and opposed the celebration as a whole.
While these exhortations were made through the media, evidently the message was passed down through the ranks to RSS workers on the ground as well, and accordingly the Sanaswadi gram panchayat announced on December 31 that it had resolved that the following day was to be marked as a "black day". Locals were instructed that no business should be running in the village. They were forbidden from even serving water to the visitors who would be passing through.
Rama says, "We hadn't anticipated that there would be such big riots. So, we set up our stall serving pohaand tea as we have done every year. Between 6 am and 11:30 am, we served 2 quintals of poha and 20-30 litres of tea." Meanwhile, a large crowd had gathered at the village centre, and had blocked the road. Vehicles with the blue Ambedkarite flag were being attacked with stones; the mob was trying to ensure that no one passed through to reach Bhima Koregaon." Rama recounts hearing members of the mob saying: "You are celebrating the fall of the Marathas – the Hindus – as a day of victory. For us, it is a black day, and we will not allow you to go to the venue."
At around noon, the hostility of the riotous mob began to turn towards the Athavale family. On his way to the Sansawadi market, Ashok saw Midgule, who – aside from being the local RSS shakha pramukh –is also a journalist writing for Dainik Prabhat and Saamna, at a temple along with two priests. He came to know that a rumour had been spread that the couple had thrown liquor bottles and mutton into the temple.Then came a phone call from a gram panchayat member warning them to shut down their stall or else to be prepared to face the anger of the mob. Within minutes, the entire crowd, estimated to be around 1,000-strong according to Ashok, had gathered outside their home. The family fled through the back door, hiding in a shed some distance away from their home, and watched as the mob first ransacked their home and the premises of their business and trust, and then burnt it down.
At around 3 pm, they received another call, warning them that plans to kill the family were afoot. The caller advised them to leave Sanaswadi immediately. Their immediate destination was the home of a relative who lives a kilometre away. Rama managed to make it to their home along with two of her sons. Ashok, however, was caught by the mob. He was beaten first till he was near unconscious, and then doused with petrol. However, before the final act of depravity, the mob was apparently dissuaded by a phone call that someone received. He was not killed, and managed to reunite with his wife and family after regaining consciousness a couple of hours later. By 1 am, all the members of the family were together, and they made their way to Pune, never to return. All told, according to a panchnama prepared by the tehsildaar, they had suffered losses amounting to Rs. 60 lakh.
In the subsequent months, the family has been moving from place to place in Pune, all the while seeking action from the police. In the FIR they, they have named and identified several culprits who, according to them, were involved in the atrocity. The FIR includes sections of the IPC, as well as of the SC/ST (Prevention of Atrocities) Act, under which stringent action would have been required of the police and government, including immediate arrests of the accused and rehabilitation and compensation by the government. 
The act specifies that in case of homes being burned down, it is the government's duty to provide a new home within a month's time at the government's expense. The act also specifies that the government must compensate for financial losses, as well as offer additional compensation amounts based on the number of different crimes that were committed against them in the course of the mob's actions. There has been no action on these fronts. 
At the time when the FIR was filed, the act also specified that those named in an FIR under the act were to be arrested concurrent to a police investigation (this requirement was later dropped by the Supreme Court in a controversial judgement). A chargesheet is supposed to be filed within 60 days. However, those named by the family remain at large. After five months of administrative and police inaction, the family has now chosen to sit in protest outside the district collectorate, vowing that they will not move from the spot until their demands of action against the perpetrators, and appropriate rehabilitation and compensation are met.
While they have faced a bureaucratic runaround in trying to get the government officials to do their duty, they have been subjected to various kinds of pressure. They have had various individuals – including a police officer of the SP rank – trying to persuade them to "compromise" and drop the cases that they have filed. Meanwhile, Ashok says he has been told by Midgule, the RSS worker: "You go anywhere – go to the Chief Minister or the Prime Minister.It is our government, our people are in the office, and no one can do us any harm."
In their agitation at the district collectorate, they have received some support from organisations focussed on Dalit Bahujan issues, including Association for Assisting Victims to Achieve Justice, a Mumbai-based NGO, and Pune representatives of the Maharashtra Kranti Sena and Prakash Ambedkar's Bharip Bahujan Mahasangh. By and large, however, their plight has gone unnoticed by the major political parties and the media. This is in contrast to the case of the killing of Rahul Phatangade by a mob, which also took place in Sanaswadi. That case received significant media attention, and the victim's family were granted Rs. 10 lakh as compensation by an under-pressure Devendra Fadnavis government, which also launched a CID probe into his death. Four suspects have already been arrested. Athavales' demand is for similar police and administrative attention.
At an initial meeting on May 31, they were assured by the district collector that their rehabilitation and compensation procedures would be completed within 10 days. A subsequent meeting on June 8 however turned out to be fruitless. At the time of writing this story, the couple had been sitting outside the collectorate for 10 days braving both scorching heat as well as rain. Such is the fate of Dalit businessmen in Modi's India.
Photographs by Sanghash Apte and the Author.  
The author is a Mumbai-based independent journalist. Translation from Marathi by Ketan Kamble.
Get the latest reports & analysis with people's perspective on Protests, movements & deep analytical videos, discussions of the current affairs in your Telegram app. Subscribe to NewsClick's Telegram channel & get Real-Time updates on stories, as they get published on our website.
Subscribe Newsclick On Telegram