Dalits Attacked Two Days Before Ambedkar Jayanti: A Report from Karnataka's Santhebennur, Davanagere
Dalit boy assaulted by upper castes in Karnataka thrice for swimming in a river "used by upper castes". Dalit households targeted, children and women beaten up brutally. Activist Huchangi Prasad was also injured in an attack by upper caste men in Santhebennur town.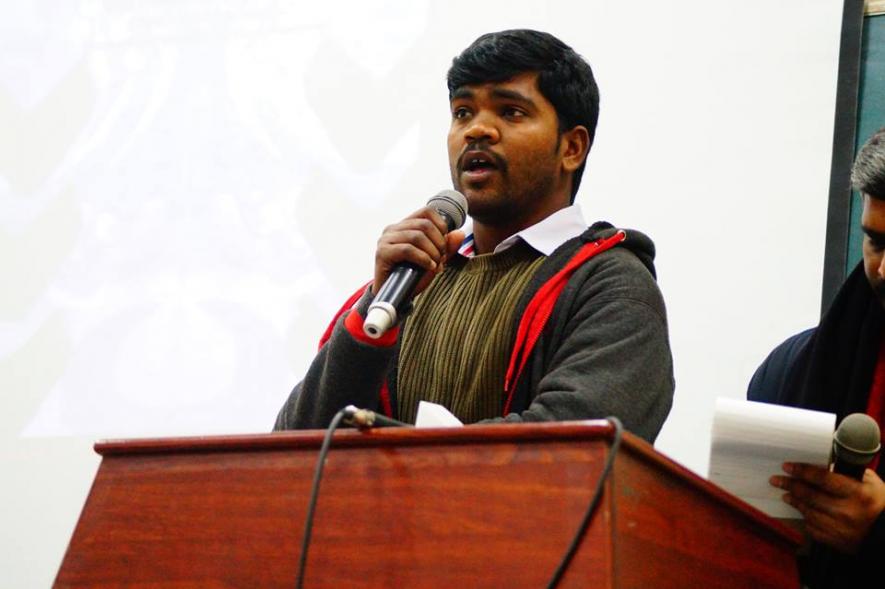 Huchangi Prasad is the same poet who was attacked in 2011 by right-wing goons for daring to write about caste.
It was the 12th of April, ten days to go before elections in Davanagere, Karnataka. It was also two days before the birth anniversary of Dr. B.R. Ambedkar. In Santhebennur town, Karnataka, poet and teacher Huchangi Prasad and other youngsters had been making plans to remember the man whose teachings have inspired them and given them the courage to keep fighting against caste discrimination.
Suddenly a group of boys ran into the colony, relieved to be home and safe. This is what they had escaped: one of them, a 17-year-old boy called Abhishek, was attacked by men of the Uppara caste (an OBC caste) for swimming in the Bhadra river. The river, they claimed, is only for upper caste men. The boy and his friends were mocked with casteist slurs; then a man identified as Srinivas beat up Abhishek and his friends. More was to come. A mob of about 200 men attacked the Dalit colony in Santhebennur.
Twenty-seven-year-old Prasad was at home when he heard a commotion outside. He heard women crying and begging for help. Once he heard what had happened, he rushed to the spot and questioned the Uppara men. They responded by beating him up. Prasad had to be hospitalised with head and back injuries. He suffered from pain in the kidney area; his finger was fractured. He identifies his attackers as Maruti and Kiran (both around 24 years old).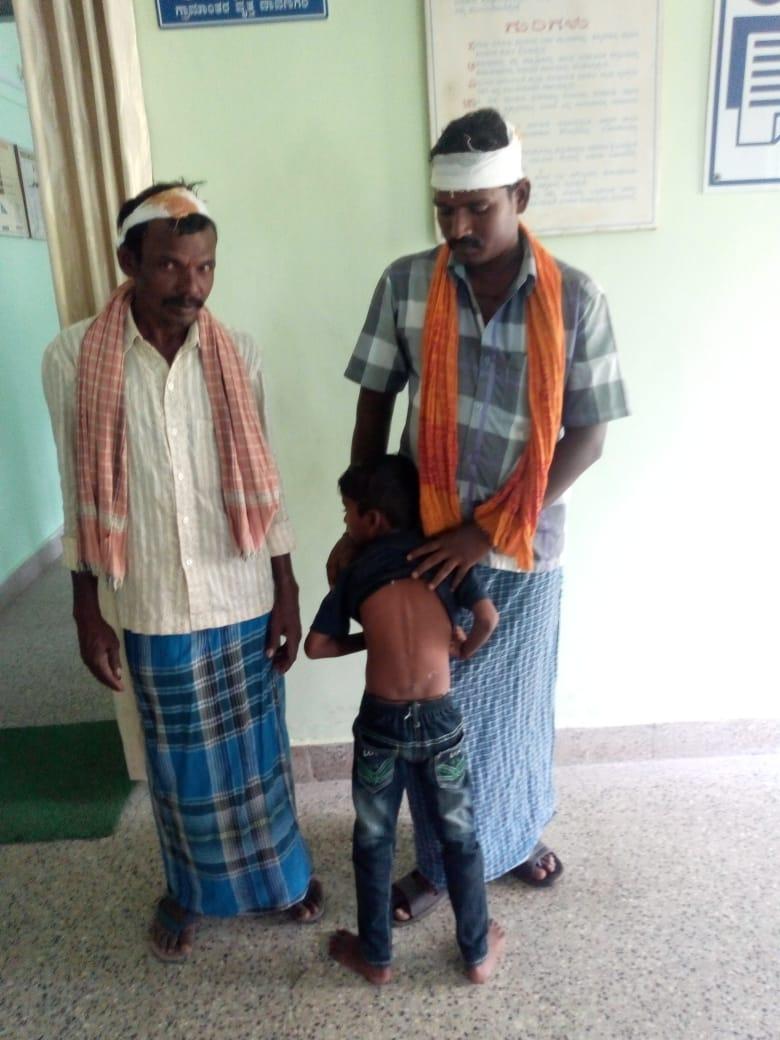 Ajay, Six year old boy, beaten up by cycle chains.
Two hours later, the boy Abhishek was attacked again by the Uppara men near a petrol bunk. In fact, he was beaten up on as many as three occasions. Prasad narrated the third incident to Newsclick: "Abhishek went to buy provisions around 2 pm. About 8 people grabbed him and beat him brutally on his head and back. I called the police to control the situation and provide safety for the boys. But a false case was registered against Abhishek for 'assaulting' the dominant caste men".
The same day, around 150-200 men of the Uppara community descended on the Dalit colony and beat up everyone in sight with sticks, stones, and bicycle chains. This was retaliation for going to the police.
Prasad says, "Six-year-old Ajay was beaten with a bike chain. Then the men entered his house, threw out all the ration in the house, all the plates, all their belongings. They beat up his father, 28-year-old Ramesh. They stripped the women – including Nanjamma, Netravati, Vannamma and Rathnamma -- and beat them."
The community is traumatized. Some of them have left Santhebennur Town fearing more attacks. The police have registered cases against 12 Dalits and 51 Upparas. The charges include the stringent Sc/St (prevention of atrocities) act.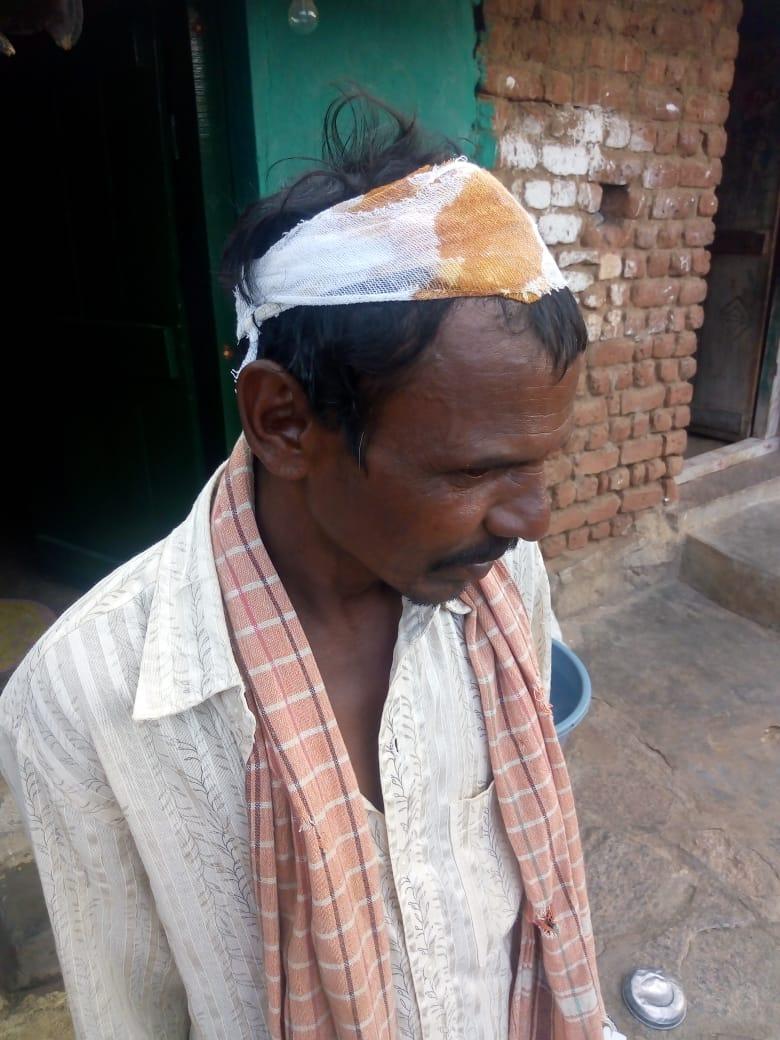 The ordeal continues for the Dalits. Prasad says that some of the Dalits work as watchmen in the mango plantation nearby. This earns them around Rs. 3000 to 4000 every month. That night, a Dalit boy was bringing food for his father. On the way, he was surrounded by a group of Upparas, who beat him up mercilessly as revenge for daring to file cases against men of their caste. The boys, said Prasad, were nearly beaten to death. On seeing his injuries, the Sub-inspector, Shantala, admitted the boy in the district hospital.
So far, only 8 people from the Uppara caste have been arrested. Prasad says they will organise protests if more arrests are not forthcoming in the next few days. He has received support from Dalit Sangarsha Samiti (DSS) and Left groups in the region.
Huchangi Prasad is the same poet who was attacked in 2011 by right-wing goons for daring to write about caste. He was then threatened if he "attacked Hinduism" again  his fingers would be broken. In 2019 his fingers have been fractured for daring to plan celebrations for Ambedkar Jayanti.
Read More: Una Flogging Case – No Protection For Witnesses, 21 of 43 Accused Out on Bail
(This is a developing story.)
Get the latest reports & analysis with people's perspective on Protests, movements & deep analytical videos, discussions of the current affairs in your Telegram app. Subscribe to NewsClick's Telegram channel & get Real-Time updates on stories, as they get published on our website.
Subscribe Newsclick On Telegram