Dalits, Muslims Face Madhya Pradesh Police 'Bias' During Ganesh Immersion Violence
One Ganesh statue immersion procession of Dalits was allegedly attacked by upper-caste men while another passing through a Muslim locality triggered violence.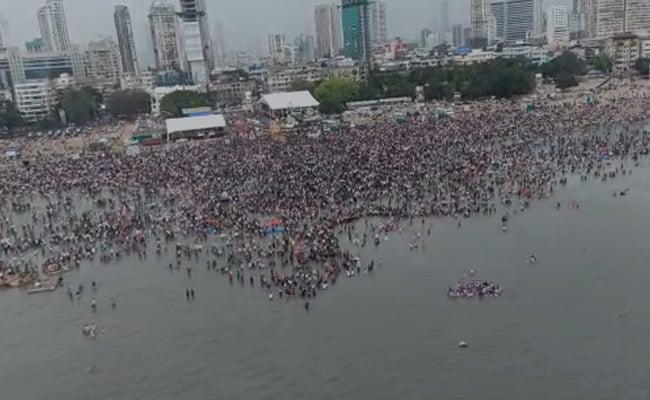 Representational Image. Image Courtesy: NDTV
Bhopal: Two separate incidents during the immersion of Ganesh statues on the night of September 10 in Madhya Pradesh exposed the police discrimination against minority communities and the marginalised.
A Ganesh state immersion procession of Dalits and tribal communities was pelted with stones and bricks by upper-caste men at Ujjain's Goyala Buzurg village, under Bherugarh Police Station, around 8-9 pm. The attack destroyed the statue, damaged the music speakers and severely injured more than six youths. 
MP: उज्जैन में दलितों के गणपति विसर्जन जुलूस पर सामान्य जाति के लोगों ने कथित पत्थरबाज़ी की।

जिसमें भगवान गणेश की मूर्ति खंडित हुई और 6 घायल हुए। बड़े हंगामे के बाद FIR हुई पर गिरफ़्तारी नहीं।

वही रायसेन के उदयपुर में एक मुस्लिम महिला द्वारा चप्पल फेंकने पर पुरा शहर जल उठा।

— काश/if Kakvi (@KashifKakvi) September 11, 2022
The attackers alleged that the members of the procession were playing loud music and burning crackers in front of a house where 92-year-old woman called Kesar Bai stays and could have harmed her, the police said. When asked to move away, the crowd did not budge, the attackers further alleged.
Consequently, the attackers allegedly hurled abuses and casteist slurs and started throwing stones on the procession from the roof of the house.
A Dalit complainant alleged that the police lodged an FIR only around midnight when a few members of the procession picketed the police station and demanded stern action against the accused and demolition of the house.
According to a local, Goyala Buzurg has 350 houses and about 100 families are Dalits and tribals.
"The upper-caste men said that we belong to the lower caste and should not take out Ganesh immersion processions. They also asked to switch off the speakers, complainant Sidhnath Parihar told Newsclick over the phone. 
"Minutes later, three men, including Arjun and Praveen Choudhary, began throwing stones at the procession shattering the Ganesh idol and causing head injuries to half-a-dozen youths," Parihar added. "They have also attacked marriage processions of Dalits in the past. They are habitual offenders."
The FIR, lodged under six Sections of the Indian Penal Code (IPC) and three Sections of the Scheduled Castes and the Scheduled Tribes (Prevention of Atrocities) Act, 1989, names the three accused.
However, the police also lodged an FIR against four Dalits
who organised the procession under five Sections of the IPC, including trespassing with an intention to hurt and voluntarily causing hurt by dangerous weapons, on the complaint of Kesar Bai, who alleged that she was injured while they were burning crackers outside her house.
"In the case of stone pelting on the Ganesh immersion procession, we arrested one accused and are likely to round up the others soon," inspector Praveen Pathak told Newsclick.
Similarly, in Udaipura town of Raisen district, around 350 km from Ujjain, a Ganesh statue immersion procession playing a loud provocative song Raj Tilak Ki Karo Taiyari passed through a Muslim locality and halted near a madrasa.
When the procession did not proceed, am angry middle-aged Muslim woman threw a slipper on a group of teenagers who were dancing in front of her home. The devotees also alleged that hot water was thrown on the procession. A video shows a group of enraged men toppling a vehicle following the incident. 
MP: A woman opposed playing a provoking song (Raj Tilak Ki Karo Taiyari) outside her home while #GaneshVisarjan procession was passing through her locality in Raisen Dist.

Her act of throwing her sleeper on a bunch of youths to show her displeasure turned the city into a chaos.+ pic.twitter.com/I4toonHtLo

— काश/if Kakvi (@KashifKakvi) September 10, 2022
Later in the evening, a mob allegedly set more than 12 vehicles belonging to Muslims on fire. As the situation deteriorated, curfew was imposed. Subsequently, the police lodged an FIR against four Muslims, including two women, for Sections 153(A) (promoting enmity between different groups on grounds of religion) and 295(A) (deliberate and malicious acts, intended to outrage religious feelings of any class by insulting its religion or religious beliefs). 
"All the four accused in the case have been arrested," assistant Raisen superintendent of police Amrat Meena told Newsclick.
Hours later, the police lodged a suo moto FIR against unidentified persons for damaging properties and vehicles under Sections 147, 148, 295, 34 and other relevant sections of the IPC as no Muslim approached them. "The accused are yet to be identified," Meena said. 
After the four Muslims were arrested, right-wing groups are demanding demolition of their properties. In the last two years, the state government has slapped the stringent National Security Act, 1980, and also demolished several Muslim homes in Manawar, Dhar, Indore, Ujjain, Khargone, Barwani and other districts over allegations of stone pelting on religious processions. 
Referring to state home minister Narottam Mishra's "often-repeated" comment "Jis ghar se patthar ayenge, usi ke patthar nikale jayenge (Houses from where stones are thrown will be demolished), Parihar said, "But it's not happening in this case. Why? Because the accused belong to an upper caste? It seems that law is not equal for everyone. The punishment of the offence depends on the caste and religion of the accused."
An angry Parihar added, "I want to ask the chief minister that when members of a community pelt a religious procession or rally with stones, the police and the district administration immediately respond with bulldozers and demolish their properties. Why not in this case? Weren't stones pelted, Ganesh's idol destroyed and six people seriously injured?"
Pressing his demand for demolition of the house, Parihar alleged, "In several incidents of stone pelting in Rajgarh, Neemuch, Chhattarpur if the accused are upper-caste Hindus, the police neither take proper action nor demolish their houses. We will picket the collector's office if the house of the accused is not demolished."
Get the latest reports & analysis with people's perspective on Protests, movements & deep analytical videos, discussions of the current affairs in your Telegram app. Subscribe to NewsClick's Telegram channel & get Real-Time updates on stories, as they get published on our website.
Subscribe Newsclick On Telegram