Debt to Mortgaging Properties, How a Mathura Village's Residents are Saving Their Children from Viral Fever
Reeling under viral and bacterial fever, the western UP village has unofficially lost 12 children since August. There are at least 26 people who are still suffering from various diseases, but the administration is adamant this isn't so.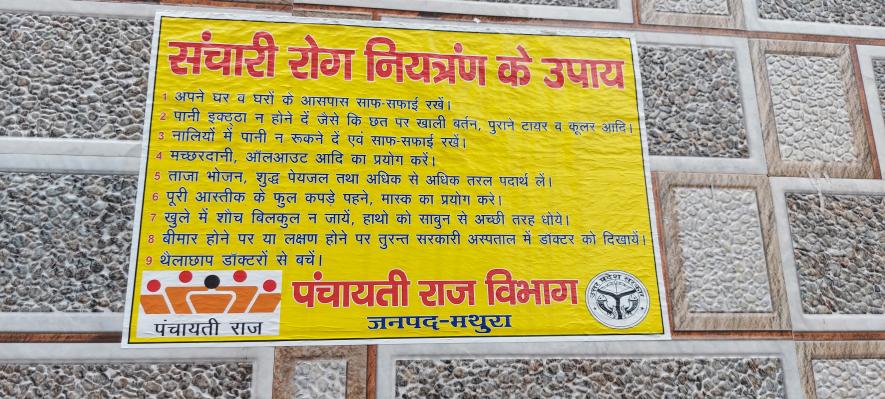 Mathura, Uttar Pradesh: Tinku Chouhan, a resident of the village of Koh in Uttar Pradesh's Mathura district, was the only son of Hari Shankar (42) and Narvada (38) — both now left with their four daughters. The boy developed high fever on August 20 along with all 15 members of his extended family. Dengue coupled with an outbreak of Scrub Typhus and Leptospirosis (a blood infection) are raging across the state. The family has mostly recovered, but the eight-and-a-half-year-old child was not that lucky; he succumbed.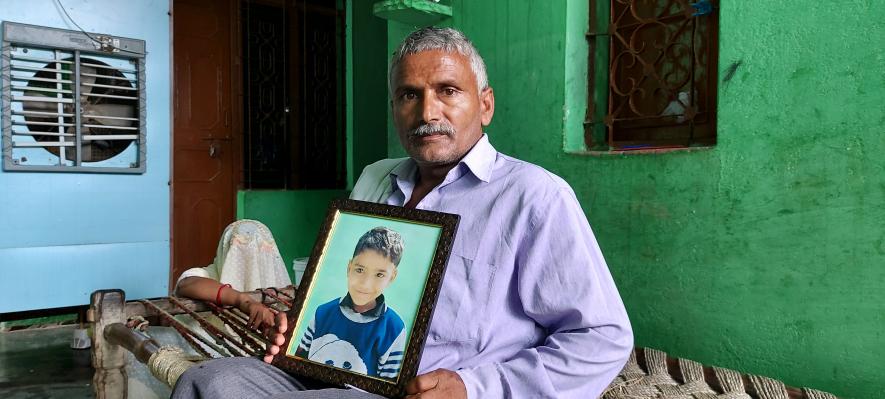 Chouhan was taken to an expert pediatrician, who prescribed him some medicines. Following the medical intervention, his fever subsided and the boy began feeling well. Diagnostic examinations on August 22 declared that he was suffering from typhoid. His condition deteriorated, with the fever shooting up at around 9 pm the same day. At around midnight, he started complaining of pain in his leg, but he began feeling well by morning. While he was again being rushed to the hospital, he suddenly developed restlessness. His body turned pale and he breathed his last on his way to the hospital.
All he left behind are memories and a loan – a lakh rupees — which his father, who works with a private security agency as a security guard, borrowed from a money lender by mortgaging his house (his only asset).
"He never ate a meal without me. Even when he was ill, he was trying to pretend he was healthy. It was his way of trying to ease us. The doctor had assured us that he would be fine. He was, in fact, responding well to the medication prescribed to him. Our only cause for concern was his fluctuating temperature," the father told Newsclick, his voice choking and his eyes full of tears.
"I went to work on the evening of August 22 after he insisted. I returned home after my daughter called me and told me about his rising temperature. By the time I reached, the fever had gone down and he was seemingly normal. He asked me to sleep with him. At midnight, he complained pain in his leg. He was apparently fine when we were preparing to take him to the doctor. He dressed up and asked his mother to serve us tea and biscuits. He suddenly turned restless on his way to the hospital. Seeing him in so much pain, I had tears in my eyes. He wiped my tears and asked me not to cry. His last words were: 'Papa, I won't survive; but you will not cry. You have to be strong'."
Asked how much money was spent and how the sum was arranged, he replied, "Gareeb aadmi hun, udhar paise liye hain byaj pe. Ghar girwi rakha hai, agar nahin lauta paya to yeh bhi chala jaayega (I am a poor man and have borrowed the money on interest by mortgaging my house. If I fail to pay up, I will lose the house as well)."
Reeling under viral and bacterial fever, the western UP village has unofficially lost 12 children since August. There are at least 26 people who are still suffering from various diseases.
Raja was eleven years old. He developed fever on August 30; he was not alone. All 46 members of his extended family got sick one after another and several of them are still recovering. He was taken to a private nursing home where he was administered some intravenous medicines. After his condition stabilised, with his temperature getting back to normal, he was discharged.
He complained of abdominal pain the next morning. Raja's parents took him to a local medical camp, which was set up by the district administration in the village after it registered the highest number of deaths in the district. The ill-equipped doctor in the camp gave him a pill, assuring the worried attendants that the patients will be be fine. But he, according to his father, did not get any relief even after taking a heavy dose of the medicine.
He was admitted to a private hospital in Agra where doctors said his chances of survival were grim. He was restless, with a fluctuating fever. He died the next day.
"The doctors tried their best to revive him, but failed. He had high fever and severe abdominal pain. His medical report revealed he was suffering from dengue, with his platelet count plumbing to as low as 17,000. He underwent platelet transfusion as well, but nothing worked," said his uncle Lakkhu Chouhan.
Despite being a landless farmer, the deceased father spent Rs 1.5 lakh on treatment. He too has borrowed the sum from a local money lender on the condition that he will return the money, with interest, after the next cropping season.
Shyam Chouhan, a resident of the village, complained that the makeshift medical camp, which was wrapped up on September 21, had no effective medical care to offer since it was ill-equipped.
"The government medical doctor stationed there was of no help. He gave him some medicines which never worked. The only respite we got due to the makeshift facility was the availability of an ambulance in the village round the clock," he said.
When Newsclick visited the camp, healthcare workers were packing up. All that could be found was a table full of medicines, three cots provided by the villagers to serve as beds and three stands meant to hang saline bottles. Failing to find any medical representatives, this correspondent got in touch with the village pradhan (village head), Harendra Chouhan, who is not sure whether a doctor ever visited the camp.
"There were pharmacists to offer medicines. If the situation worsened, they used to refer patients to the government hospital in Mathura," he alleged.
Almost the entire village is in debt following the outbreak of the deadly fever.
Laxmi Narayan, another resident of the village, who is a farm labourer, claimed to have borrowed Rs 2.5 lakh from a local money-lender by mortgaging his house and other valuables he had to get 12 members of his family treated, with two admitted to the ICU for few days.
A father with two sons and a daughter, 40-year-old Bhura Singh is still not ready to come to terms with the fact that his eldest son Sourav Chouhan is no more. The 14-year-old boy succumbed to dengue on August 31. He had developed a fever on August 26. After initial medication failed to give him any relief, he was rushed to a private hospital in Agra where a medical examination revealed that he was suffering from dengue.
"Since I am bed-ridden these days, my wife took him to the hospital. After several tests, the doctors there said he was suffering from double dengue and that his chances of survival were almost negligible. We immediately shifted him to a bigger hospital where he was admitted for two days. He did not have any complications other than a fever. He was quite active, talking to us, eating, drinking water and responding to conversations. He had gone to his hospital bed on his own two feet," said the hapless father, who had recently undergone a leg surgery himself after meeting with an accident.
As Sourav was rushed to private hospitals, expenses began piling up. Since Bhura, who works as a daily-wager at a shoe factory in Agra, is bed-ridden these days and has no source of income, he was unable to pay the bills. He mortgaged two bighas of land he had, and borrowed one lakh rupees.
When the sum was exhausted and they needed more money for treatment, his wife, Guddi Devi, mortgaged her ornaments, such as her mangalsutra (the scared chain which symbolises a Hindu woman's marital status) and gold rings to borrow another lakh.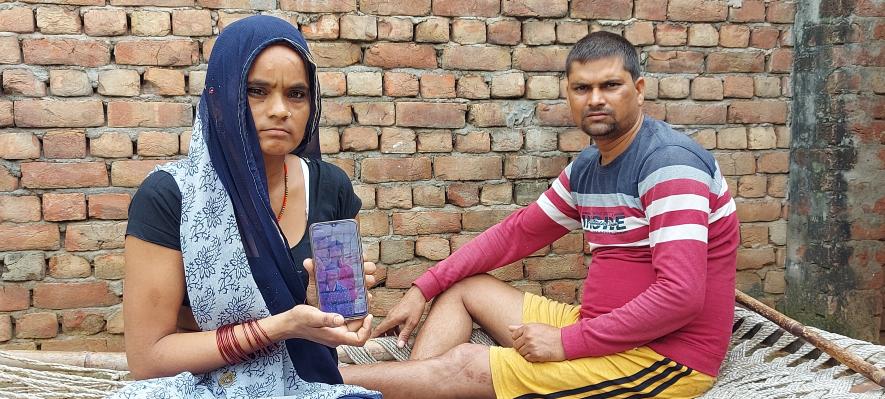 But it was all in vain as they failed to save their son.
"We spent two lakh rupees in three days to ensure that our son had the best possible treatment," Guddi said, breaking down while speaking to Newsclick.
Asked how would they would pay off the debt, he said: "I don't know what destiny has in store for us."
Almost the entire village claimed that they did not get any help from the government. Government hospitals are overwhelmed, and patients are made to wait outside in the open for hours before admissions, they said, adding that doctors were not taking care of the patients, that the quality of nursing was extremely poor and so were the ICUs. It is why they have had to resort to private hospitals.
"We reached out to our MLA, MP, the DM (district magistrate) and the CMO (chief medical officer), but they did nothing, except making false claims and hollow promises. The government seems to have turned a blind eye to us and our pleas are falling on deaf ears," they said.
Ruchi's mother was down with dengue and undergoing treatment in a nearby private hospital. Despite the 18-year-old also having fever-like symptoms, she had been going to tend to her ailing mother, who collapsed and fell to the ground one day. She was referred to Agra but passed away on the way.
"Two of my family members were down with dengue. I don't know what happened to her. I am under debt of a lakh rupees, which I spent on their treatment," said Bhagwan Singh, a 45-year-old truck driver.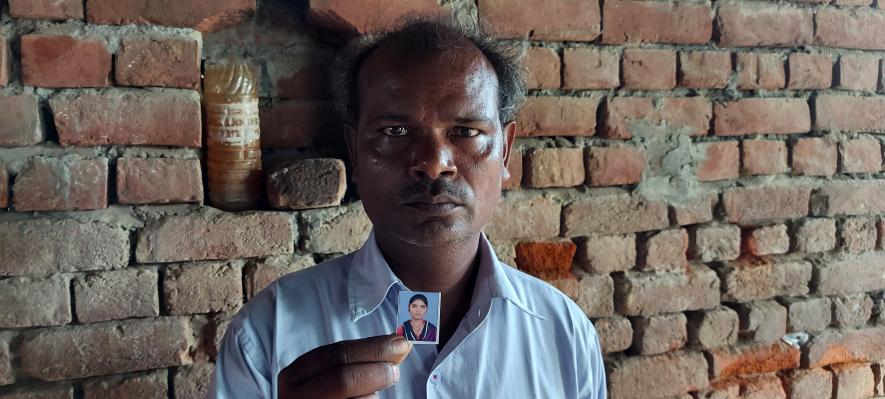 Lakhan Singh lost his 10-year-old grand son Avnish on August 20. The former pradhan said though the young boy had fever, his medical reports were fine.
"He first developed the mysterious fever on August 16. We took him to a doctor in Farah. He prescribed some medicines and the boy was fine till August 19. His fever shot up during the intervening night of August 19 and 20. The next day, we took him to the same doctor who referred him to Mathura. Although his body had turned pale, he was active and responding. We took him to a nursing home in Mathura where doctors referred him to a bigger hospital. While we were rushing him to the hospital, he breathed his last at the entrance to the hospital. There was a blue fluid discharge from his mouth and nose," he said.
The residents of Koh said they have lost faith in the public health system. The outbreak has created a sense of panic. Many in the village have sent their children to relatives in distant villages. The fever has killed around 100 people, primarily children, with many more struggling to get treatment across the state. This surge in cases has caught Mathura's health authorities completely off guard.
The sad state of affairs was best captured by a viral image of a desperate, elderly man falling at the feet of Mathura CMO Rachna Gupta. The sheer desperation to save his children forced the administration to swing into action. Special committees were formed and a 24x7 medical camp was set up in the village.
Newsclick asked Singh why he fell at the CMO's feet. He said it was aimed to de-escalate the tension brewing against the government as a result of its inaction.
"Since the death of Hari Shankar's only son, people, especially the youth here, were agitated. As the CMO visited the crematorium ground where the funeral pyre was ready and the young boy was yet to be cremated, she had the audacity to not get down from her vehicle. It further agitated our youth who decided to hold her hostage. Sensing the trouble, I urged her to de-board and fell at her feet, appealing her to take necessary steps to save our children," he said.
He said the government was well aware of the situation and the plight of the poor parents, but it was still in denial. "The CM (Yogi Adityanath) was in the district (Mathura) on Janmashtami (August 30) when our children were dying every day. But he did not take the trouble to visit the affected villages and direct authorities to take necessary steps to save lives," he said, adding, "He claims to be a saint. What kind of a saint is he! Saints are supposed to be kind."
The village head, Harendra Chouhan, was also irked at the facilities being provided by the health department and the district administration. Despite belonging to the ruling Bharatiya Janata Party (BJP), he did not hesitate to criticise his leadership and the district administration.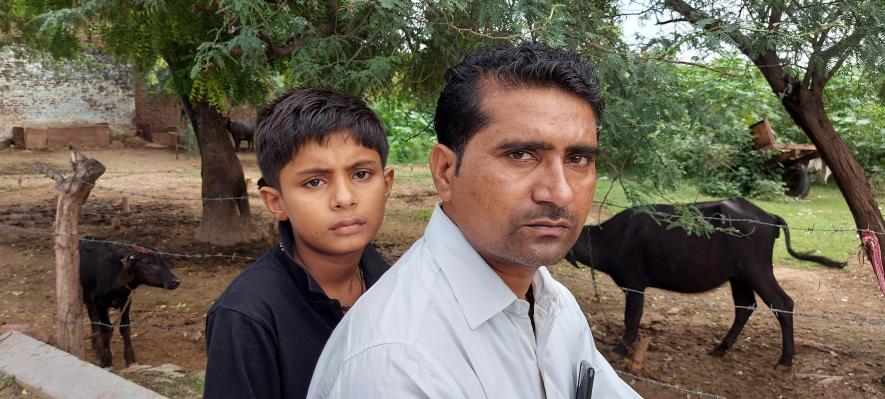 "Though medical tests have confirmed several cases of dengue, the outbreak continues to be of a mysterious nature. Two medical teams had visited the village and both of them arrived at different conclusions. Around 400 blood samples were collected by the medical camp set up in the village and sent to Agra for examination. While one of the children's reports claimed it was Japanese encephalitis, the rest revealed dengue, scrub typhus and leptospirosis," he said.
He added that visits by medical teams, the local MLA, and a state minister did not solve their problems. He said the village reported first death on August 11 and that 12 children had died till date.
Harendra's nephew, 10-year-old Tikendra Chouhan, was also one among the 12 young lives which were lost in the outbreak.
However, the CMO claimed all was well. She said the situation was under control and that there was no dearth of beds in government hospitals. "People are being admitted but the majority of them are recovering and going back home healthy," she told Newsclick, adding that "rapid response teams comprising a doctor, pharmacist and a lab technician are visiting the villages for treatment and to collect samples."
She said that only nine deaths had happened in Koh. "Of the nine deaths, two occurred because of pneumonia, one from typhoid and one due to dengue. The reason behind the remaining five deaths cannot be ascertained as there is no investigation report available," she said, adding that a total of 15 children had died across the district.
Mathura District Magistrate Navneet Singh Chahal also claimed that a dedicated teams of doctors were visiting the affected villages to provide medical assistance to patients. "Additional DM and SDM have also been been tasked to ensure timely delivery of medical assistance to patients," he added, dodging specific questions.
Get the latest reports & analysis with people's perspective on Protests, movements & deep analytical videos, discussions of the current affairs in your Telegram app. Subscribe to NewsClick's Telegram channel & get Real-Time updates on stories, as they get published on our website.
Subscribe Newsclick On Telegram