'Deficient Public Healthcare and Rising Wealth Inequality Hurting India's Poor'
Prof Mohan Rao pointed out that India spends a pitiful 1.2% of its GDP on health, and its position has fallen to 152 in the global ranking of health spending.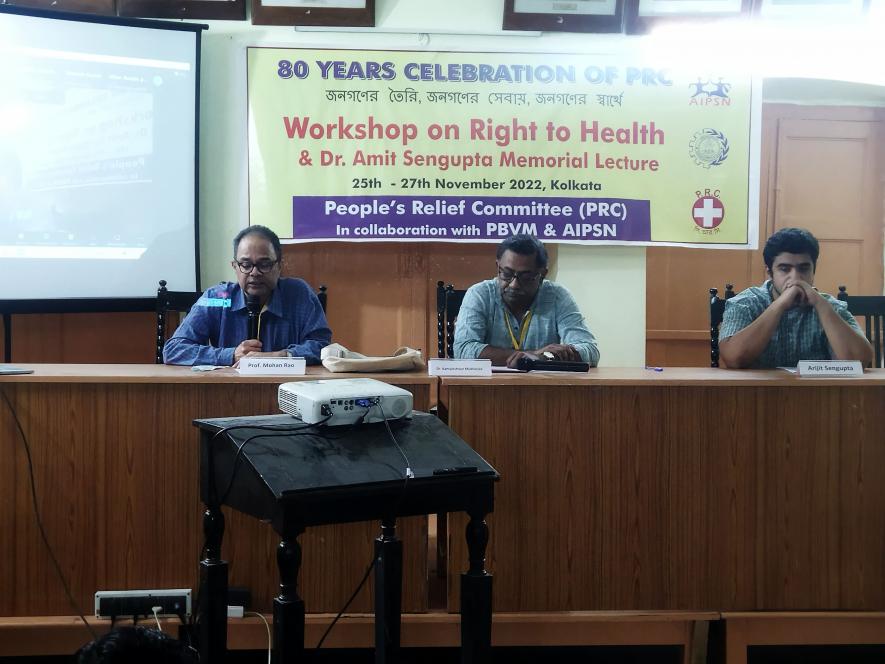 Prof mohan rao delivering amit sengupta memorial lecture in kolkata
Kolkata: Delivering the Amit Sengupta Memorial Lecture in Kolkata, renowned professor Mohan Rao congratulated the People's Relief Committee for their exemplary work during trying times, starting from the Bengal Famine of 1943 to the Covid-19 pandemic.
Prof Rao, currently an independent researcher, was speaking at the Amit Sengupta Memorial Lecture held at Iran Society in Kolkata on November 28 by the People's Relief Committee (PRC) as part of their 80 years celebration. The programme was organised with the All India People's Science Network and Paschim Banga Vigyan Manch. 
Film Director Dr Kamalaeshwar Mukherjee, the chairman of the 80 years celebration committee of PRC, chaired the session with co-chair Arijit Sengupta.  
Arijit Sengupta is the son of Dr Amit Sengupta, who is considered a stalwart of the peoples' science movement in the country and whose untimely demise had shaken health and science activists considerably. At the start of the programme, a documentary on the life and works of Dr Sengupta was also screened at the venue.
Commenting on the health indices of the average Indian, Prof Mohan Rao quoted from his published work "The Exsanguination of Public Health in India". The former professor at the Centre of Social Medicine and Community Health, Jawaharlal Nehru University, pointed out the anomalies whereby India boasts high-end medical facilities compared to the best of the world, but these are accessible only to a tiny elite. 
Medical tourism in India has brought in foreign money, but done nothing to strengthen the run-down public health system, and indeed, it fed government largesse, he said. Prof Rao underlined the poor condition of public health in India whereby the average adult height of Indians has shown a decline, attesting both to chronic undernutrition, frequent illness and poor living and working conditions.
Similarly, referring to the Comprehensive National Nutrition Survey (CNNS 2016-18 ), he said that 35% of Indian children aged 0-4 years are stunted, and 33% are underweight. However, life expectancy has improved considerably from 22 years in 1905 to 70.8 today; even then, it is not as good as the life expectancy of Sri Lanka (76.9), or Bangladesh (74.3).
Life expectancy has come down by two years over the past two years, he said in his speech. He also pointed out that India has one of the highest Maternal Mortality Rates (MMR ) in the world. Although there is a trend of decline, the rates of maternal mortality in different states are comparable with the MMR of Sub-Saharan Africa.
He said, "The magic wand Janani Suraksha Yojana has not brought down the MMR. Institutional birth does not necessarily mean safe birth." He pointed out that Bangladesh has fewer institutional births than India but still has a lower MMR.
"In addition to a continuing high load of infectious diseases, we also face an epidemic of non-communicable diseases. The latter do not stem from lifestyle factors like in the West, but poverty. It is well established that intrauterine, nutritional and early childhood nutritional deficiencies cause hypertension and diabetes and even cancer in these individuals as adults," he said.
He also said that India spends a pitiful 1.2% of its GDP on health, and in the global ranking of health spending, India fell to the 152nd position. Meanwhile, out-of-pocket health expenditure has emerged as a leading reason behind indebtedness and has put millions under the poverty line annually, forcing patients to sell assets and borrow money from usurious moneylenders.
He stressed that India has the lowest number of beds per 1000 people, at just 0.5, whereas Russia has 7.1, China 4.3, South Africa 2.3, and brazil 2.1. Even Bangladesh has more hospital beds than India at 0.8. Lower ranking than India is countries like Afghanistan, Burkino Faso, Mali and Madagascar. 
Prof Rao also criticised the government's response to this public health crisis by giving public funds for private medical care through schemes like Pradhan Mantri Jan Arogya Yojana. (PMJAY) This not only amounts to public funding of private medical care, further depleting the public health system in terms of funds, but leads to profound moral hazards and the problem of unnecessary investigations, unwarranted interventions and so on.
Advocating for strengthening the public health system, Prof Rao proposed considering nationalising health systems, which has been done by Spain. "We need a universal system of primary health care provided by the State and paid for by general taxation," he said.
Prof Rao highlighted the works of economist Thomas Picketty and seconded Prabhat Patnaik's work on using corporate taxes and wealth taxes for universal healthcare and education in India.
He also underlined the role played by the Soviet Union, which was the first country to provide universal and free healthcare and later influenced the formation of the National Health Service in the UK. "In India, we never crossed 10 to 11% of Direct taxes and the proportion of indirect taxes far exceeds that of direct taxation," he said, adding that indirect taxes are paid more by the poor and this was a grossly unfair system.
He emphasised US intervention in the form of coups in places where nationalisation of natural resources was done, like Iran, Ghana and Chile. He also quoted from the Oxfam reports that the wealth of the ten richest men has doubled while the incomes of 99% of humanity are worse off because of Covid-19. He also elaborated on the Indian condition, whereby the top 10% of the population holds 77% of the total national wealth. As much as 73% of the wealth generated in 2017 went to the richest 1%, while 670 million, who comprise the poorest half of the population, saw only 1% increase in their wealth. He also pointed out that the Oxfam report states that 63 million Indians are pushed into poverty yearly due to health costs.
Saying that health justice is very important in our lives and a key part of our political agendas, he also quoted Professor Vijay Prashad on the fact that between 1765 and 1937, 45 trillion pound sterling was transferred from India to the UK, not only making capitalism possible but also enriching the population of the imperial countries
Tracing Amit Sengupta's work, Prof Rao said that Sengupta would urge people to work towards health justice, which cannot be achieved without climate justice or reproductive justice. He ended his lecture with the comment that "In order to obtain health justice, the issue of reparative justice must be put on the agenda for discussion."
Get the latest reports & analysis with people's perspective on Protests, movements & deep analytical videos, discussions of the current affairs in your Telegram app. Subscribe to NewsClick's Telegram channel & get Real-Time updates on stories, as they get published on our website.
Subscribe Newsclick On Telegram