Deficient Rainfall Triggers Fear of Drought-Like Situation in Bihar
As per official data, the state recorded 191.3 mm of rainfall from June 1 to July 8, which was 24% less than the normal 252.2 mm of rainfall. This does not bear well for paddy cultivation here.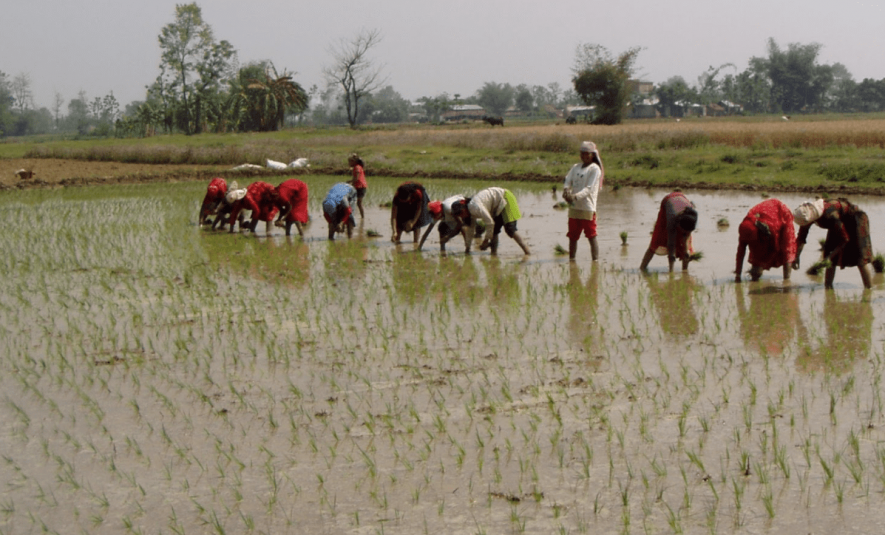 Patna: After waking up early morning, Lakshaman Singh, a marginal farmer, looks at the skies every day, hoping that the much-sought-after rains to start paddy transplantation have arrived. But he goes to bed at night disappointed. This has been so since the last week.
Fear of drought-like situations is haunting Singh as there has been no rain so far in July. His farmland has developed cracks, and he has been struggling to keep his paddy seedlings, locally known as Dhan Bichra, healthy for transplantation. "We are worried as it is not raining. If this situation continues till July second week, we will not be able to complete paddy seedlings transplantation. Paddy transplantation is already delayed due to a long dry spell during the monsoon. It is bound to affect paddy production," said Singh, a resident of Sane village under Barbigha block in Sheikhpura district.
Singh is not alone. Since early this month, lakhs of farmers, mostly small and marginal across Bihar, have been upset as clouds come and go without drops of rain. It is contrary to their expectation.
"We have been facing a lot of problems due to lack of water in farmland to cultivate paddy, our main crop, during the ongoing Kharif season. We have no option but to depend on the monsoon. Only heavy rains can save our paddy seedlings. We fear that our ready paddy seedlings will become dry or turn yellow if it doesn't rain soon. We are praying to God to save our livelihood," said Bhudeshwar Yadav, another marginal farmer, a resident of Motha village in Arwal district.
Echoing Singh and Yadav's sentiments, Suresh Mahto, a small farmer from Rampur village under Haspura block in Aurangabad district, said if it does not rain in the next few days, it will become extremely difficult for farmers to transplant the paddy saplings of the water-intensive crop.
As per official data, the state recorded 191.3 mm of rainfall from June 1 to July 8, which was 24% less than the normal 252.2 mm of rainfall. It is not a good indication for paddy cultivation.
According to Indian Meteorological Department Centre, Patna, deficient rainfall in Sheikhpura is 62% as it has received 80 mm rainfall so far against the normal 197.7 mm.
Deficient rainfall in Arwal is 63% as it received 59.3 mm rainfall against the normal 153.4 mm, and in Aurangabad, deficient rainfall is 61% as it recorded 77.6 mm rainfall against the normal 175.3 mm.
Farmers' fears are not without substance. Officials of the Indian Meteorological Department Centre, Patna, have ruled out rains till July 12 in the state. This is bad news for rice-growing farmers, who are fighting to keep paddy saplings alive in their small nurseries. The IMD Patna made it clear that there is little chance or possibility of rain in the next few days.
Agriculture department secretary N Sarvana Kumar said that so far, only 15-20% of the transplantation of paddy saplings has been completed. The agriculture department has targeted 35.14 lakh hectares for paddy cultivation this year.
Agriculture scientist Gulab Singh said that June-end to July 10 to 15 is the best time for paddy transplantation, but farmers are facing a big problem due to poor monsoon.
For those farmers, a small number, who have transplanted paddy saplings in their farmland with the help of diesel pumps or electric pumps, a big challenge is to save them from heat stress in view of deficit rainfall so far.
Contrary to the last month's IMD forecast of a near-normal monsoon this year, Bihar has so far recorded a rain deficit of nearly 24 per cent so far. It has triggered fears of a drought-like situation among farmers who have faced a similar scenario several times in the last two decades.
To date, deficient rainfall of 20-59% in 30 of the state's 38 districts, and five districts recorded deficient rainfall of over 60%. This has affected paddy sowing, seedlings and transplantation.
Farmers were hopeful of a normal monsoon, like in 2021 and 2020 when Bihar received surplus rainfall in June-July and paddy output increased.
Dr Abdus Sattar, a climate change expert at Rajendra Prasad Central Agricultural University at Pusa in Samastipur district, said that a long dry spell during monsoon is bad for the paddy crop. Rising heat conditions during monsoon and poor rains may be a result of climate change. This is evident as temperature rise leads to erratic rainfall and uncertainty during the monsoon.
Taking a serious note of the poor monsoon to date, Chief Minister Nitish Kumar held a meeting to review the situation on Friday. Kumar directed officials to do all necessary preparations to provide help to farmers facing deficient rainfall.
The state Agriculture Department has already alerted the districts and asked the officials concerned to prepare for the cultivation of optional crops that require less water.
Monsoon normally hits the state between June 12 and 14. But a poor monsoon till the end of June has triggered fears of deficit rainfall again, which could result in a drought-like situation in the state.
An estimated two-thirds of Bihar's 12 crore population and nearly two-thirds of all agricultural activity are dependent on agriculture.
Get the latest reports & analysis with people's perspective on Protests, movements & deep analytical videos, discussions of the current affairs in your Telegram app. Subscribe to NewsClick's Telegram channel & get Real-Time updates on stories, as they get published on our website.
Subscribe Newsclick On Telegram