Delhi: As AAP Govt 'Backtracks', Terminated Anganwadi Caregivers go on Indefinite Hunger Strike
Led by CITU-affiliated DAWHU, the workers' major demands include immediate reinstatement of the terminated women.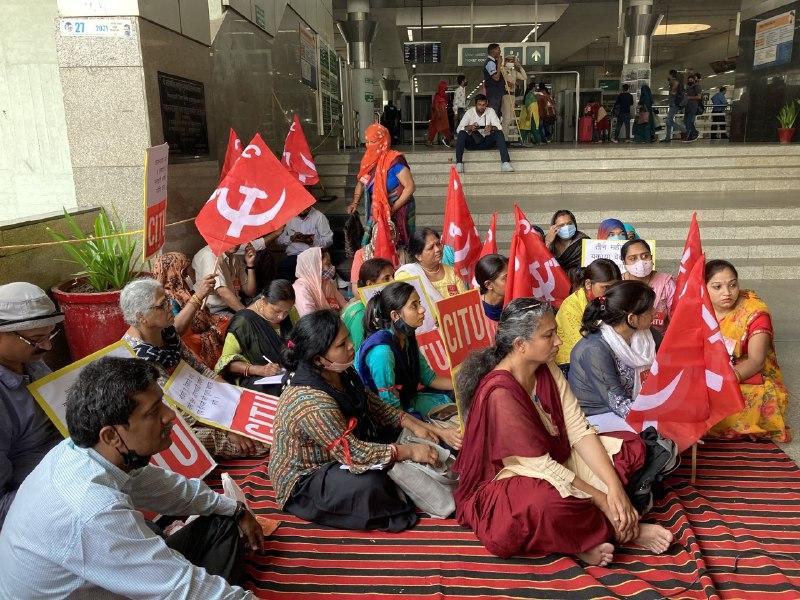 Terminated workers and helpers sat on a hunger strike outside WCD headquarters. Image credit: Ronak Chhabra
New Delhi: Terminated Anganwadi workers and helpers sat on an indefinite hunger strike outside the headquarters of the Women and Child Development (WCD) Department at ISBT Kashmere Gate on Monday to protest against the Arvind Kejriwal-led Aam Aadmi Party (AAP) government. They said the Delhi government has backtracked from an agreement that was purportedly reached in a bipartite dialogue with the unions earlier last month.
Close to a thousand Anganwadi caregivers in Delhi were terminated from their services earlier in March in connection with a 39-day long work strike. The strike was staged under the banner of multiple unions with demands for a substantial increment in the monthly honorariums of the workers and the helpers, among others.
The striking women were terminated after the imposition of a 1968 law – Essential Services Maintenance Act (ESMA) – that prohibited the Anganwadi caregivers in the national capital from going on strike while declaring the services rendered by them as "essential".
On Monday, led by the Centre of Indian Trade Unions (CITU)-affiliated Delhi Anganwadi Workers and Helpers Union, a section among the terminated women claimed that they have been "wrongly terminated." They added that they will continue the hunger strike till the terminated caregivers are reinstated.
The union had a dialogue with "six senior WCD officials" including its director on April 27, in which a "consensus understanding" was reached upon, Anurag Saxena, general secretary, CITU – Delhi told Newsclick on Monday. "The officials had agreed that the grievance committees in the districts will submit a report immediately based on which the said terminations of Anganwadi workers and helpers will be reviewed. But so far, no action has been taken in this regard," he claimed.
On March 4, around 3,000 then striking anganwadi caregivers had received show-cause notices, while others received termination notices, according to a report by The Indian Express. The same report quoted an official of the WCD department explaining that those who had received the show-cause notices would be terminated, as per directions, if they failed to rejoin their centres by March 9. Further, March 9 was the day when ESMA was eventually imposed in response to the strike action.
Siddheshwar Shukla of CITU – Delhi alleged on Monday that many among those women who received termination notices actually had joined their duties "well before" March 9. "Many among them are widows or belong to marginalised communities for whom managing their expenses is becoming more difficult than ever. We brought such cases in front of the authorities so that it can be addressed immediately but to no avail," he said.
For instance, take the case of the 38-year-old Rajni, who regarded her present situation as fate worse than death as she endured sweltering heat on Monday while sitting on an hunger strike. An Anganwadi worker at a project centre in New Seemapuri, Rajni was among those who received a show-cause notice, which demanded a response from her over the stopping of work.
"I received the notice on WhatsApp on March 5, and two days later, I joined work. Even then, a week later, I was informed that I am terminated," the mother of a four-year-old said, adding that economic hardships have only compounded after that.
Anurag Saxena alleged that the WCD department is "now not responding", even as efforts in the past were made by the union to resolve the issue. "Now, we will continue with our hunger strike until our agreed demands are met," he said.
Newsclick tried reaching out to WCD officials for a comment but they did not respond to multiple calls at the time.
Meanwhile, among other demands, DAWHU leaders on Monday also pressed for the disbursal of honorariums to the Anganwadi workers and helpers for the last four months.
While the terminated caregivers have not been paid their full payments for the month of January, "even workers and helpers who have joined the duty have not been paid full wages for January 2022 and the earned wages for February, March and April 2022. Even the rents for Anganwadi centres have not been paid," the union has said earlier in a statement released in May.
The non-payment of honorariums to the Anganwadi workforce in the national capital is reflective of the "consistent budget cuts" that the Integrated Child Development Scheme (ICDS), under which the Anganwadi scheme is administered, has faced over the years, according to A R Sindhu, general secretary, All India Federation of Anganwadi Workers and Helpers (AIFAWH).
"Since many years, it has been observed that come the last quarter of a financial year, the funds with state departments get over, and hence, monthly payments are then delayed. This is mainly due to past cuts in the budgets of a right-based scheme, which the Narendra Modi government is now turning into a philanthropic one," Sindhu told NewsClick.
Get the latest reports & analysis with people's perspective on Protests, movements & deep analytical videos, discussions of the current affairs in your Telegram app. Subscribe to NewsClick's Telegram channel & get Real-Time updates on stories, as they get published on our website.
Subscribe Newsclick On Telegram