Delhi: Behind Gutted Settlements, a 'Scant Regard' for Rights of Poor
While the government speaks of building smart cities, it has overlooked basic necessities like water, sanitation and safety for low-income settlement dwellers.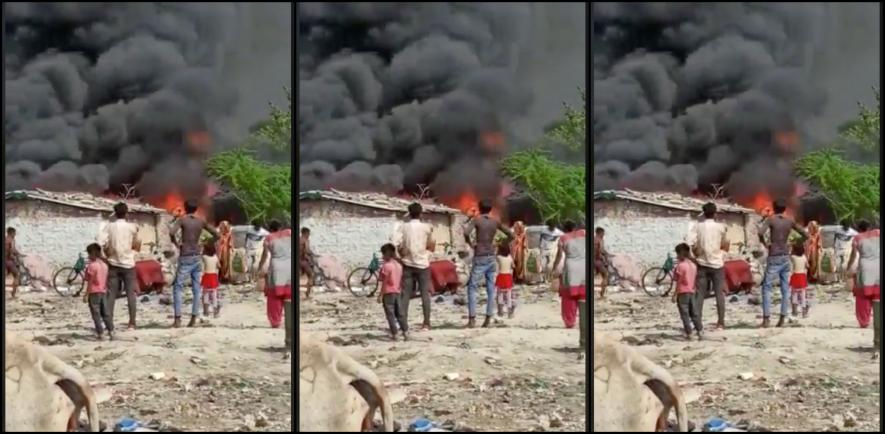 If the loss of livelihoods during the lockdown due to COVID-19 was not enough, pernicious effects of urban development continue to torment the poor and marginalised dwellers of slums in Delhi – in the form of frequent fires.
On Tuesday, between ten and twelve shanties were ravaged by fire in east Delhi's Kalyanpuri. The area was primarily home to rag pickers, those employed informally to collect garbage. The fire began from the garbage, according to reports, and the reason behind it is being investigated by the local police.
No death had been recorded in the incident, and those affected have been shifted to a temporary shelter, NewsClick was informed.
The fire at Kalyanpuri was not a one-off incident. A fortnight earlier, over 120 shanties in south-east Delhi's Tughlaqabad area, which housed waste dealers, were destroyed by fire. Days prior to the incident, a blaze burned down at least 200 shanties in another low-income settlement, at Kirti Nagar in New Delhi.
The victims in all these incidents, unsurprisingly, are those who live hand to mouth. Many were already struggling to make ends meet, and have been pushed toward further precarity after the nationwide lockdown severely stunted the economy.
"These people have lost everything – from their personal belongings and cash, to legal papers," said Nirmal Gorana of the Working Peoples' Charter, a group of organisations which work with informal sector, and are taking part in relief work at all three sites.
"They are being provided with food and clothes at their temporary shelter tents (arranged by the administration); however, it is not easy as people are in shock and grief," Gorana said, adding that in Tughlaqabad, the residents have not been allowed to visit their charred houses to check for what was left, even 15 days after the incident.
The district administration's approach after the fire suggested "foul play" by "land mafia", Gorana alleged, but added that "we are still without any answers about what the cause behind the fire was." The police investigation, as in previous cases, would not be thorough, he feared.
Rajesh Panwar, Chief Fire Officer of Delhi Fire Services (DFS), provided some answers, but chose to ascribe reasons like the "lack of safety precautions" in such areas. "In most of the cases, we find that such accidents happen due to short circuits. This can be due to low-quality wiring or over-loading as a result of heavy usage of electrical appliances. Fire spreads because houses are closely built, with tarpaulin or wooden roofs – inflammable material – which catch fire easily," he reasoned.
To prevent such accidents from occurring, Panwar said the "living standards" of residents in such informal settings must be raised by encouraging the construction of "pucca makaan" (permanent housing).
While Gorana also acknowledged the existence of such factors, history provides him with enough reasons for doubt. There have been instances of collusion between those with vested interests in the land, who have a tendency of resorting to illegal means to evict those from low-income groups. However, there is no evidence from the accidents at Kalyanpuri and Tughlaqabad to corroborate the same.
Shivani Chaudhry of Housing and Land Rights Network (HLRN), a New Delhi-based group that documents and monitors forced evictions and displacement, strikes a similar note. According to her both, the inadequate living conditions in such settlements and urban eviction drives go hand in hand.
"When it comes to housing of the poor and marginalized, there is complete disregard for their rights by the government. There is no focus on creating safe and secure living spaces for them, no attempt at constructing fire-resistant houses and settlements."
The result is inevitable, as she claims that incidents of fire in such informal settlements are increasing over the years. In 2018, HLRN had documented over 3,300 houses of low-income families across the country being destroyed by fire, rendering over 15,800 persons homeless. As none of these incidents are investigated by the state, arson cannot be ruled out, as a means of clearing the land and forcing people away in some cases.
The damages of such accidents are manifold, Chaudhry added, as the victims are "left out on the streets" – pushed back to 'start again' from scratch. "State rehabilitation is arbitrary, and not based on any definitive policy. Only in a few cases, do affected persons receive compensation, for which they generally have to run from pillar to post," she said.
Chaudhry connected the lack of adequate housing for the poor with the recently witnessed long marches of migrant labourers – the majority of whom reside in low-income urban settlements – in the wake of the nationwide lockdown. "This reveals a total lack of attention to their needs and a colossal failure to protect their rights in urban spaces," she said.
The government speaks of building smart cities, however, with its planning "disconnected" with people on the ground, basic necessities such as water, sanitation, housing, safety are often overlooked – which remains a "paradox" in the times that we are living, especially in the context of COVID-19, Chaudhry added.
Get the latest reports & analysis with people's perspective on Protests, movements & deep analytical videos, discussions of the current affairs in your Telegram app. Subscribe to NewsClick's Telegram channel & get Real-Time updates on stories, as they get published on our website.
Subscribe Newsclick On Telegram