Delhi: Bulldozer Culture Won't Work Here, Say Shaheen Bagh Residents Amid High Drama
After the protest, joined by AAP and Congress leaders, against BJP-led SDMC's drive intensified, police and officials had to withdraw, as they could find no encroachment apart from a scaffolding that was dismantled by the people themselves.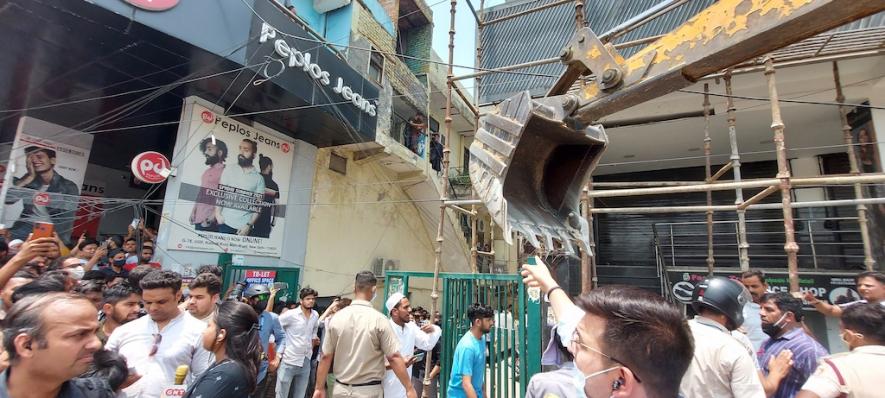 New Delhi: A bulldozer, trucks, a posse of policemen and hundreds of media personnel. The set-up looked grand. Lethal weapons, tear gas and batons were also ready. That was when a mass of people from Shaheen Bagh, where South Delhi Municipal Corporation (SDMC) launched an "anti-encroachment drive" on Monday, headed toward the JCB machine or bulldozer that was yet to roar.
After failing to find any alleged encroachment on the Shaheen Bagh main road, a scaffolding for construction voluntarily set up for renovation of a showroom grabbed the eyeballs of the civic officials — who appeared to have had no briefing about what to do in the absence of marking of the "illegal structures", if any, to be brought down. 
As the bulldozers rolled near the showroom, residents began protesting — arguing that it was a temporary arrangement meant for renovation activity. Amid the uproar, they themselves agreed to remove the temporary structure used to support a work crew and materials to aid construction, maintenance and repair of buildings.
The agitated residents said the "bulldozer culture", allegedly as part of vendetta politics, "targeting the area majorly inhabited by Muslims", won't work, as there is no encroachment. They alleged the drive being carried out by the Bharatiya Janata Party (BJP)-controlled municipal corporation was meant to "provoke" people so that a "confrontation can be created between the police and the people".
Shaheen Bagh hit headlines globally because of a month-long agitation, primarily led by women, against the controversial Citizenship Amendment Act (CAA) and the proposed National Register of Citizens (NRC) and the National Population of Register (NPR) in December 2020.
As the protest against the civic body's drive intensified, the police and officials had to withdraw. The scaffolding was dismantled by the people themselves amid the media circus.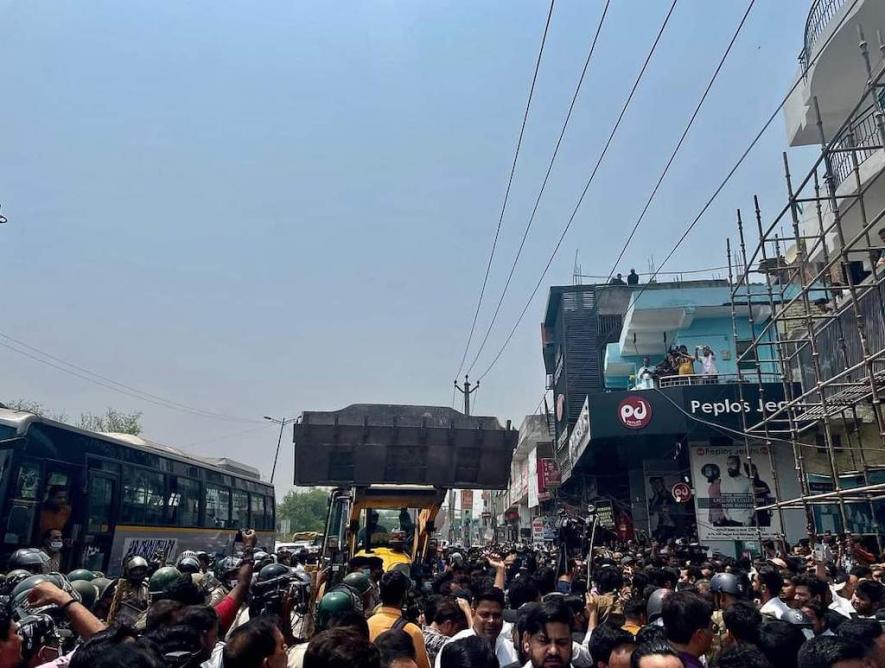 "There is no illegal encroachment here; and therefore, we will not let the bulldozers roar. The BJP and its government, which claims to be champion of Hindu causes, must know that majority of the shops are owned by the Hindu community, and we are here to ensure no hurt is caused to their business. If the MCD is talking about encroachment, were they not able to see the encroachment for 15 years? Why was the MCD and government sleeping for so many years?  Now, when MCD's tenure is ending, they call it an encroachment drive?" some local residents told NewsClick.
As the news of the "anti-encroachment" drive had started doing the rounds earlier, shopkeepers had already removed all encroachments. The road on which the drive was launched on Monday, therefore, had no encroachment as such.  
If there is an encroachment, said the residents, it must be removed for people's ease. "But staging this drama in the name of encroachment removal won't be tolerated. First, they created a media hype and came here. But when they did not find anything to remove, they want to bulldoze the iron shuttering to justify their propaganda of encroachment. We will not allow it at any cost," said the agitated residents.  
Locals also alleged that a routine anti-encroachment drive was being given unnecessary hype just to create tension. "See the huge presence of the media and the police force. The drive has to be carried out in several localities of Delhi (as per the official notification). Why no one is talking about those areas? Why are all eyes only on Shaheen Bagh? Amid this media circus, they want to provoke people and create a law and order situation here so that the area can be shown in bad light," said one of them.
Leaders from the Aam Aadmi Party (AAP) and Congress also joined the people and staged a protest against the action.
"People have already removed encroachments. I myself got a wazu khana (place for ablution) and toilets removed outside a mosque on the Kalindikunj-Jamia Nagar police station road earlier. When there are no encroachments, why have they come here — just to disturb the peace of the area and do politics? I will not let it happen," said AAP leader and Okhla MLA Amanatullah Khan.
"Anti-encroachment" drives were planned in SDMC areas after Delhi BJP chief Adesh Gupta wrote to the party-ruled civic body's mayor on April 20 to remove encroachment by "Rohingyas, Bangladeshis and anti-social elements". He had written to the civic body a day after an area witnessed communal violence.
In Shaheen Bagh, Congress leaders — Pervez Alam and Hidayatullah aka Gentle — and activists lay down in front of the bulldozers. They were detained by the police.
"When there is no encroachment, why has a bulldozer been brought here? What message does BJP want to give? Does it want to scare the people? This will not happen. If it is really an anti-encroachment drive, it should be carried out throughout the year without such a hullabaloo. But, the intention is not clearing the roads, but to do politics of hatred," Alam alleged.
The civic body's proposed drive in the Kalindi Kunj-Jamia Nagar area near Shaheen Bagh was cancelled earlier due to unavailability of an adequate police force.
On Monday, GD Birla Marg near Shaheen Bagh got choked and traffic movement was halted as the civic body officials accompanied by heavy police force reached the area.
Earlier, while hearing a petition against the demolition at Shaheen Bagh, the Supreme Court blasted the civic body for carrying out the drive even when the matter was scheduled for hearing by the apex court. Incidentally, it was the Supreme Court that had stopped demolition in Jahangirpuri last month.
However, the top court refused to entertain a plea filed by the Communist Party of India (Marxist), observing that it cannot intervene in the matter at the behest of a political party. It asked the petitioner to approach the Delhi High Court.
"Why is CPM filing a petition? What is the fundamental right that is being violated? This is not the platform. You go to the high court," said a bench of justices BR Gavai and L Nageshwar Rao, further observing that "we have not given license to anybody to come here to say my house cannot be demolished even if it is unauthorised. You cannot take shelter of that order. We cannot interfere that too at the instance of political parties".
The CPI(M)'s Delhi unit and the Hawkers Union had moved the court, terming the proposed action a "violation of principles of natural justice, statutes and the Constitution" under the guise of an anti-encroachment drive. 
An anti-encroachment drive conducted by the North Delhi Municipal Corporation in Jahangirpuri area, which witnessed violence between two communities on April 16, had drawn widespread criticism. The Supreme Court had to intervene to stop the demolition drive there.
Jamia Nagar — A Living Hell
Ironically, the SDMC, which seems to be so aggressive in removing alleged encroachments in areas under its jurisdiction, seems least bothered about addressing a major sanitation issue in the entire Jamia Nagar locality, including Shaheen Bagh.
Heaps of garbage dumped on road sides, emitting foul smell, is a common sight across this southeast Delhi neighbourhood. Choked sewage lines and open drains carrying stinking water pose a health hazard.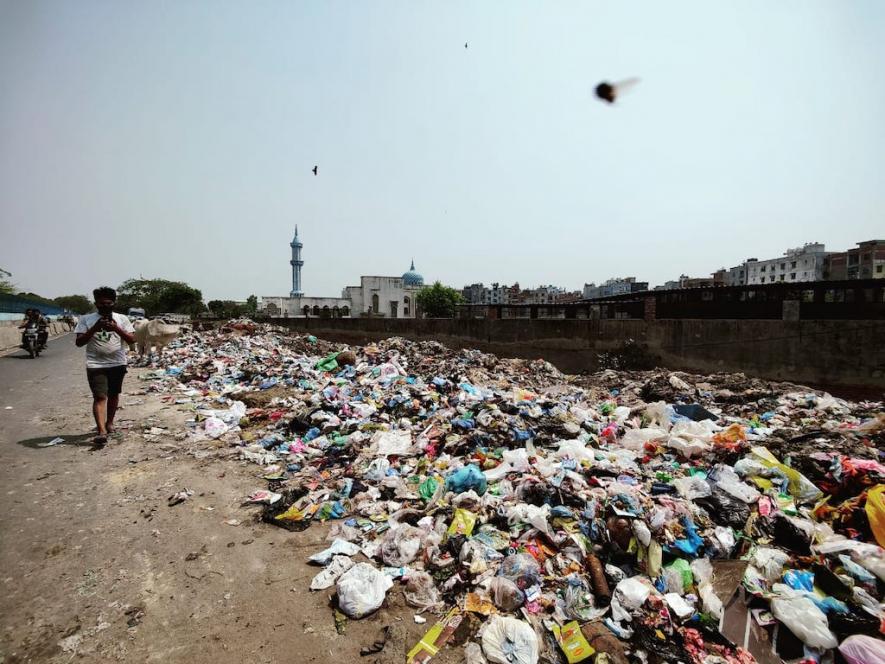 Except private hospitals and AAP government-run 'mohalla' clinics, the area does not have any government hospital. However, construction of a 462-bedded hospital is underway at nearby Sarita Vihar, which the local MLA says will soon be operational.
When asked about poor sanitation in the area, AAP councillor Wajid Khan passed the buck, saying he does not get support from SDMC. "We are not provided trucks and JCB machines to remove the garbage," he added.
When asked about the same, SDMC Chairman (Central Zone) Rajpal Singh refused to comment.
Since the entire colony is unauthorised, the area does not have access to drinking water supplied to households by Delhi Jal Board. People have to buy water for drinking and cooking purposes. For bathing and washing, they depend on pumped water.
The area is densely populated, but there is no park or green patch for children to play and people to hang around or go for walks. In absence of a government-run parking facility, private vehicles are parked on roads — making these extremely congested for vehicular movement.
Get the latest reports & analysis with people's perspective on Protests, movements & deep analytical videos, discussions of the current affairs in your Telegram app. Subscribe to NewsClick's Telegram channel & get Real-Time updates on stories, as they get published on our website.
Subscribe Newsclick On Telegram