Delhi: Domestic Workers Hold Convention, Show Spirit to Fight for 'Respect'
Efforts to collectivise domestic workers in the national capital received a fillip on Thursday, as the city witnessed arguably its first convention on the occasion of International Domestic Workers Day.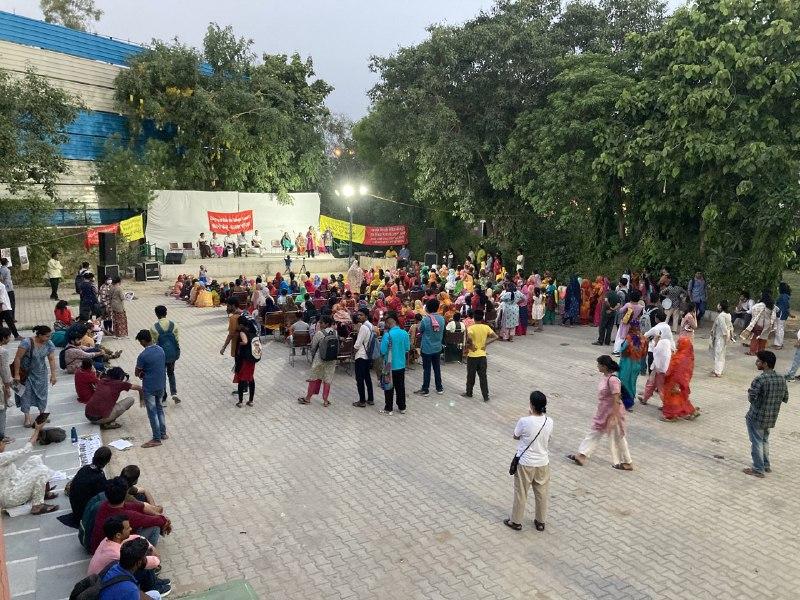 A domestic workers' convention, organised by SGKU on Thursday, saw participation of students, social activists, and trade unions. Image clicked by Ronak Chhabra
New Delhi: Maybe the extension of comprehensive social protection to domestic workers in India is not a far off dream any more. Precisely for this very reason, a union representing their interests becomes the need of the hour.
Efforts to collectivise and organise domestic workers in the national capital received a fillip on Thursday as the city witnessed arguably its first convention on the occasion of International Domestic Workers Day here in a community centre in South West Delhi's posh neighbourhood Vasant Kunj.
At the call of one Sangrami Gharelu Kamgar Union (SGU), over a hundred domestic workers, predominantly women hailing from the nearby jhuggi jhopdi bastis, namely, Jai Hind and Bandhu, among others, partook in the event. It was also attended by students, social activists, and other trade unionists.
The participants had a slew of demands which touched upon minimum wages, social security, and effective legal coverage for the paid domestic workforce in the country.
According to them, domestic workers, whose total strength in the country as per non-official estimates varies between one to two crores, continue to be at the receiving end of regular harassment and exploitation. Their plight continues even as the Covid-19 pandemic has demonstrated, more starkly than ever, the integral nature of their labour – housework – is.
Domestic Workers Demand Respect
International Domestic Workers Day is celebrated worldwide on June 16 to mark the 'historic victory' for this section of the informal workforce in 2011 when the International Labour Organisation's (ILO) Convention 189 on Decent Work for Domestic Workers was adopted.
The said convention contains a minimum set of labour standards, including basic rights, written employment contracts, and service conditions, among others, aimed at promoting decent work for domestic workers worldwide.
Over the years, on this day, several programmes have been organised by groups representing domestic workers across various states in India as well, even as the latter has not ratified the ILO's Convention 189 (C189).
In Delhi, on Thursday evening, speakers after speakers, with many among them having very little experience in facing an audience, came on stage to press the Narendra Modi-led central government for not-so-dissimilar provisions, as recommended in C189, for domestic workers in the country.
Among the speakers was Nilima, a domestic worker in her 30s, who highlighted the significance of the first recorded domestic workers' strike, which was held in Pune in 1980. Another worker, Fatima, hailing from the Jai Hind camp, underscored the need to unionise in her speech.
"We, domestic workers, want minimum wages, weekly paid leaves, right to form unions, and above all, respect for our labour," Sajeena, a member of SGKU told NewsClick. The domestic workers, she argued, have been harassed and discriminated against for many years. "All of this only got worse during the pandemic, when our salary payments were arbitrarily cut, and we were accused of somehow bringing a virus into the homes," the 31-year-old added.
Workers Fight for Comprehensive National Legislation
Like Sajeena, other women who work as cooks, helpers, or cleaners in the posh neighbourhoods, faced similar ordeal during the pandemic. It was during this period when initial demands for a union of domestic workers was raised in the slum communities of the South West region of the national capital.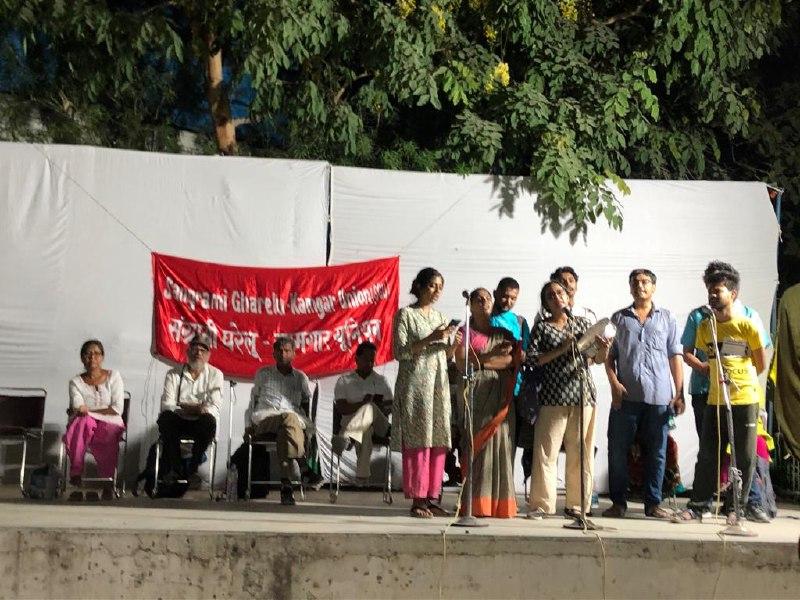 Songs were sung by a group of students and activists on Thursday. Image clicked by Nallinaksh Pant
"Hence, initial meetings were held in March last year in some member's room itself. And from there on, as the participation of domestic workers grew, we started holding weekly gatherings at a public space," Shreya, a trade unionist and who is also associated with SGKU, said on Thursday. She added that similar attempts had been made in the past by the same union in Bengaluru and Kolkata.
Shreya claimed that there are no registered trade unions of domestic workers in the national capital as yet, even as such bodies are present in states like Maharashtra and Karnataka. However, many women's organisations in the city hold meetings on the former's issues intermittently.
"Our focus currently is to collectivise domestic workers in the city. That is why today's convention, which saw women from different regions coming together, is important for us. The larger fight is obviously to fight for comprehensive protective legislation for them. It will, however, not be achieved unless there is unity and a common understanding among us," she said.
To be sure, in India, in the absence of any national-level policy – it has been in a draft stage for many years now – to protect domestic workers, they are reportedly left at the mercy of varied state governments' legislations. There, too, of all the States and Union Territories, only 13 have enacted laws guaranteeing minimum wages for domestic workers. Resultantly, 95% of them earn less than Rs. 10,000 per month, according to last year's analysis.
Meanwhile, under the Unorganised Workers' Social Security Act, 2008, state governments are required to establish local boards for domestic workers to register for social benefits. However, here again, the process is completed only by some.
Neha Wadhawan, national project coordinator of Work in Freedom programme, ILO India, told NewsClick in an e-mail response on Friday that the main challenge in achieving a comprehensive national legislation for domestic workers in India has been the non-recognition of domestic work as 'work' and that of private households as a 'legal workplace' in the country.
Asked about the E-Shram portal, where unorganised sector workers, including those working in a household, can get registered and the simplifying of labour enactments into 4 Codes, Wadhawan welcomed the initiatives but hoped for an announcement of welfare schemes that target domestic workers.
"While codification and simplification of laws, so that they apply uniformly to all workers, is a welcome step, trade unions have expressed deep disappointment at the exclusion of domestic workers from several important measures mentioned in the labour codes," she said.
Get the latest reports & analysis with people's perspective on Protests, movements & deep analytical videos, discussions of the current affairs in your Telegram app. Subscribe to NewsClick's Telegram channel & get Real-Time updates on stories, as they get published on our website.
Subscribe Newsclick On Telegram