Delhi: Hundreds of Hawkers Protest at Jantar Mantar on International Hawkers Day
Protesters said that the implementation of the 2014 Act, enacted to protect hawkers, is "sluggish," while eviction drives, which must be deemed "illegal" as per the Act, run unabated. They demanded the constitution of a central committee to monitor the implementation.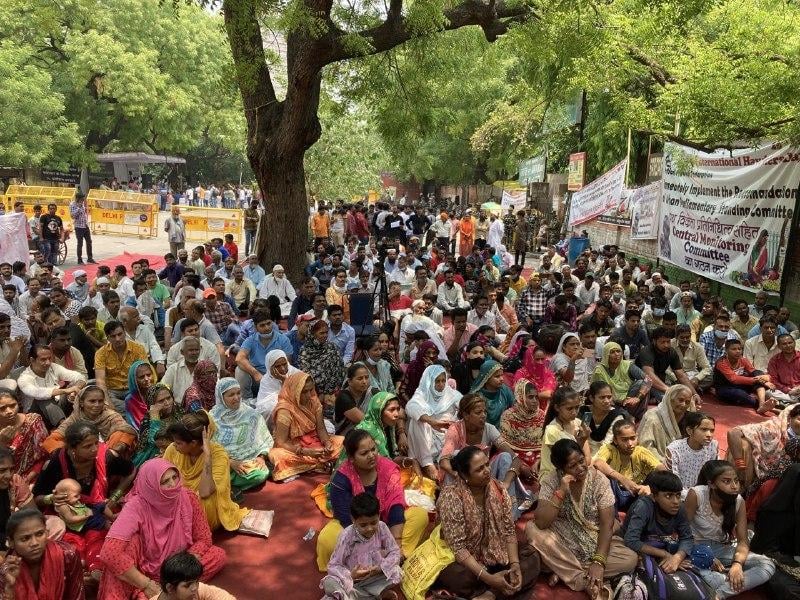 New Delhi: 'International Hawkers Day' was observed by street vendors across the country on Thursday, as the latter gathered together in their respective cities to demand an end to "all kinds of eviction" and immediate implementation of a 2014 law aimed at regulating the vending business.
At the call of the National Hawker Federation (NHF), a coming together of 1,200 unions and associations of hawkers from different states and Union territories, hundreds of street vendors also staged a protest at Jantar Mantar in New Delhi on Thursday.
Hawking in numerous national capital's markets including in Lajpat Nagar, Connaught Place, Janpath, among others, protesting vendors lamented that their lives remained largely unchanged, as the law, Street Vendors (Protection of Livelihood and Regulation of Street Vending) Act, "is still only on paper."
Hence, on Thursday, they demanded, among others, the constitution of a central monitoring committee by the Union government, as recommended by Parliamentary Standing Committee on Urban Development earlier in December last year.
'Illegal Evictions' Continue in Many States 
The 2014 Act aims to protect the rights of urban street vendors and regulate street vending activities. At the time, its enaction was hailed by activists as it was expected to end the extortion rackets and continued harassment, primarily through eviction drives carried out by the civic authorities and the local police of vendors.
However, eight years down the line, the leaders rue that the implementation of the Act by states and Union territories is "sluggish," its provisions largely ignored, while eviction drives, which must be deemed "illegal" as per the Act, run unabated.
Under the 2014 law, a Town Vending Committee (TVC), each of which comprises local street vendors, state government officials, and representatives from NGOs, is tasked to identify the street vendors and issue them vending certificates. Subsequently, the committees are also empowered to identify vending zones in the city.
In Delhi, 28 TVCs in different areas across the city have been notified. According to the data provided by Delhi Street Hawkers Survey, conducted by corporations in the national capital, 77,363 vendors are identified, as of Thursday, of which 66,555 have received approval for certification.
On Thursday, Sandeep Verma, convenor of NHF's Delhi unit, told NewsClick that the government's data shows that many of the vendors in the city are yet to be surveyed. According to a conservative estimate, close to 5 lakh street vendors – both stationary and mobile – are in the national capital.
"Many of those surveyed and identified as vendors are yet to receive their Certificate of Vending (CoV). Those who have received their CoV also continue to face problems due to various issues with the whole process," Verma said.
One among them is the 48-year-old Jay Ram Chaudhary, a fast-food vendor based in central Delhi's Old Lajpat Rai Market, who was carrying his CoV on Thursday, issued to him in November last year.
"Despite this, civic people came in February [this year] and took away my goods. Since then, I have been surviving without any monthly earnings. What should I then do with this paper," he lamented, pointing towards his CoV.
Several vendors NewsClick spoke to on Thursday had similar complaints, who, despite possessing a CoV, faced eviction in recent months. This is majorly because the Delhi government is yet to notify any vending zone, explained Sumit Verma, an RTI activist.
An inter-agency committee comprising officials from the municipal corporation, traffic police, and PWD, among others, was formed only in February this year, according to Verma. It was tasked to prepare a vending plan for each zone and submit the drafts to the central licensing department, he added.
"However, till now, the final plan for only Ward Number 84 in Chandni Chowk has been submitted, which is yet to be notified by the Delhi government," Verma, who is also a TVC member of the city Sadar Paharganj zone, said. Hence, the issued CoV has not been specifying a vending zone, which allows the authorities to take action against the vendors, he argued.
But even then, eviction drives in the national capital that have been in the headlines in recent months are "completely illegal," Verma of NHF told NewsClick, as the 2019 scheme, enacted by the Delhi government, prohibits eviction of street vendors "without prior notice, completion of the registration process and formulation of a rehabilitation plan."
Shaktiman Ghosh, national general secretary, NHF, said that "illegal evictions" continue not even now, not just in Delhi but in Uttarakhand, Uttar Pradesh, Bihar, Arunachal Pradesh, and Telangana, among others.
"We want a central monitoring committee as recommended by the Standing Committee of Housing and Urban Affairs, with the representation of Street Vendors and Vendor organisations," he said.
In August last year, headed by Bharatiya Janata Party (BJP) MP Jagdambika Pal, Parliamentary Standing Committee on Urban Development had observed that even after seven years of enactment of the Act to protect the livelihood of street vendors, several states have not carried out vendor surveys, formed town vending committees (TVCs) and notified vendors' zone or market which are essential for the implementation of the Central law.
Subsequently, in December last year, an action taken report recommended a monitoring committee at the Central level to "meet at specific intervals to review the progress, discuss and thrash out the hurdles/issues, if any, faced in implementation [of the 2014 law], share the good practices in implementing the provision of the Act such as setting up of vending zones, vending markets, etc."
Notably, on eviction, the parliamentary committee reiterated that such powers are required to be exercised only on the recommendation of TVC. It also suggested that the Ministry of Housing and Urban Affairs (MoHUA) advise states and UTs to compile data on eviction cases.
Get the latest reports & analysis with people's perspective on Protests, movements & deep analytical videos, discussions of the current affairs in your Telegram app. Subscribe to NewsClick's Telegram channel & get Real-Time updates on stories, as they get published on our website.
Subscribe Newsclick On Telegram