Delhi: 'If Sunder Nursery Slums are Razed, Where Will we go? What About School Exams?
'The biggest problem is schools. We are trying to get a house on rent nearby but are unable to find one… children will miss exams.'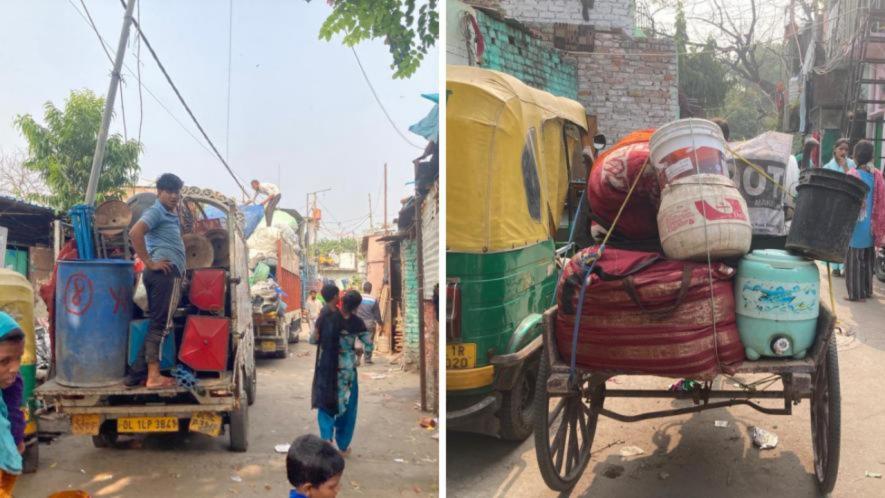 When the whole country was glued to TV screens for the Cricket World Cup, residents of a jhuggi cluster in Delhi's Sunder Nursery area were packing up their things, worried over their children's exams that were approaching. The uncertainty about their future started hitting them hard when eviction notices were plastered in the area recently.
Some families were seen loading goods on a rickshaw or mini trucks. People were running helter-skelter with Aadhar cards, voter ID cards and files with various documents in their hands. Uneasiness and chaos were clearly visible in the entire settlement of poor people.
 
The cluster of slums is located in a triangular space between Delhi Public School and Sunder Nursery (Nizamuddin) on Mathura Road, near the UNESCO World Heritage Site 'Humayun's Tomb'.
 
The 500-700 families in this cluster live in very narrow, dark rooms. The stoves for cooking are built outside the house, amid piles of filth.
 
As soon as NewsClick entered the slum area, notices to vacate the house were seen pasted in many places. A little ahead, there was a big banner-like poster fluttering in the wind, put up by the Land and Development Office, Ministry of Housing and Urban Affairs, Government of India. The banner cited the order of the High Court to vacate the houses (illegal encroachment) by 20.11.2023. If not done by the given date, action would be taken to remove encroachments, it said.
 
According to the slum dwellers, the posters and notices were put up on November 18 and orders were given to them by the police to vacate the slums immediately. Most of the women and men living here are ragpickers, rickshaw pullers and domestic helps. While many of them said they live on rent, some claimed that they had been living in the area for 40 years.
 
'It was a jungle when we moved in'
 
Among a group of elderly women sitting in front of a house, was one with cataract visible in her eyes. With folded hands, she said: "There was a jungle here when we started living. It has been years. We got electricity, water facility installed, got toilets built. We fought for all this, as there was nothing here. We have seen such days when we did not know from where we would get drinking water. Now the poor are being pushed away from here. What do we do now? We are not even able to get rooms on rent. We are neither able to sleep at night nor partake food."
 
Santo, another elderly woman, was sitting in front of her house. She lives alone and somehow survives by working as a domestic help in the nearby bungalows. Ever since she came to know about the notice, she has not been able to figure out where she will go. "We will stay here, where will we go," she said.
 'CCTV cameras were put up 15 days ago. Why?'
 
An angry woman said, "If these are illegal houses then tell me why were electricity meters installed? Why were CCTV cameras installed here 15 days ago?"
 
Some people showed a token number in their documents. They claimed numbers were allotted to their slums by the government.
 
Ashok, who lives in the area, said, "This (token) is the government number. It was given to us in 1991 with 'Permanent House' written on it. But in the notice that has come now, the number is not there. It just says Khasra No. 484. We don't come under Khasra. We don't know what they want us to do?"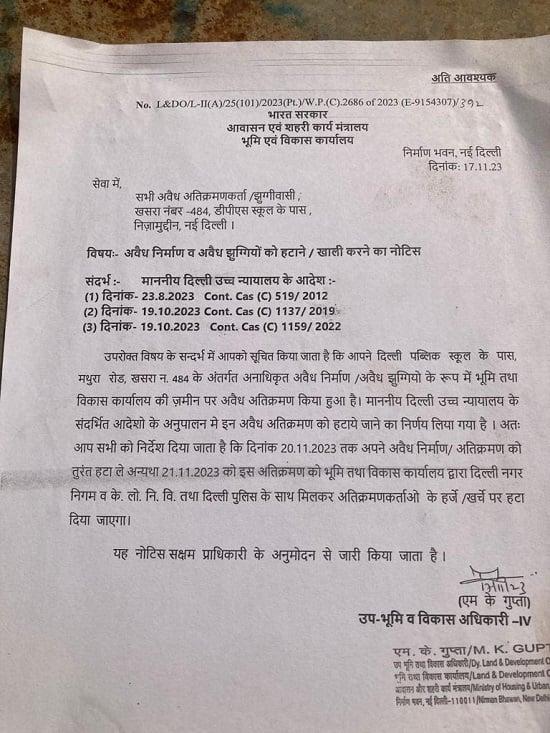 People allege that there is no mention of 'slums' in the notice but the police are asking them to vacate the place. "How will we vacate? We have been living here for so many years. We have proof, yet the police is asking us to vacate our homes else they will demolish it."
 
Sapna, who also stays in these slums, said, "I have been living here for many years, my children were born and grew up here, and these people suddenly put up notices here, right near us. We work in nearby bungalows. We are left with no option but to take a room on rent somewhere."
 
She added, "There are people who work as daily wagers here, there are some whose daughters are getting married and dowry items are kept in the house. Even the electricity was cut off. After repeated requests, some electricity was given."
 
A young man told Newsclick that the police are warning them against talking about it. "They are making a list of those who are speaking up. If we ask anything, they write down our names, and say that they will demolish our houses immediately. I have a child, he is only 15 days old, where will I take him in this cold?"
 
He said that some people told them that they would get flats instead of slums. "I don't want a flat, give me a small hut here, I will live in it.  Didn't anyone know when these slums were being built here? We have electricity bills, voter cards, Aadhaar cards. Everyone comes at the time of elections, but all we get is only assurances, be it the BJP, Congress, Aam Aadmi Party. What will we do with assurances if our houses are demolished?" he said.
 
A weeping Naseema said, "There is only me and my daughter. In such a situation, I don't know how to search for a rented place, how to shift the belongings."
 
Zamirunissa was also very upset. "My circumstances are like no other's. My son has been in the ICU for three-four days. I am appealing to people for help."
 
While talking to Zamirunissa, several other women started narrating their problems. "We are being told to vacate the house, where will we go? We do not have money."
They said the homes available on rent cost Rs 10-15,000/month. When the government promised "Where there are slums, we will build houses' (Jahan Jhuggi, Wahan Makaan) then why is it not implementing it?"
 
What is worrying the families most is the approaching school exams. An angry woman said, "Children have school, they have tuition. Many small children go to nearby schools. Our future is ruined, but the future of our children is also being destroyed."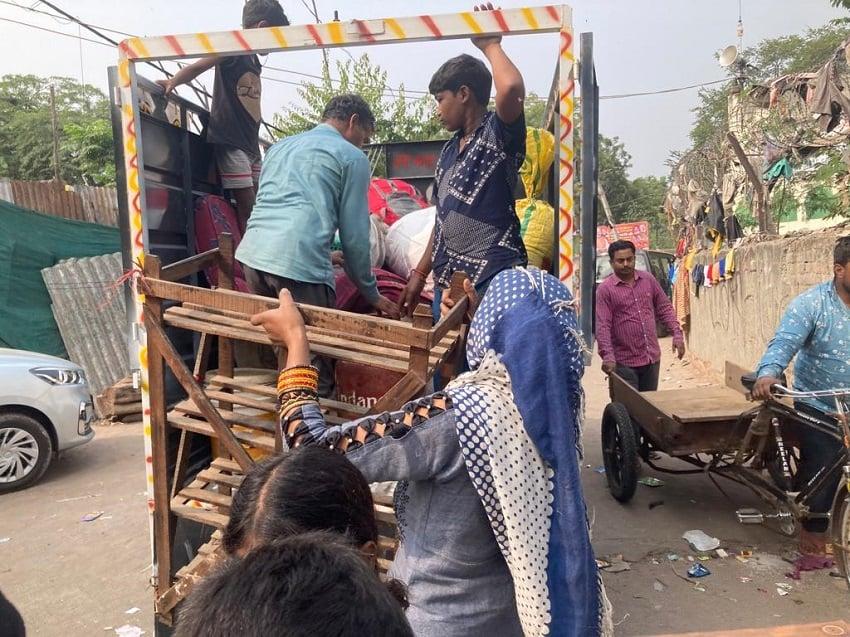 "Here, some people collect garbage, some people pull carts, but since the day the notice has been issued, no one has gone to work due to the fear that the slum will be demolished. Even if the slum is being demolished, arrangements should be made for us somewhere. We want our message to somehow be conveyed to the government," she said.
 
Nirmal Gorana Agni, who  is associated with Mazdoor Awas Sangharsh Samiti, told NewsClick that the notices put up in Sundar Nursery slum are had increased problems of the people.
 
"The people of the slum are saying that they have survey papers from DUSIB (Delhi Urban Shelter Improvement Board). If they have the DUSIB survey papers, then the slums should be recognised and notified. How come they are not notified? Also, they are saying that the settlement did not exist in 2006 and the court is also saying so, but the documents that these people have are from before 2006. So, as per the document, it is a settlement of people. There may be some discrepancy in the satellite images, but how can there be any discrepancy in people's documents? People have voter cards and tokens from the time of VP Singh government," he said.
 
Gorana said there seemed to be some 'dispute'. "The court should take cognizance of this without this chaos being created. These people have gone to the court…. Let's see what the court say… If they have the documents, then the court can reconsider it. There are higher courts, too, hence there should be no haste in the demolition and the court should reconsider the matter with sensitivity, he added.
 
(Translated and edited version of the original published on our Hindi website)
Get the latest reports & analysis with people's perspective on Protests, movements & deep analytical videos, discussions of the current affairs in your Telegram app. Subscribe to NewsClick's Telegram channel & get Real-Time updates on stories, as they get published on our website.
Subscribe Newsclick On Telegram