Delhi: May Day Rally Vows to Fight for Workers' Rights, Maintain Unity
On Sunday evening, as hundreds of workers, along with students, marched from Ram Leela Maidan to Chandni Chowk's Town Hall, trade union leaders rue that this year, the May Day finds workers in the country battling against mounting unemployment and back-breaking inflation.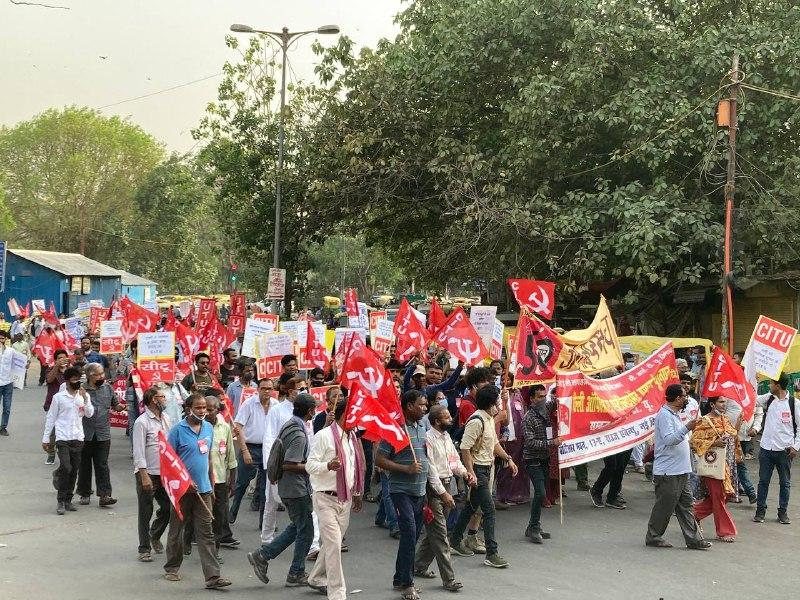 Workers, along with students, marched from Ram Leela Maidan to Chandni Chowk's Town Hall on Sunday. Image clicked by Ronak Chhabra.
New Delhi: The traditional May Day march to honour workers, which was carried out in the national capital for the first time since the COVID-19 pandemic hit the country two years ago, had one message above all which the trade unions were looking to push on Sunday: defeat the communal forces, maintain workers' unity.
May Day, or International Workers' Day, marks the commemoration of a nationwide strike for an eight-hour workday in the United States in 1886 – the movement ended in a tragic Haymarket incident in Chicago a few days later. Hence, celebrated across the world, May 1 signifies the celebration of workers' rights.
On Sunday, however, trade union leaders rued that this year, the day finds workers battling against mounting unemployment, back-breaking inflation and a change in the labour laws, which will purportedly dilute their rights earned through decades of struggle – all this, while the country, in the present moment, appears to be gripped by communal violence, triggering social and political tensions.
In light of inadequate assistance by the Narendra Modi – led Central government, workers in the country are still reeling under the pressures of the economic disruptions triggered by the pandemic, the leaders added. 
As such, the need of the hour is only to "intensify the resistance against the anti-worker policies" of the Centre, according to them.
"This year, the main message that the trade unions in Delhi are trying to spread is to maintain the unity among the workers by defeating the communal forces," Anurag Saxena, state general secretary of Centre of Indian Trade Unions (CITU) – Delhi told NewsClick on Sunday.
 "Last month, we saw how Hindu festivals were turned communal in Delhi and many other parts of the country. The trade unions condemn such blatant attempts to divide citizens along Hindu-Muslim lines," he said.
A neighbourhood in northwest Delhi was hit by communal violence last month when a procession to celebrate Hanuman Jayanti was attended by men clad in saffron, who reportedly brandished swords, knives, hockey sticks and shouted provocative communal slogans. Likewise, processionists also ran amok, creating mayhem across several states, including Madhya Pradesh, Gujarat, West Bengal, and Rajasthan, among others, during Ram Navami celebrations in the same month.
In response to these, on Sunday evening, hundreds of industrial and unorganised workers, along with students, marched at the call of 11 central trade unions from Ram Leela Maidan to Chandni Chowk's Town Hall, appealing to maintain peace among the communities.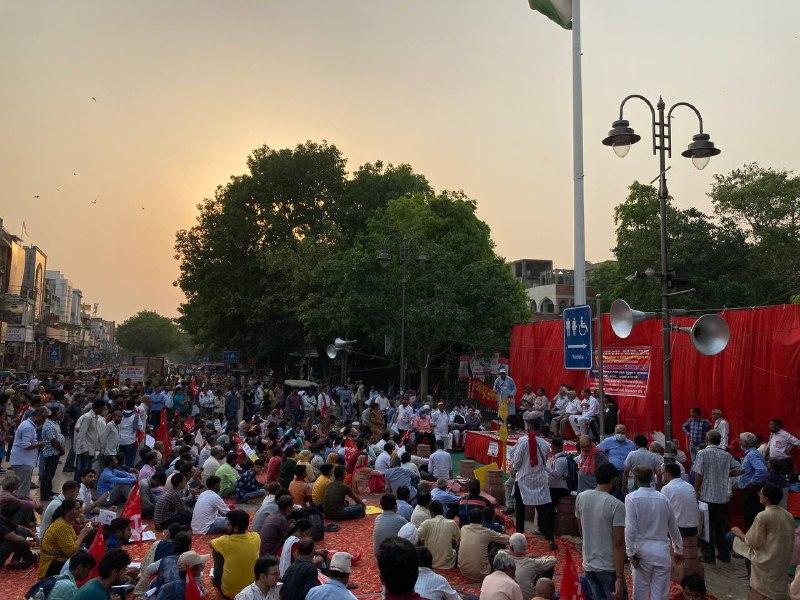 A public meeting was organised after the May Day march in front of the Chandni Chowk's Town Hall on Sunday evening. Image clicked by Ronak Chhabra

Marchers also carried banners reading "Hindu Muslim Bhai Bhai", "Desh ki Ekta Zindabad", and "Mazdooron ki Ekta Kaayam Rakho", while slogans were raised, flaying communal violence.
Abhishek of All India Central Council of Trade Unions (AICCTU) told NewsClick that it is an "utmost responsibility" of the trade unions to ensure that communal narratives pushed to "divert attention" from the "harsh" economic realities are challenged. 
"Because at the end of the day, such narratives only benefit the government which has failed to fulfil its responsibilities and the employers who exploit workers," he said.
He added that the main talking point in the country should be rising prices of essential commodities and surging unemployment. 
"The unions will continue to bring the workers together to protest these issues while challenging the divisive campaigns."
In recent months, rising inflation in the country has been the source of discontent among not just the vulnerable and marginalised sections but also small businesses. According to the government's estimates, retail inflation – the rise in prices of what common people pay for various commodities or services – was recorded at 6.95% in March; in the same month, wholesale prices were increased by 14.5%.
To make it worse, the unemployment in the country rose to 7.83% in April from 7.60% in March, according to the latest data published by the Mumbai-based Centre for Monitoring Indian Economy (CMIE). More worryingly, in March, the labour participation rate (LPR) fell to 39.5% – it translated to the lowest labour force in eight months at about 42.8 crore after shrinking by 38 lakh in the same month.
The devastating economic situation, as highlighted by the unemployment figures, is known only too well to Mithilesh, an erstwhile contract worker at Delhi's Indira Gandhi International Airport. The 35-year-old lost her job last year, after being engaged in a cleaning job for four years, as her labour contractor was replaced by a new third-party organisation.
"Since then, it has been more difficult than ever to take care of my family's needs," the mother of two daughters told NewsClick as she rallied along with her union members in the May Day march on Sunday. "It was not the perfect job, but then, at least I used to receive a monthly salary."
Mithilesh, who was also then covered under a few of the available social security schemes, is now a daily wager, with work, according to her, available on only a "handful number of days".
Meanwhile, the struggle to remain employed amidst such worsening labour market conditions can be understood by taking the case of Manjay Mahto, 36, who currently works in a leather export unit in Uttar Pradesh's Greater Noida, where since past two years, his meagre wages of about Rs 13,000 hasn't seen any increment. Upon protesting, "maalik kehta hai kaam karna hai toh karo varna niklo (leave the job if you don't want to work)," the sole earner in his family of six members, lamented on Sunday.
Mithilesh's and Mahto's predicament is reflective of most of the workers in the country, according to Saxena of CITU, who are at the receiving ends of increasing contractualisation and informalisation of labour. 
"Which is why trade unions are pressing to end such labour arrangements," he said, adding that their other demand includes a minimum wage of Rs 26,000 for an unskilled worker in the Delhi-NCR region.
Dhirendra Sharma, state president, All India Trade Union Congress (AITUC) – Delhi cautioned that the tensions within the labour market would further compound with the implementation of the four Labour Codes – they are feared to tilt the labour regulatory regime more in favour of the employers. 
Last week, Union labour minister Bhupendra Yadav had expressed confidence that the four Codes will be implemented soon as nearly 90% of states have already come out with draft rules.
The May Day celebration, Sharma told NewsClick on Sunday, amounts to a "well-timed reminder" that the fight to save the workers' rights has to be continued, more so, in an intensified manner. 
"As history has it, workers will not achieve anything until and unless they unitedly resist," he said.
Get the latest reports & analysis with people's perspective on Protests, movements & deep analytical videos, discussions of the current affairs in your Telegram app. Subscribe to NewsClick's Telegram channel & get Real-Time updates on stories, as they get published on our website.
Subscribe Newsclick On Telegram