Delhi: Media Fraternity Comes Together to Raise Voice Against Growing Attacks on Journalists
Meeting calls for wider unity to tackle plethora of FIRs, arrests of journalists as well as legal aid.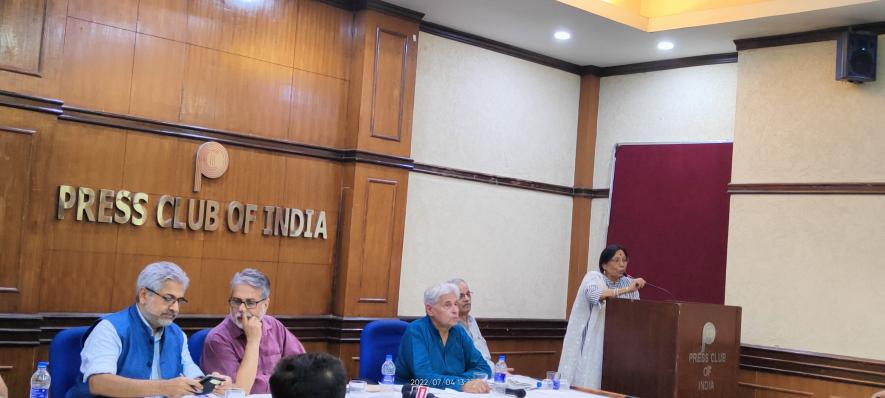 New Delhi: Several journalists' organisations came together in the capital on Monday and held a joint meeting at the Press Club of India, expressing serious concern on growing attacks on the media, especially on independent journalism. A resolution was also passed unanimously expressing concern over the arrests of some journalists across the country.
The gathering, attended by a large number of journalists, also expressed anger over the arrest of Mohammad Zubair, a journalist of the fact-checking website Alt News and termed it as "an attack on independent journalism" and reminded the government of its pledge at the recent G-7 summit to protect 'online and offline" press freedom.
Among the participating organisations were Press Club of India, Indian Women's Press Corps, Editors' Guild of India, Press Association, Digipub News India Foundation, Working News Cameramen's Association and Delhi Union of Journalists.
Opening the meeting, PCI president Umakant Lakhera pointed out that in the past few years, there had been many serious attacks on journalists across India, some of whom had also lost their lives
Shortly after the Narendra Modi government came to power, several journalists, including Gauri Lankesh in Bengaluru, Shujaat Bukhari in Srinagar, were even murdered, he said, adding that the government had done nothing about the safety of journalists. On the other side, government repression on journalists who are fair but seen as critical has increased, Lakhera added.
"There are one-sided attacks against journalists across the country. Second, when corona restrictions have been lifted all over the world, unnecessary restrictions are being imposed on journalists in India," he said, citing the instance of  journalists' access to the Parliament Media Gallery being restricted, affecting Parliament reportage.
Lakhera described Mohammed Zubair's arrest as a message from the government and said that the government wanted to scare journalists with such attacks. "This fear is also a threat to the democracy in the country," he said, adding that what was of serious concern was that "this government is using a section of us against us, media is being made extremist or fanatic, so that divisive poison spreads in the country."
Addressing the gathering, T N Ninan, former Editor, Business Standard and Economic Times, called for more widespread conversations among the fraternity to chart out a unified response to the growing attacks on the media. He also called for a legal fund and legal help to those who are facing an onslaught of cases.
Ninan said "we do earnest meetings and rallies many times after an incident, but now we have to move forward. The way attacks on journalists are increasing across the country, we should create a legal aid fund so that journalists can be helped. Along with this, a team of lawyers who can fight cases of journalists in other parts of the country is needed. Because such legal people can be found in Delhi but it is a problem in other states."
Siddharth Vardarajan, co-founder of The Wire, said Zubair's case showed how unfair the government was to the journalist.
"Zubair does Alt News fact check, which is an integral part of journalism. Because the media is not doing this work, such a platform was created. But, some people are raising questions on Zubair being a journalist," he said.
Vardarajan said that fact is that Alt News is becoming "a hindrance in the false propaganda of the ruling party. That's why this attack on him (Zubair). Along with this, his Muslim identity is also a reason for attacking him, this is part of the pattern we are seeing in the past few years," he added.
However, Zubair's is not the only case. Vardarajan pointed out that in the past few years, "India's position in press freedom had deteriorated. Last year, there was a report by Reporters Without Borders in which India was included in the world's most dangerous countries for journalism. According to this report, India has been ranked 142 out of 180 countries in the 2021 World Press Freedom Index, which reflects the poor state of media freedom."
In the same year, Reporters Without Borders released a list of 37 such leaders of the world who are frequent attackers on the media. India's Prime Minister Narendra Modi is also named among them, he added.
At present, several journalists are lodged in jails in India. Many journalists of Kashmir are in jail. Also, Kerala journalist Siddique Kappan has been in jail for nearly two years now under UAPA (Unlawful Activities prevention Act). He was arrested in October 2020 when he had gone to Uttar Pradesh in connection with reporting on the Hathras rape and murder case for his newspaper.
Similarly, a few months ago a journalist from Ballia, Uttar Pradesh, was jailed for running the news of a paper leak during an examination.
In Delhi, journalists, especially Muslim, were attacked in the presence of police in so-called Hindu Mahapanchayat in the capital Delhi. But the police did nothing in that case, too. While on the other hand, Mandeep Poonia, a freelance journalist covering the farmers' movement, was arrested on January 30 this year from the Singhu border in Delhi. He was later released on bail.
The journalists' meeting took place in the backdrop of such attacks, wherein all those who spoke expressed not only dismay but also anger.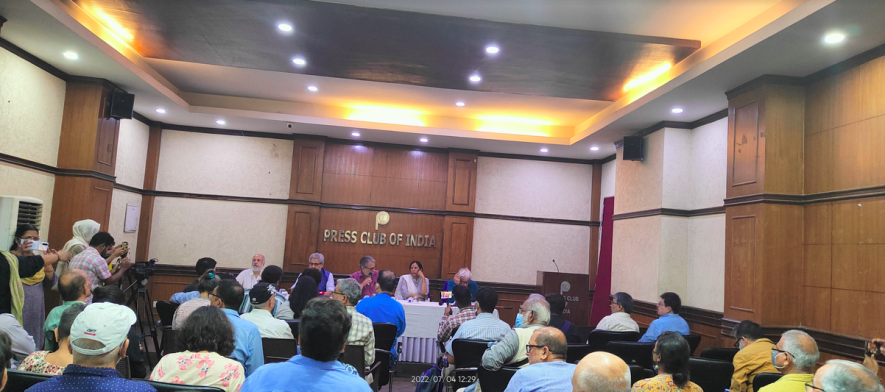 IWPC president Shobhna Jain said that "at present there is a ban on asking questions, but they do not even want to hear answers. We are working in the midst of such challenges."
Jain said the biggest challenge was that "our (the fraternity's) thinking is not on the same page vis-a vis journalistic freedom. "If we all have the same voice then there will be pressure. But our voice is not the same. If we are not united, it will be difficult to fight our battle," she added.
DUJ president SK Pande said this government is targeting not only journalists but also independent digital media platforms. "We have seen how this government has attacked organisations like Wire and Newsclick among other because these are the few institutions which are reporting critically," he told NewsClick later.
Get the latest reports & analysis with people's perspective on Protests, movements & deep analytical videos, discussions of the current affairs in your Telegram app. Subscribe to NewsClick's Telegram channel & get Real-Time updates on stories, as they get published on our website.
Subscribe Newsclick On Telegram