Delhi: 'Modi is no King, People Will Dethrone Him if Justice to Wrestlers is Delayed'
Support continues to pour in for wrestlers protesting against sexual harassment, with several women, worker, student and youth organisations joining them at Jantar Mantar.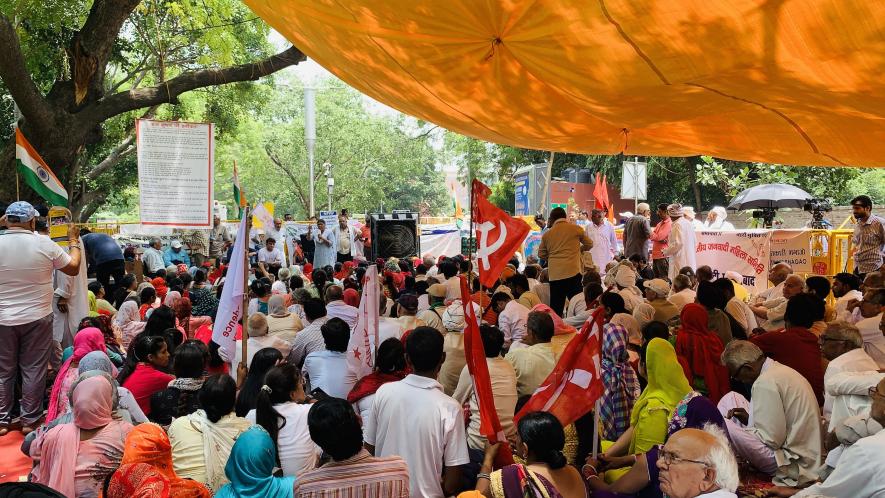 New Delhi: Support continues to pour in for wrestlers, who are sitting in protest for over 20 days now at Jantar Mantar, alleging sexual harassment against Wrestling Federation of India chief Brij Bhushan Sharan Singh. On Sunday, hundreds of people affiliated to various organisations reached the protest site to express solidarity. Some even travelled from remote areas of Uttarakhand, Rajsthan and Haryana.
Sudesh Kumari from Haryana told NewsClick said that there were ample examples to suggest that governments can take action against rogue men if they are willing to do so. "We have the example of (former Punjab top cop) KPS Gill versus (police officer) Rupan Deol Bajaj where the Supreme Court made him pay a fine and serve probation," she said.
Kumari, general secretary, Jan Sangharsh Morcha Haryana, said, "In a party thrown by a senior official, Gill patted the hip of Bajaj. Mind you he was a very powerful police official. Yet, justice came in favour of Bajaj. If we look at this particular case, outraging the modesty of a girl attracts action under Sections 354 and 354 (B) of criminal procedure code. These are non-bailable offences. Yet there is no action. There have been attempts to alter the date of birth of girls who alleged offences under POCSO Act. So, the rule of law is simply missing."
Kumari also questioned the role of National Women's Commission and said, "Constitutional bodies like NHRC, women commission have been formed to undo the excesses of state authorities. Had they taken up issues, the consequences would have been different."
Furthering the argument, Surekha, president, Centre of Indian Trade Unions, Haryana, who came along with hundreds of construction and MNREGS workers, said the bid to sexually harass women wrestlers should not be seen in isolation. "The Bharatiya Janata Party (BJP) has a track record of defending sexual predators, be it the example of Kathua where its members held a rally in defence of rapists and murderers, or Unnao and Hathras where daughters were denied justice", she said.
"In Haryana, too, we had a case where a female hockey coach was sexually molested by Minister Sandeep Singh. He is still a cabinet minister. We have gheraod the chief minister wherever he visits. It's shameful that CM does not utter a word and even if he speaks, it is always in favour of the accused. People are anguished about this. CM (ML) Khattar said that the woman coach was levelling false allegations. It seems that CM has done an inquiry and there is no need for further investigation through any professional body," she added.
She said a similar pattern can be seen in the case of the protesting wrestlers, too. "TV channels themselves showed the empire of (WFI chief) Singh where akhadas are run in his home. He runs a vast number of women colleges too where girls have made allegations regarding sexual harassment. It takes a lot of courage for a girl player to come out with a complaint. It is not easy for any woman to progress in these taxing conditions and that too in a field like wrestling."
"Let me also remind you that Mr Modi is not King. People will dethrone if justice is not delivered," she added.
Students and youth organisations also landed up to support the wrestlers. Naresh Dhanoda, who travelled from Narwana in Jind, said that his organisation, Democratic Youth Federation of India (DYFI), was predominantly active in eight districts of Haryana. "We have organised different marches and processions in different parts of the state in solidarity of wrestlers," he added.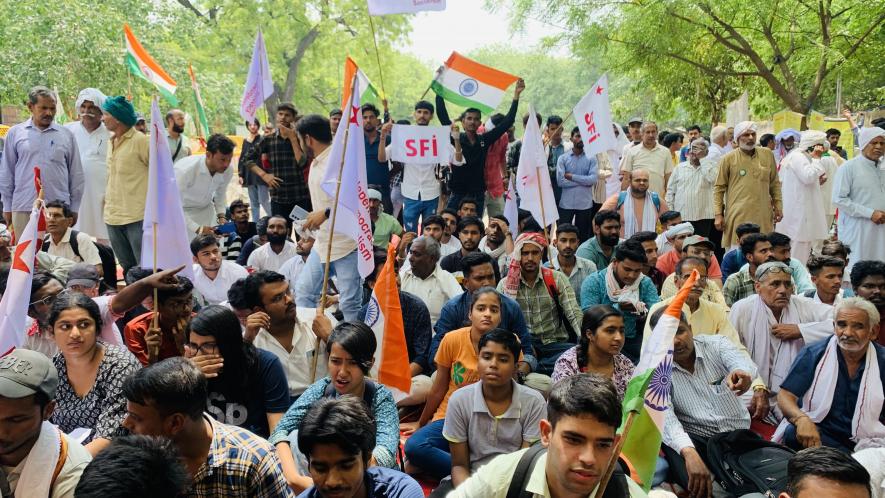 "By May 20, we shall cover all villages in Narwana. We also did a serial hunger strike which started with 10 youths and later five persons came to join it. In the beginning, we were not confident that young people could endure the scorching heat, mosquitoes etc, but the commitment of young men and women towards this struggle was inspiring," he said.
On the cold shoulder by investigation agencies, Dhanoda said 22 days was less to judge the character of this government. "We have seen a 13-month long struggle by farmers. Even there were movements within movement. Sometime Karnal was the epicentre of struggles, some other day Tohana, Hisar or Hansi. So, disappointment no longer exists among people. it is clear to us that the alternative is not disappointment but struggle."
Ajaib Singh, one of the youth who sat on hunger strike, told NewsClick, "We sat on hunger strike to show that wrestlers are not alone in the fight. The serial hunger strike was aimed at making people aware. Men, women, children and elderly persons came to support our agitation."
Subhas Jakhar, state president, Rajasthan, from Students Federation of India, who travelled from Sikar district, told NewsClick that the motivation to join the protest came from the fact the wrestlers had endured every humiliation to continue their struggle.
"When the wrestlers won the medals, everyone was happy despite their ideologies. PM Modi greeted and encouraged them. Today, they are fighting for their self-respect and the troll army has tagged them with a particular caste and region. People are perturbed about this. In different campuses of Rajasthan, at least eight processions in the form of candle march, effigy burning etc have taken place in 22 days."
Jakhar said people of Rajsthan were disenchanted over the conduct of the Union government. First, farmers were at the borders of Delhi, then young men were beaten over the Agniveer scheme and now the wrestlers struggle, he said.
"Even people who voted for BJP are saying that Modiji should have removed Brijbhushan Sharan Singh from office, and set up an enquiry committee to probe the allegations. Why is there no action when an FIR has been registered? Under Section 166, there should have been statements recorded in front of the magistrate. Under the POCSO Act, the accused is first arrested and then the court takes further measures. Thus, it is very clear that the government is saving the culprits even after the Supreme Court's intervention," he added.
When asked about stripping of administrative and financial powers of WFI officials, Jakhar said Singh is accused of sexual offence and nothing less than arrest is acceptable.
Aishe Ghosh, president, Jawaharlal Nehru University Students Union, who came along with other students from Delhi University, Jamia Millia Islamia, Ambedkar University and JNU, told NewsClick, "Sexual harassment is a pertinent civil society issue and girl students in campuses too face it in form of stalking and molestation. It is not the first time when wrestlers have flagged for the need of redressal mechanism to deal with sexual harassment. We are also raising the same demand in campuses that gender sensitisation committees against sexual harassment (GSCASH) or internal complaints committee (ICC) are necessary to deal with mammoth problem. We understand that this problem can only be eliminated with gender sensitisation. It is must be told that girls are no sexual objects or obtain less power in hierarchy."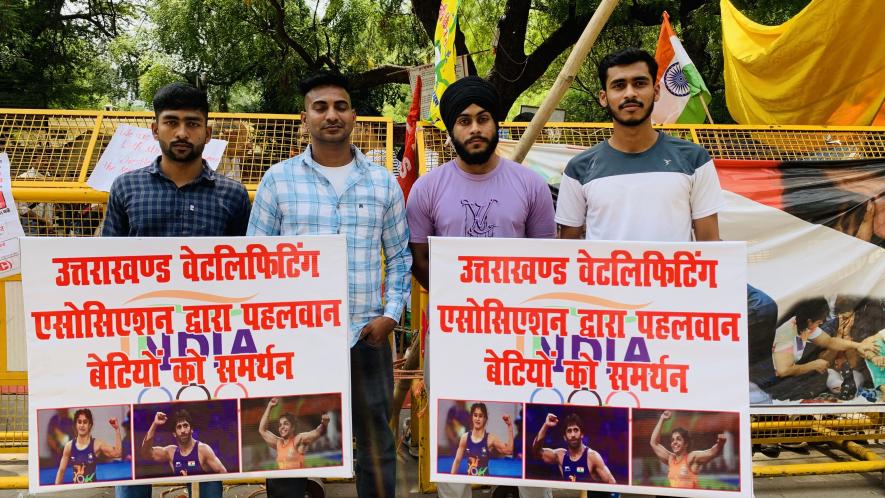 Ghosh said the current struggle was necessary on two counts; to put criminals like Brij Bhushan Singh behind bars but " importantly it has reignited the fire for gender justice in states where patriarchy is deep rooted. In Haryana or other North Indian states, women are questioning the conduct of the Modi Government. They are awakened now."
Amid the hustle bustle of protest, Mohd Zeeshan from Uttarakhand Wrestling Association, sitting on pavement with his flex banner, delivers the most lasting message," if we do not protest this, it will happen to us tomorrow!"
Get the latest reports & analysis with people's perspective on Protests, movements & deep analytical videos, discussions of the current affairs in your Telegram app. Subscribe to NewsClick's Telegram channel & get Real-Time updates on stories, as they get published on our website.
Subscribe Newsclick On Telegram