Delhi: Regularisation in Mind, Scheme Workers Protest for Increment in Budget Allocations
Almost all of them being women, the protesters – Anganwadi workers and helpers, mid-day meal workers, and ASHAs – staged a demonstration at Jantar Mantar on Tuesday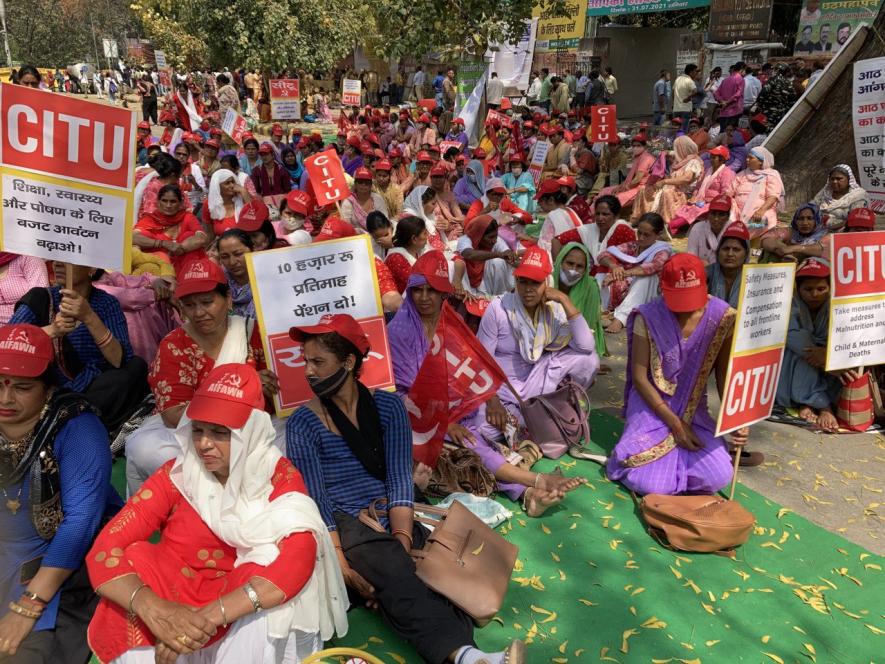 New Delhi: As the second part of the Budget session resumes this week, with normal sittings in Rajya Sabha and Lok Sabha currently ongoing, hundreds of scheme workers from across the country held a demonstration at Jantar Mantar – not too far away from the Parliament – on Tuesday.
Almost all of them being women, the protesters – Anganwadi workers and helpers, mid-day meal workers, and ASHAs – flayed the Central Government for "reduction in the budget allocations" for 2022 fiscal to their respective schemes.
They were led by the Centre of Indian Trade Unions (CITU) – backed national federations, namely, All India Federation of Anganwadi Workers and Helpers (AIFAWH), Mid Day Meal Workers Federation of India (MDMWFI), and All India Coordination Committee of ASHA Workers (AICCAW).
The agitating workers on Tuesday argued that, for years, basic provisions of supplementary food and nutrition along with health services to women and children in the country are being provided through government-run schemes, namely, the Saksham Anganwadi and Poshan 2.0 scheme (earlier known as Integrated Child Development Services), PM Poshan (earlier known as school Mid Day Meal Scheme), and National Health Mission (NHM).
And yet, even though these schemes collectively provide basic rights to "more than 20 crore" children who are under 14 years of age and "around three to five crore" women, the federations argued, herein lies the grievances: the scheme workers are not considered as government employees – currently, they are considered honorary workers – and thus, are not entitled to receive any benefits that accompany this status.
In a joint memorandum submitted to Finance Minister Nirmala Sitharaman on Tuesday, the three federations argued that the result of such a labour arrangement is that the workers of "these crucial schemes" feel neglected.
They demanded, among others, an increase in the budget allocation for the three above mentioned schemes, along with a minimum wage of Rs 26,000 per month and social security to its workers along the lines of what is recommended by the 45th Indian Labour Conference (ILC).
SCHEME WORKERS THREATEN TO JOIN UPCOMING GENERAL STRIKE
Implemented by the Ministry of Women & Child Development (WCD), Saksham Anganwadi and Poshan 2.0 scheme is a centrally sponsored scheme which aims, among others, for the "holistic development" of children below six years of age, pregnant women and lactating mothers through Anganwadi services across different cities and villages.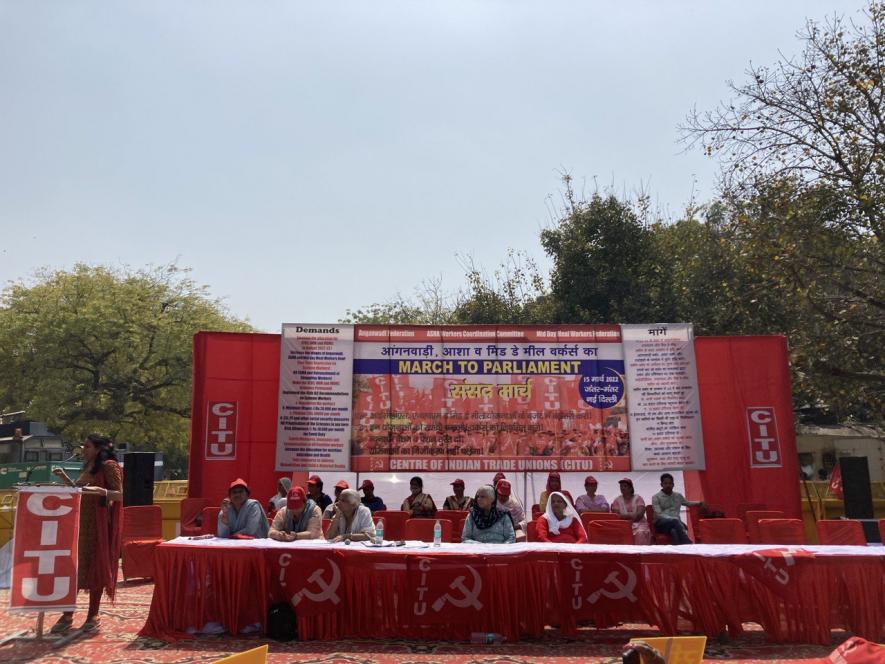 As per the official data, 13.77 lakh Anganwadi centres are operational in the country, with a strength of 12.8 lakh workers and 11.6 lakh helpers. The all-women caregivers – responsible for providing supplementary nutrition and pre-school non-formal education to eligible beneficiaries –receive a monthly remuneration, 60 per cent of which is paid by the Central Government and the rest by the State government.
Likewise, the expenses of PM Poshan, which seeks to provide a nutritious meal to every child from Class I to VIII at government and government-aided schools on everyday classes or exams are held, are split 60:40 between the Centre and the States. Nearly 11.8 crore students at 11.2 lakh schools benefit from the scheme, administered by the Ministry of Education (MoE), which engages over 25 lakh cook-cum-helpers (MDM workers) across the country.
ASHAs, under NHM of Ministry of Health & Family Welfare (MoHFW), are the first port of call for any health-related demands of deprived sections of the population, especially women and children, in the country. Over 10 lakh ASHAs in the country are entitled to task-based incentives for more than 60-odd activities, as listed by the Centre.
To be sure, most of the women engaged with these schemes across the country have been working for decades. Still, their working conditions have not improved substantially, except for a marginal increment in their honorariums after prolonged struggles over the years.
Moreover, the nominal hike in remunerations also often gets offset by a steep increase in work, reduction of funds – which leads to delayed payments – and the persisting precarity associated with their services, courtesy absence of government employee status, protesting women argued on Tuesday at Jantar Mantar.
Take, for instance, the case of the 60-year-old Jasveer Kaur, who lamented on Tuesday that decades of service as an Anganwadi helper in one of the centres in Punjab's Fatehgarh district did her no good. "After all these years, even now, I can't manage to purchase monthly ration for my family through my earnings. They are so low. And yet, I am working more now than earlier," Kaur, who claimed to have engaged with the Anganwadi services in 1997, said. Her monthly remuneration currently is a meagre sum of Rs. 4000, according to her.
Sitting not too far away from Kaur, Sheela Devi, 40, faces a similar predicament. "It is a struggle for survival," said the cook-cum-helper in a government school in Haryana's Panipat. "And, what's more, whenever we protest, we are threatened with terminations by local authorities," she rued on Tuesday.
"It's been 18 years now since I got engaged with this (PM Poshan scheme). If things don't change, for how long will we continue like this."
Surekha, convenor, AICCAW, told NewsClick that it is "high time now" that the Central government "seriously considers" regularising the scheme workers. "But that is not possible if the same government decreases the budget allocation for these very schemes over the years. The first step is to demand adequate budgetary allocation to these schemes, which can then ensure minimum wages and social security to all its workers," she said.
In the Union Budget 2022-23, on Tuesday, the three federations claimed that the budget allocation for the respective schemes has been "drastically reduced" over the years. According to them, the allocation to the erstwhile ICDS recorded a 30% cut last year, while this year, there has been no increase in allocation.
Similarly, the budget for PM Poshan has been slashed by Rs. 1,200 crore in the latest budget, the federations said on Tuesday; there has been no increase in the budget for NHM either this year, they add.
The slashes in the budgetary allocation to the schemes is also "shocking" since it comes at a time when the "country recently faced a health and food crisis" due to the Covid-19 pandemic and subsequent lockdown, AR Sindhu, general secretary, AIFAWH said in a statement.
Meanwhile, clad in their traditional working uniforms, the protesting women on Tuesday also threatened to join the upcoming two-day general strike, rallying behind the call given by the 10 Central Trade Unions.
For Anita, 46, this comes as only the "need of the hour." The strike action will make our voices heard, said the ASHA worker, who hails from Haryana's Sonipat. "During the last two years of the pandemic, we have been putting our lives at risk to ensure that the services to the beneficiaries are not stopped," she said.
"When the government does not acknowledge us a 'worker' even now, then, what other choice do we have but to strike."
Get the latest reports & analysis with people's perspective on Protests, movements & deep analytical videos, discussions of the current affairs in your Telegram app. Subscribe to NewsClick's Telegram channel & get Real-Time updates on stories, as they get published on our website.
Subscribe Newsclick On Telegram