Delhi Sanitation Workers Demand Permanent Jobs
The amount spent by the Delhi Government on contractors is enough to give permanent employment to sewer and septic tank cleaners.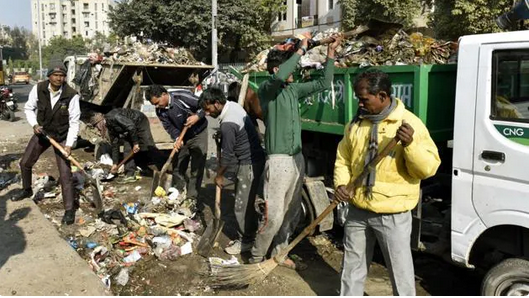 Image Courtesy: Hindustan Times
New Delhi: Sanitation workers are exploited by contractors and considered untouchable by society. Several of them do hazardous jobs—like cleaning sewers—without proper safety equipment, are permanently ill and cannot even provide a decent lifestyle to their families.
A convention to discuss the problems faced by sanitation workers and bridge the gap between them and policymakers was held at the Constitution Club of India here on Saturday. More than 250 sewer workers, including government representatives, organisations and trade unions; Sanjay Gahlot, chairperson, Delhi Safai Karamchari Commission; Ajay Dutt, MLA, Ambedkar Nagar; and Rohit Kumar, MLA, Trilokpuri, also attended the convention.
During the convention, titled 'Sewer, Struggle and Livelihood' and organised by the Dalit Adivasi Shakti Adhikar Manch (DASAM) in collaboration with several organisations from across the country, sewer workers spoke about their lives and struggles, the lack of safety equipment and injuries that forced them out of their jobs. Families of employees who died working in the sewers of Delhi also shared their plight.
The workers, who are primarily from Scheduled Castes and Dalit communities, alleged that wages for Saturdays and Sundays and public holidays are deducted. Activists and lawyers present at the convention supported the workers in their demand for an immediate end to the contractual system of employment and direct recruitment. "We are forced to put our hands, at times our bodies, in toilets and septic tanks to earn money—but the government doesn't provide in return," one worker said.
In the first four months of this year, around 10 workers died in sewers in Delhi-NCR. However, the participants in the convention pointed out that the actual number of deaths might be more as neither the Delhi government nor the Centre has a database on such fatalities and injuries.
Questions were raised on the lack of sewer cleaning machines and why even in 2022, a worker has to go inside a sewer or a septic tank or open drains to clean them manually.
The convention demanded that the Employees' State Insurance Fund should bear the medical expenses of an injured sewer worker till complete recovery and the hiring authority or person should be held responsible in case of an accident and should be convicted under the law.
Workers cleaning sewers, septic tanks and open drains come under the definition of sanitation workers as per law. "The sanitation workers are exploited in every way—for example, by private agencies, which make them work under government obligations (contracts). Despite laws, rules and guidelines protecting them, the condition of sewer workers is worsening everyday," DASAM said in a statement.
The workers are in constant fear of losing their livelihood due to the contractual system. Thousands of sewer workers in Delhi are employed on a contractual basis. "This number will increase manifold if we also include the NCR region. Working amid hazardous and deadly gases is a perilous job. Most of the workers fall ill and get injured due to continuous exposure to these gases and do not receive any kind of compensation and health facility or help in other forms," DASAM added.
Asking the government to be more responsible towards the workers, DASAM said: "The functions performed by the concerned departments of the government should reflect an understanding of democracy and ethics. These reflections should be passed on to the work of sanitation workers. However, what we see is that decisions are undertaken and implemented on the basis of political, social and religious status, which is contrary to the concept of justice. With respect to safai karamcharis, work is being done against the concept of justice, morality, democracy and even business."
One session during the convention focussed on the unionisation of workers and the role that unions have played and will play in raising their issues and demands. The panellists for the session were Hannan Mollah, general secretary, All India Kisan Sabha; Sucheta, All India Central Council of Trade Unions; Sukumar Damle, general secretary, All India Trade Union Congress; and Goutam Modi, general secretary,  New Trade Union Initiative.
The panellists pointed out that the workers lack unity due to the fear of losing their livelihood. Since they belong to vulnerable communities, their lives are considered less valuable than others. All the unions collectively resolved to eradicate the caste system, take up the issues of manual scavengers and fight to end the contractual system of hiring sanitation workers.
Umesh Babu, senior economist and adviser to DASAM, pointed out that amount spent by the Delhi Government on contractors is enough to give permanent employment to sewer and septic tank cleaners. The government spent Rs 535 crore in 2018-19, Rs 523 crore in 2019-20 and Rs 825 crore in 2020-21 on contractors and is likely to spend Rs 825 crore in 2021-22. 
Get the latest reports & analysis with people's perspective on Protests, movements & deep analytical videos, discussions of the current affairs in your Telegram app. Subscribe to NewsClick's Telegram channel & get Real-Time updates on stories, as they get published on our website.
Subscribe Newsclick On Telegram