Delhi: SKM, Central TUs Call for end to 'Corporate-Communal Nexus', 'Oust BJP'
National convention held in Talkatora Stadium decides to launch joint struggles against privatisation, labour codes and for legal guarantee for MSP, among others.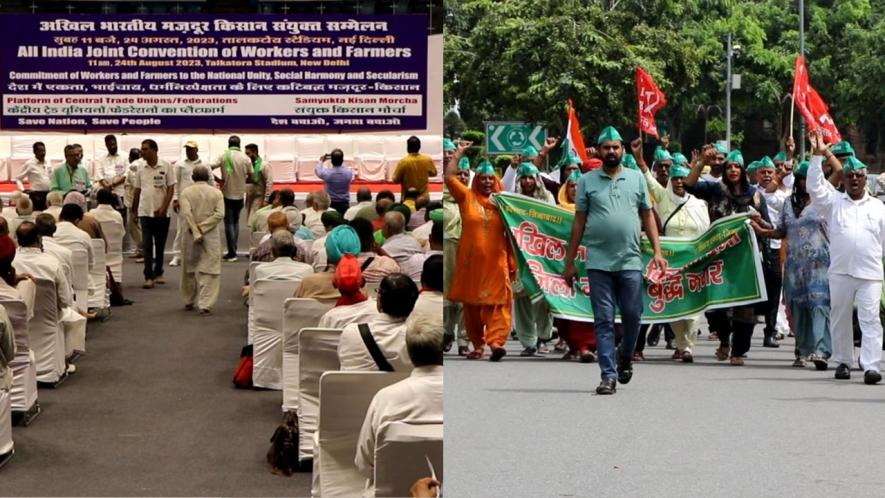 New Delhi: "Our dreams lie shattered. I expected better days in my life but now I have lost my house, my children remain uneducated and my husband has hardly any work. It was such a mistake to elect this government," these words of Ranju Devi, who lost her home in the demolitions in Delhi's Tughlaqabad, perhaps sums up the essence of the All-India Joint Convention of Farmers and Workers held in Talkatora Stadium on Thursday.
The convention, organised jointly by the Samyukta Kisan Morcha (SKM) and Central trade unions, was called to plan mass actions ahead of general elections in 2024. The theme slogan of the convention was "Corporate-Communal BJP-RSS Hatao, Bharat Bachao".
Carrying red, blue, saffron, green and yellow flags, thousands of participants in the convention maintained that it was imminent for farmers and workers to come together given the onslaught on their livelihood under the current regime led by Prime Minister Narendra Modi. 
The convention began with slogans like "Revoke four labour codes, ensure minimum support price and withdraw GST on essential food items."  
Read Also: Aftermath of Demolition Drive in Tughlakabad: Hunger and Homelessness Rife
Ranju Devi, who is hoping for some justice against the demolitions in Delhi, told NewsClick that both she and her husband lost employment after the demolitions. "I used to work as a domestic help and my husband was working as a labourer. The government knows that the poor have very little to survive. Yet, it chose to demolish our homes. I may manage to feed my child but they will remain uneducated. What's the worth of your (ruling BJP's) slogan of achche din (better days) when we are dying each day due to inflation and unemployment."
Much like Devi, Ashutosh Bhadana, who works in an auto parts factory in Faridabad, said workers were fed up with the contractualisation system where principal employers have been escaping their duties to provide social security measures. 
"It has become a common exercise to lay off workers abruptly. The workers are divided in groups and no worker knows about his contractor. When a complaint is raised with a principal employer, he simply denies employing such workers. The existing labour laws at least protected us in such situations, but the labour codes remove the little protection we had. We are enraged and that's why you see a sea of people here, firm in their resolve to fight," he told NewsClick.
Talking to NewsClick on the sidelines of the convention, Tejinder Singh Virk, president, Terai Kisan Sangathan, who sustained grievous injuries in the assault in Lakhimpur Kheri, allegedly led by Ashish Mishra, son of Ajay Mishra, Minister of State for Home Affairs, in the wake of intense farmers protests, said the government cheated on the promises it made after historic farmers' struggle.
"Neither the assured MSP was given nor the cases against farmers during the movement were withdrawn by the Centre and state governments. Albeit, our concerns regarding the (now scrapped) farm laws were corroborated by recent reports that corporates were trying to influence the government on the Essential Commodities Act. What is more shameful is that government banks went on to forego corporate loans worth Rs 11 lakh crore in the past nine years, whereas a common farmer is hounded for loan recovery even if he loses his produce to drought and floods," he said.
>Vijoo Krishnan, general secretary, All India Kisan Sabha, which is part of the SKM, said it was high time for farmers and workers to unite to defeat this government.
"We will take up three major programmes this year; we will observe October 3 as 'Black Day' in remembrance of the five victims of the Lakhimpur Kheri Violence. Then, a day and night Mahapadav will be held on November 25-26 to celebrate the historic workers' strike and beginning of farmers' struggle in 2020. Also, we plan to launch a massive campaign in December this year against the policies of this government," he said.
In a joint declaration, the farmers and workers organisations said, "Privatisation is central to the policies of this government. When sale of cash cows like BPCL, CEL, Air India, Pawan Hans etc., was not picking up at the pace they wanted, the Government came up with National Monetisation Pipeline (NMP) project, handing over various public sector assets, built with people's money, to big corporates to make money without any investments! Airports, Highways, Ports, Railway tracks, stations everything is up for grabs." 
Attacking the Modi government's privatisation drive, the declaration said, "Education is being privatised. PSU Banks are being merged and being prepared for privatisation. LIC, GIC are targeted for privatisation. Even 41 Ordnance Factories, producing defence equipment, have been turned into 7 corporations, prior to their privatisation, a patently anti-national move, affecting 80000 workers. The Government is eyeing huge tracts of land with defence, railways and so on."
The declaration also flayed the "Pompous display of G-20 Presidentship, (which India got by rotation) as a World recognition of the PM," adding that it was "sickening to say the least. Despite opposition from Central Trade Unions and ITUC, the Government went ahead to nominate their favoured union to head L-20."
Worried over the rising unemployment and lakhs of unfilled job vacancies, the declaration said, "We are worried that our children are not getting jobs. Even government vacancies are not filled up, which is within their ambit. Many PSUs are being closed or sold to private parties, who immediately start "down-sizing", throwing several thousand workers out of employment. The contract workers have become major victims of job-loss and retrenchment. The health sector contract workers employed in govt. hospitals for fighting Covid are now being thrown out of their jobs even after promise of permanency. After Covid, when jobs are desperately needed to bring life back on track, factories are being allowed to close down even illegally, resulting in large scale unemployment."
The joint convention held by SKM and CTUs, called upon farmers and the working people to unite against BJP's policies that had brought on untold miseries.
A national convention of workers and farmers, jointly organised by Central Trade Unions and Samyukta Kisan Morcha, at Talkatora Stadium in New Delhi, Thursday, Aug. 24, 2023. (PTI Photo/Manvender Vashist Lav)
"What is required is to make the workers, farmers and the people aware that their real enemy, the cause for their miseries and the miseries of the nation, is the anti-national destructive policy regime being operated by the corporate-communal nexus in the governance at the Centre. They cannot be expected to change their pro-corporate policies. They have to be ousted from power," said the declaration.
The convention decided to launch "joint and coordinated struggles" to ensure that no government -- Centre or state -- "dares to impose anti-worker and anti-farmers policies."
Get the latest reports & analysis with people's perspective on Protests, movements & deep analytical videos, discussions of the current affairs in your Telegram app. Subscribe to NewsClick's Telegram channel & get Real-Time updates on stories, as they get published on our website.
Subscribe Newsclick On Telegram