In Delhi's Rural Areas, Students Deprived of Opportunities as Few Schools Offer Science Subjects
Students in Delhi villages are often compelled to study Humanities in the absence of Science or Commerce in government schools, eventually restricting their career choices.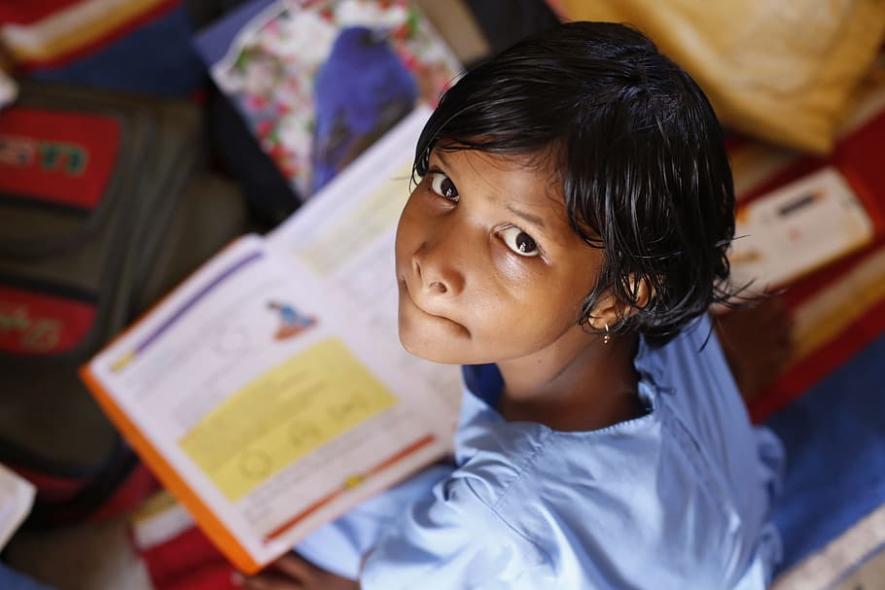 Image Courtesy: Wallpaper Flare
Delhi: In Southwest Delhi's Dhansa village, 16-year-old Lalit has just completed his 10th Board exams and has been doing rounds of the private and government schools far away from his house to ensure that he does not miss out on any information. Since the school is at least 12 km away from his village, travelling almost every day has been an exhausting process for him. The dilemma of whether to stay in the village and take up Arts or to follow his dreams and take Science in a distant village school has been draining him mentally. 
For almost every kid in the bordering village of Dhansa, studying Science is a dream, it has always been, but the wish was never granted. Being a rural village, the main source of living for most of the people in the belt has been farming. Pradeep Dagar, a 45-year-old man, narrated the plight of the students by giving his own example and said, "You know, even in my time, I tried to study science. I wanted to give govt exams and clear a higher post. But I had no idea that certain posts required a child to take up Science or Commerce in their 11th grade. I could not since there was only Arts in the village school, and hence had to compromise on my level of education."  
NewsClick analysed the available government data to see a clearer picture of the availability of the Science stream in the region. The zone under which Dhansa falls is Zone 22 of the Delhi Education Dept, including Najafgurh and other areas of South-West Delhi bordering Haryana. As per the government data, only 11 out of the total 48 schools in the zone offer the Science stream to the students. 
Moreover, as per information obtained through an RTI in 2022, only 1/3rd schools in total offer Science in Delhi in the 11th and 12th grades. This data draws a clear picture of the situation in the whole of Delhi, and specifically about the zone.
In the years since Pradeep completed his 12th, a lot has changed. The government has changed, and so has the propagation of the schooling model presented by the current Delhi government of the AAP (Aam Aadmi Party). The current government relies on boasting about the educational changes it has made rather than the older promises made by the Congress government or any other before that. However, Gita, a pass-out from the 2015-16 batch of Dhansa, narrated how there is a significant difference between the development quoted and what they actually saw. 
"I have actually seen our government school of Dhansa transform. But the sad reality is that the change has been only in terms of building development and infrastructure. The buildings are new, we have benches as good as any other private school, and our teachers and staff are helpful, but we still lack opportunities," said Gita. She continued talking about her own dreams to pursue finance as a career option. She added, "Had we the option to choose between Science and Commerce, most of the kids would have opted for either of these options only. But today, I have had to complete my graduation in Arts (Humanities). I could not study Commerce in the 11th grade, and hence will not be able to take up finance as my career path." 
Data analysis by Paras Tyagi also shows other factors responsible for these streams not being included in the schools. The huge number of vacancies for teachers is another factor to notice, which one can look up in the same government data too. In Zone 22, for 35,007 students, there are 182 pending vacancies for teachers. "A lot of schools will be able to teach science and include it if these vacancies are duly filled," said Tyagi.  
Some students go to the nearest school offering Science. The school is around 12 Km away from their place. As one enters the village of Dhansa, one realises that the public transport facilities like the DTC buses are not as frequent and efficient as they are in any of the urban areas of Delhi. Since the kids come from families that rely on farming, they cannot afford to spend money on getting a permanent private vehicle booked for them that could pick them up and drop them back. The buses are often running late, and this compromises their school timings. These problems are still not what students like Sanket face. "If I had told my father that I wanted to take up science, he would willingly sell off our land if needed to make me study. But who will help him with the farm? Who will take care of my younger brother and the house while he is away for work?" 
The kids who grow up in a rural setting have other responsibilities to cater to apart from their education. In a situation like this, when there is no school in their locality, or at least at a minimal distance of a few kilometres, the kids have to make sacrifices. 
Sanket had always been a bright student and wanted to clear the NDA to join the army. He was good at sports from the very beginning. Only later he realised that he was not even eligible for the majority of the posts since he was not from a science background and that he would have to settle for a lower-ranking post, which paid him a lesser salary too. He continued his running practices and is currently hoping to get a constable job in the Delhi Police. Sanket narrated how a few students in 2019 had even requested the administration and written letters to district-level authorities to start science and commerce streams for the village school. 
However, the authorities allegedly said that they had to drop the plans to do so as the number of students who applied for these courses was quite low. "We kept telling them, Sir, Ma'am the numbers will increase. There are a lot of capable and willing students from our village and the neighbouring ones who in future will want to study Science or Commerce. You will not regret keeping these streams open for us. Since it is new for the village people, they are not very accustomed to it and are taking time to let their kids study what they want, but things will slowly turn around," said one of the older students who were a part of the group that made this plea. However, that was the last time when even the demands for Science or Commerce were taken into consideration.  
As of now, the students settle for Arts. Lalit, the one who has been making rounds of other schools in different villages, and the private ones as well narrated the other problems he has to undergo. "Apart from the long travel, the biggest problem is that the school in the other village first considers the students of its own village. If there are any seats remaining after that, then we have a chance at making it to a spot. Else, we have to settle for less. Also, the other private schools tell us a fee that our twice-a-year farming income cannot bear," narrated Lalit. 
There is an added problem for the students who wish to join the defence services apart from the stream issue in schools. Since they have to maintain their physical fitness as well, there has to be a regular practice of running done by them at least twice a day. However, the nearest track from their area where they could practice is in Mundela, which is 8-10 Km away from Dhansa, their village.  
A huge discrepancy is visible on the Delhi government website itself, where officials have been seen claiming that there is no space for a playground. While in letters, the school officials claim that there is no land, the government website for the same school shows that over 1000 sqm of land is kept for the kids' playground.  
In the absence of the availability of basic services and the amenities to take up the stream that they want, the students in Dhansa and the neighbouring villages in Zone 22 have been looking at an uncertain future. 
Get the latest reports & analysis with people's perspective on Protests, movements & deep analytical videos, discussions of the current affairs in your Telegram app. Subscribe to NewsClick's Telegram channel & get Real-Time updates on stories, as they get published on our website.
Subscribe Newsclick On Telegram