Deocha Pachami's Tribal Villages vow to Prevent Coal Mining in Name of Hammer and Sickle
The West Bengal government has embarked on an open-cast coal mine project in Deucha Pachami, which the locals are resisting.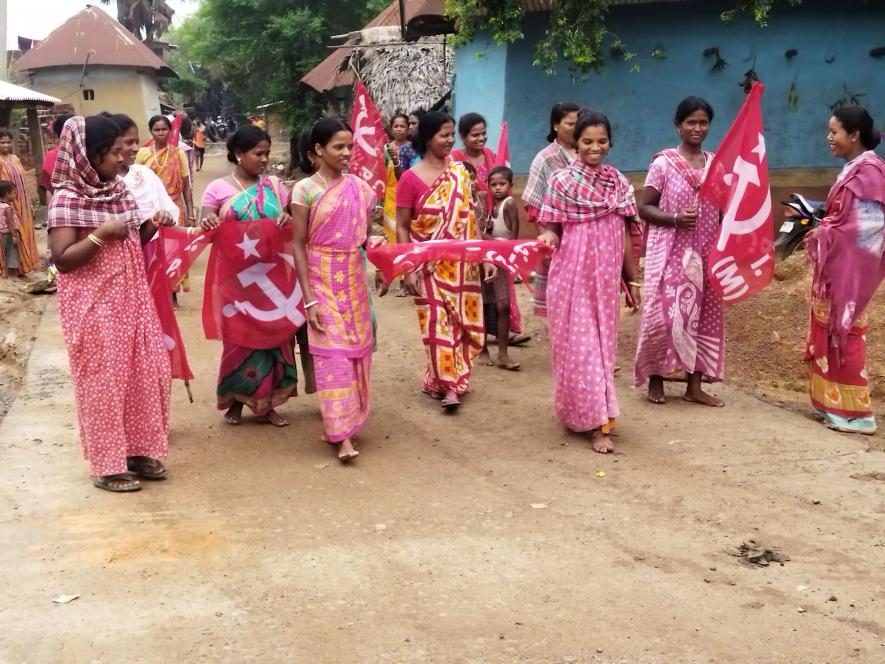 Firebrand Tribal leader NilimaMardy leading a womens rally in buritola village of bharkata Gram panchayet area.
Pachami: Their lands are supposed to be taken over under the mega coal mine project of the West Bengal government headed by Mamata Banerjee. However, tribal villagers like Nilima Mardy and Sonali Tudu have resolved to stay on their ancestral lands till the end. They have also taken a proposal in the gram sabha against the same, stating that they will not allow the coal mines to come up under no circumstances.
The locals are now swearing in the name of Dhatoom-Kutushi (hammer and sickle) in the tribal language to prevent the state government from steamrolling their bulldozer in the Bharkata Gram Panchayet area or the Hatgacha Panchayat area. 
Nilima Mardi has been a poignant warrior for the last few years, protecting their jal, jangal, and zameen (water, forest, and land) in the Deocha Pachami area. The 48-year-old tribal woman has also been nominated as the CPI(M) candidate in the Panchami Zilla Parishad seat.
Pachami, situated about 230 km from the capital city of Kolkata, boasts inaccessible terrain due to an absence of motorable roads to the tribal villages. Without a four-wheeler motor vehicle, it is impossible to go to the Pachami Hills or pahar, as it is simply known in the local language. These hills are set to be acquired by the West Bengal government, as coal exists deep below Pachami's ground, which is made of basalt rocks.
"Under no circumstances will we let the coal mines happen by destroying our lives. We live in a land where nothing has been given by the government: no roads, no schools, no proper drinking water. Suddenly, the government started bringing drinking water projects to our village after the announcement of the coal mines. We don't want these facilities as a bribe for giving our consent to the government for setting up the coal mines," said Nilima while talking to NewsClick.
Nilima, a resident of the Buritala village under Bharkata Gram Panchayat, is adamant. "We don't want jobs in lieu of our lands. We want to stay where we belong," she said to NewsClick. When government officials from the block came to their village a few weeks back with new clothes to distribute among them, all of them refused. There are 1,076 voters in the Buritola booth area, but none came forward to take the government largesses despite their poor condition.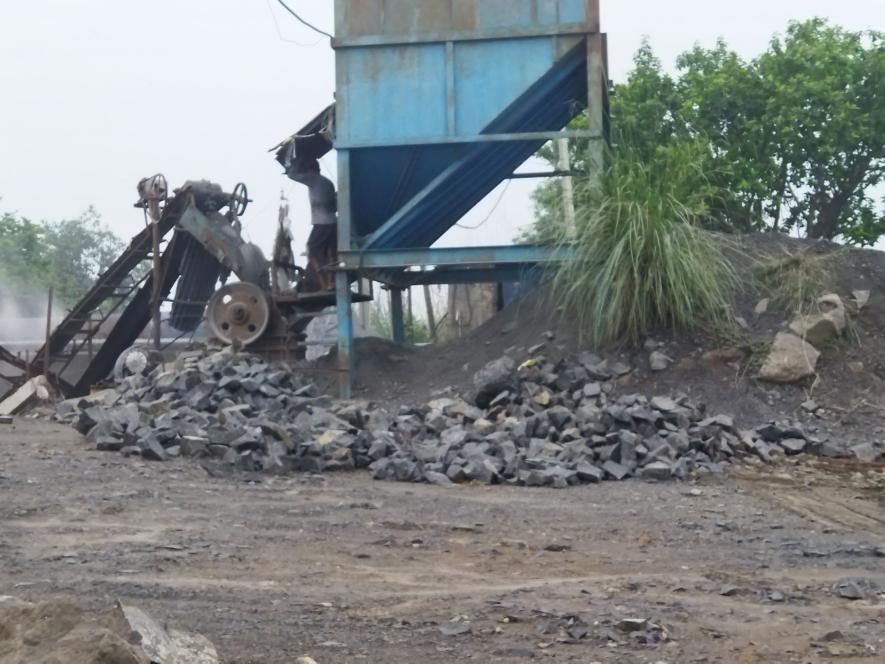 A crusher unit operating in bharkata gram panchayet area 
Most of the tribals of Bharkata work in the nearby stone quarries and stone-crushing units. Their daily income is also meagre. On a full working day, they are lucky if they get Rs 200 as wage, and women earn even less. 
"We face exploitation. Our schools do not have teachers. Even a Class 2 student of Bharkata or Hatgacha does not know how to read and write in their vernacular language, as there are no school hours due to the shortage of teachers. In school, they only get their mid-day meal and no education," said Sonali Tudu, one of the few in the village who has passed the higher secondary examinations. The ICDS centres of the village are also not running properly.
At Pachami, we also spoke with CPI(M) area committee member Sushil Dhangor, who said that before the anti-coal mine agitation started, Pachami was out of bounds for the Left party. TMC's writ was the final word in the tribal and minority-inhabited villages of Pachami. But now, the situation has changed a lot; CPI(M) candidates are giving sleepless nights to the TMC and BJP rivals. In fact, the anti-TMC wave is quite strong in the region, and in Buritala, the TMC is not finding workers for wall painting or pasting their posters.
The West Bengal government has embarked on an open-cast coal mine project in the area, which is being resisted by the local populace. It is being said that the project has been so unprofitable that even the central government-administered Coal India Limited was not willing to invest in it due to geological hindrances, specifically a 225-245 metre-wide basalt rock system that makes the entire coal excavation process unviable.
In November 2021, the state government had "unilaterally" declared a compensation and rehabilitation package without going through any mass redressal of grievances, which is mandatory as per the Land Acquisition Act, 2013. The state government has also faced criticism for not following proper land acquisition procedures and for ignoring the grievances of local residents.
The Deucha Panchami coal block is the newest coal mine in West Bengal. It is situated in Deucha and Panchamati areas under the Mohammad Bazar community development block. This coal mine is set to be excavated in an open-cast fashion and will displace over 10,000 people from 11 villages. It will also affect about 53 hamlets and 70,000 people in the surrounding areas.
According to sources, about ten mouzas will be affected due to the open-cast mine. A total of 4,314 families comprising 21,000 people will be evicted from their homeland, of which 9,034 people are Santhals (a major tribal group), and 3,601 persons are from the Scheduled Castes.
The proposed mine will occupy over 11,222 acres, of which over 9,100 acres belong to tribals.
Get the latest reports & analysis with people's perspective on Protests, movements & deep analytical videos, discussions of the current affairs in your Telegram app. Subscribe to NewsClick's Telegram channel & get Real-Time updates on stories, as they get published on our website.
Subscribe Newsclick On Telegram