Desmond Tutu, 1931-2021: 'We Can Only be Human Together'
The anti- apartheid icon, in recent years, was also an outspoken critic of the looting of state enterprises and did not spare even the ANC.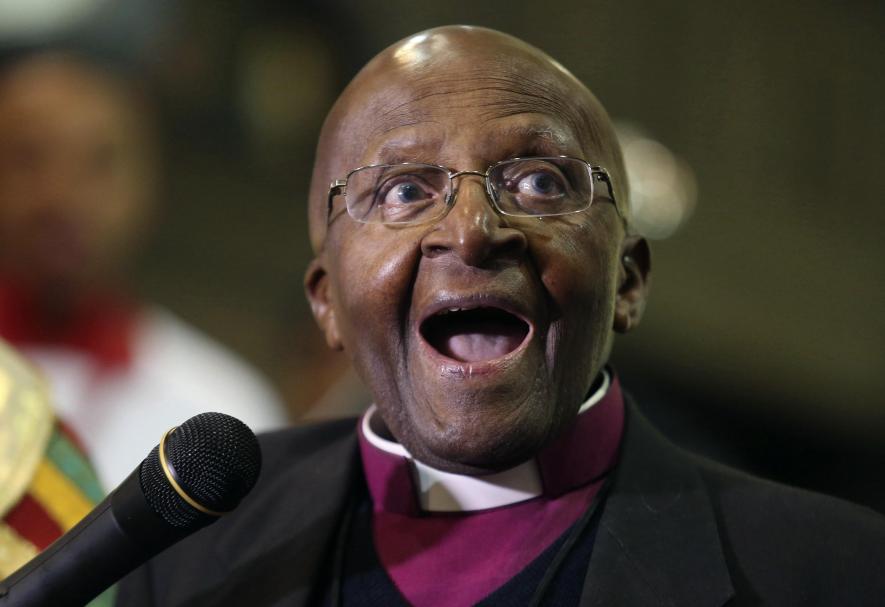 Johannesburg: Archbishop Desmond Tutu, South Africa's revered anti-apartheid icon who won the Nobel Peace Prize for fighting racial segregation and discrimination enforced by the white minority government against the black majority in the country, died on Sunday. He was 90.
He was the last surviving South African laureate of the 1984 Nobel Peace Prize.
A contemporary of anti-apartheid icon Nelson Mandela, Tutu, known affectionately as "the Arch", was one of the driving forces behind the movement to end the policy of racial segregation and discrimination enforced by the white minority government against the black majority in South Africa from 1948 until 1991.
 "The passing of Archbishop Emeritus Desmond Tutu is another chapter of bereavement in our nation's farewell to a generation of outstanding South Africans who have bequeathed us a liberated South Africa," Ramaphosa said as he shared condolence with the family and friends.
 "Desmond Tutu was a patriot without equal; a leader of principle and pragmatism who gave meaning to the biblical insight that faith without works is dead.
 "A man of extraordinary intellect, integrity and invincibility against the forces of apartheid, he was also tender and vulnerable in his compassion for those who had suffered oppression, injustice and violence under apartheid, and oppressed and downtrodden people around the world," Ramaphosa, also president of the ruling African National Congress, said.
Ordained as a priest in 1960, Tutu went on to serve as bishop of Lesotho from 1976-78, assistant bishop of Johannesburg and rector of a parish in Soweto. He became Bishop of Johannesburg in 1985, and was appointed the first black Archbishop of Cape Town in 1986.
Then newly-elected president Mandela had appointed Tutu to lead the Commission in 1995.
 "As Chairperson of the Truth and Reconciliation Commission, he articulated the universal outrage at the ravages of apartheid and touchingly and profoundly demonstrated the depth of meaning of ubuntu, reconciliation and forgiveness.
Tutu received the Nobel Peace Prize in 1984 when he was still the Bishop of Johannesburg.
Referring to Tutu as "Africa's Peace Bishop", the Norwegian Nobel Institute said Tutu's award was made "for his role as a unifying leader figure in the non-violent campaign to resolve the problem of apartheid in South Africa."
"Tutu was saluted by the Nobel Committee for his clear views and his fearless stance, characteristics which had made him a unifying symbol for all African freedom fighters. Attention was once again directed at the nonviolent path to liberation.
 "Despite bloody violations committed against the black population, as in the Sharpeville massacre of 1961 and the Soweto rising in 1976, Tutu adhered to his nonviolent line," the Institute said on its website.
The Nelson Mandela Foundation (NMF) recalled Tutu's relationship with Mandela after the two first met at a debating competition in the early 1950s until they first met again only before Mandela's release from 27 years as a political prisoner on February 11, 1990.
The minority white apartheid government had thwarted all attempts by Tutu to meet Mandela again in the intervening four decades.
"Mandela's first night as a free man was spent at the home of the Tutus in Bishopscourt, Cape Town," NMF Chief Executive Sello Hatang said in a statement.
"From then until Mandela passed away in 2013 they were in regular contact and their friendship deepened over time."
Tutu had in recent years also been an outspoken critic of the looting of state enterprises in what has been identified at the Commission of Inquiry into State Capture, not sparing the ruling African National Congress (ANC) of which he had been a proud member all his life.
Tutu's death comes just weeks after that of South Africa's last apartheid-era president, FW de Klerk, who died at the age of 85.
Reactions to Tutu's Death
"The death of Archbishop Desmond Tutu (always known as Arch) is news that we receive with profound sadness — but also with profound gratitude as we reflect upon his life. ... Arch's love transformed the lives of politicians and priests, township dwellers and world leaders. The world is different because of this man." — Archbishop of Canterbury Justin Welby. 
"Indeed the big baobab tree has fallen. South Africa and the mass democratic movement has lost a tower of moral conscience and an epitome of wisdom." — The African National Congress, South Africa's ruling party.
"The friendship and the spiritual bond between us was something we cherished. Archbishop Desmond Tutu was entirely dedicated to serving his brothers and sisters for the greater common good. He was a true humanitarian and a committed advocate of human rights." — the Dalai Lama, Tibet's exiled spiritual leader.
 "I am deeply saddened to hear of the death of Archbishop Desmond Tutu. He was a critical figure in the fight against apartheid and in the struggle to create a new South Africa — and will be remembered for his spiritual leadership and irrepressible good humor." — British Prime Minister Boris Johnson. 
 "He was never afraid to call out human rights violators no matter who they were and his legacy must be honored by continuing his work to ensure equality for all." — Amnesty International South Africa Executive Director Shenilla Mohamed.
 "The loss of Archbishop Emeritus Desmond Mpilo Tutu is immeasurable. He was larger than life, and for so many in South Africa and around the world his life has been a blessing. His contributions to struggles against injustice, locally and globally, are matched only by the depth of his thinking about the making of liberatory futures for human societies." — The Nelson Mandela Foundation. 
"I'm saddened to learn of the death of global sage, human rights leader, and powerful pilgrim on earth. ... A great, influential elder is now an eternal, witnessing ancestor. And we are better because he was here." — Dr. Bernice King, youngest daughter of the Rev. Martin Luther King Jr.
"We are all devastated at the loss of Archbishop Desmond Tutu. The Elders would not be who they are today without his passion, commitment and keen moral compass. He inspired me to be a prisoner of hope', in his inimitable phrase. Arch was respected around the world for his dedication to justice, equality and freedom. Today we mourn his death but affirm our determination to keep his beliefs alive." — Mary Robinson, former president of Ireland and chair of The Elders, an independent group of world leaders and human rights activists.
Tutu's passing "closes an important chapter in Africa's long and painful struggle for justice, liberty and democracy and the continent's current efforts to create prosperity and stand find its competitive edge in the rest of the world. For South Africans, it is a major reckoning with the reality that one-by-one, its heroic liberators are leaving." — Raila Odinga, Kenya's former prime minister and opposition leader. 
"His legacy is moral strength, moral courage and clarity. He felt with the people. In public and alone, he cried because he felt people's pain. And he laughed — no, not just laughed, he cackled with delight — when he shared their joy." — Anglican Archbishop of Cape Town Thabo Makgoba. 
"His Holiness Pope Francis was saddened to learn of the death of Archbishop Desmond Tutu, and he offers heartfelt condolences to his family and loved ones. Mindful of his service to the Gospel through the promotion of racial equality and reconciliation in his native South Africa, His Holiness commends his soul to the loving mercy of Almighty God." — Telegram sent by the Vatican secretary of state, Cardinal Pietro Parolin.
 "A powerful and courageous voice for nonviolence, reconciliation and peace. He will be very much missed in our troubled world. May he Rest In Peace." — Egypt's former vice president and Nobel Peace Prize laureate Mohamed ElBaradei.
"Through his distinguished work over the years as a cleric, freedom fighter and peacemaker, Archbishop Tutu inspired a generation of African leaders who embraced his non-violent approaches in the liberation struggle." — Kenyan President Uhuru Kenyatta.
Tutu's death was "a loss for justice, truth and peace in the world. ... He loved Palestine and Palestine loved him." — Mohammed Shtayyeh, prime minister of the Western-backed Palestinian Authority.
Get the latest reports & analysis with people's perspective on Protests, movements & deep analytical videos, discussions of the current affairs in your Telegram app. Subscribe to NewsClick's Telegram channel & get Real-Time updates on stories, as they get published on our website.
Subscribe Newsclick On Telegram