Despite Heavy Rain, Level of Water Reservoirs Still Below Normal in Ten States
According to the Aqueduct Water Risk Atlas released by the World Resources Institute (WRI), India ranks thirteenth among the world's 17 'extremely water-stressed' countries.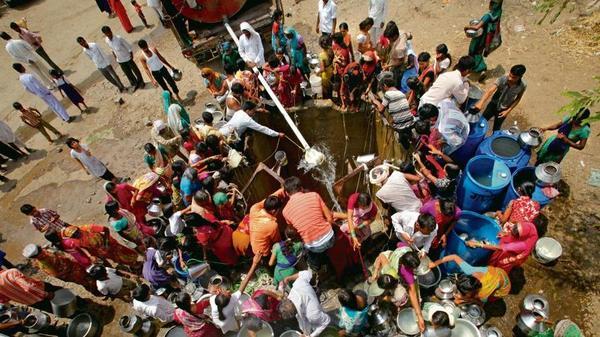 Representational Image. Image Courtesy: Livemint
The above-normal rainfall in several states during the past few weeks has been pushing up the level of live storage in India's water reservoirs significantly. However, reservoirs in at least 10 states still hold less water than their normal storage levels. These 10 states include Uttar Pradesh, Uttarakhand, Kerala, Andhra Pradesh, Telangana, Jharkhand, West Bengal, Tripura, Nagaland, and Chhattisgarh. 
Water levels in the reservoirs in Uttar Pradesh showed the highest departure from normal storage — 47%, according to the weekly bulletin by Central Water Commission (CWC) released for the week through August 14, 2019. At 45%, Telangana was a close second, and West Bengal's reservoirs showed a departure of 36%. Among the 10 rainfall deficient states, seven were 'large deficient', as per the India Meteorological Department's (IMD's) data released on August 14, 2019. In Madhya Pradesh, Omkareshwar dam had 0% live storage till August 14, while 12 others have less than 50% storage.
The bulletin also states that the live storage in 107 reservoirs in the country improved to 106.68 billion cubic metres (BCM) from 76.85 BCM last week. This means the reservoirs across the country held 64% of their total live storage capacity. The reservoir levels had gone up by 42% the week before that. As far as river basins are concerned, Sabarmati basin was facing a grim situation with water storage in the 'highly deficient' category. While last year it was 25.24% of the total capacity, this year the river basin holds only 13.53%.
Also read: India Facing "Extremely High" Water Stress: Report
According to Aqueduct Water Risk Atlas released by the World Resources Institute (WRI), India ranks thirteenth among the world's 17 'extremely water-stressed' countries. India, followed by its neighbouring country Pakistan, was under 'extremely high' levels of baseline water stress. A region is said to be under 'water stress' when the demand for water exceeds the available volume or when the poor quality of water restricts use. 'Extremely high' levels of water stress means an average 80% of the available water in a country is used by irrigated agriculture, industries and municipalities every year.
Lack of enough water in the reservoirs lead the farmers into using groundwater for irrigation, which leads to an alarming depletion in the groundwater levels in the country. In 2018, Down To Earth noted that the highest groundwater dependency could be seen in four north Indian states — Punjab, Rajasthan, Haryana and Delhi — where the annual groundwater consumption was more than the annual groundwater recharge. Groundwater runs 94.5% of all minor irrigation schemes in the country.
The Composite Water Management Index (CWMI) report released by NITI Aayog in 2018 says that an impending water crisis of a scale never seen before in India is predicted by 2020. This would mean that unless by some miracle the government manages to improve the scenario, the groundwater would touch zero in 20 cities nationwide by next year. The NITI Aayog report had painted a rather grim scenario. It noted that the crisis next year would impact water access for 100 million people.
In May 2019, the Centre issued a drought advisory to Maharashtra, Gujarat, Karnataka, Andhra Pradesh, Telangana, and Tamil Nadu, asking these states to use water judiciously as the storage in the reservoirs had been depleted. Earlier this year, the water levels in reservoirs dipped significantly below the 10-year average in all southern and western states, causing sudden concern.
Unfortunately, the government is not doing enough to manage the ongoing water crisis. The people are also not being prepared for a future where a natural resource that has always been taken for granted is becoming increasingly more scarce. The announcement by the newly formed water ministry, Jal Shakti, to provide piped water to every household by 2024 seems not to be well thought out. What is the point of setting up a pipeline infrastructure when there will be no water to distribute? What we need is central investment in reviving existing water bodies, drawing up strategies to recycle, recharge and reuse water on a giant scale.
Also read: Water in Ration: Is This the Future of Our Cities?
Get the latest reports & analysis with people's perspective on Protests, movements & deep analytical videos, discussions of the current affairs in your Telegram app. Subscribe to NewsClick's Telegram channel & get Real-Time updates on stories, as they get published on our website.
Subscribe Newsclick On Telegram