'Detained for Peaceful Protest': SFI, DYFI Activists Slam Delhi Police, Centre After Release
Rajya Sabha MP AA Rahim accused Delhi police of illegally detaining him, while another detainee said they were denied food during 24-hour detention.
The students and youth activists of the Students' Federation of India and Democratic Youth Federation of India were released a day after they were taken into custody by the Delhi Police for their protest against the much-criticised Agnipath Scheme for recruitment in the armed forces.
Special Executive Magistrate Bala Kaushik, in her order, dropped the charges against them for causing disturbance to law and order. Delhi police had detained the protesters under sections 107 and 151 of the Indian Penal Code (IPC). The issue of illegal detention further flared up when Rajya Sabha MP AA Rahim of the Communist Party of India (Marxist) alleged that the police officials kept him in custody even when they had already identified him as a member of the Upper House of Parliament.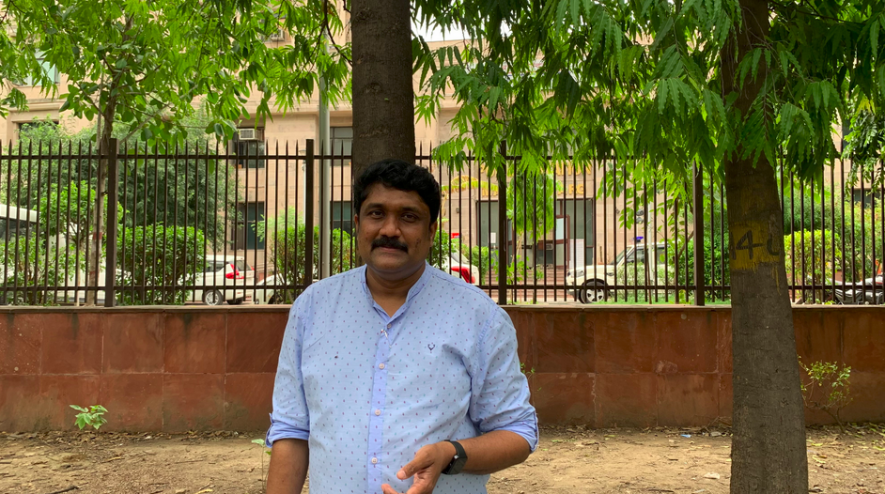 Talking to NewsClick outside Mandir Marg Police Station, Rahim said that he was shuffled between three police stations during ten-hour detention without any charges. He said, "I had come as a citizen to participate in the protest. When Delhi police detained us, they knew about me. Still, they kept me in illegal detention. I will be moving the privilege committee of the Parliament to raise this issue and meet chairman Venkaiah Naidu Separately. They breached my privilege of being a citizen."
After the release, protesters maintained that they were given a verbal warning to seek permission before the protest. Harendra Sheshma, an SFI activist and a student of Jawaharlal Nehru University (JNU), told NewsClick that the entire episode suggested that the government neither wants to listen to the voice of protesters nor wants any protest.
He said, "The magistrate said that we should have sought permission. We had intimated the concerned police station about the protest, but it denied the permission. If they deny us permission, should we not protest and exercise our right to free speech under Article 21 of the Indian Constitution? Secondly, during our detention, we were continuously kept in the dark about the status of our detention. At first, they said we would be kept in Vasant Kunj, then other places; finally, we were brought to Mandir Marg Police station. In the dead of night, we were asked to submit our phones and luggage. Then we were locked up. The cells were full, so they allowed us to sleep in the corridors. Meanwhile, the policemen kept hurling abuses. It was basically a mental harassment exercise for our peaceful protest."
Another protester, Priyansh Maurya, told NewsClick that they were even denied food during 24-hour detention. He said, "When we asked about the food, the policemen said that there were no specific orders to provide food."
Mayukh Biswas, who too was among detainees, told NewsClick that the BJP-led governments in different states were on a spree to suppress dissenting voices against Agnipath. He said, "One of our friends was arrested while speaking at a press conference in Assam. In Uttar Pradesh, our colleagues have been arrested in Saharanpur too. In Bihar, similar actions have been taken. But we will hit the streets again until the grievances of protesting students are listened to."
Aahana Singh Kainth, a student of Gargi College at Delhi University, alleged that her clothes were torn during forceful detention. Talking to NewsClick, she said, "Even when my clothes were ripped, the policewomen kept saying that it was of bad quality. I have not heard anything more atrocious than this. We had visible bruises, but they were identified nil in the medico-legal certificates."
Earlier in the day, Aishe Ghosh, President of JNU Students Union, addressed a press conference outside the Mandir Marg Police Station. She told media persons that the police did not officially communicate about the status of detention and that the students have been put behind bars for a peaceful protest.
She said, "The first thing we wish to say is that our organisations, SFI and DYFI, have a historical legacy of fighting anti-people government policies and we were rightly protesting the Agnipath scheme because it encourages privatisation and contractualisation of the armed forces. We are not RSS that has a history of boot licking. We will be protesting again if the government thinks it can bow us down."
Ghosh added, "Yesterday's brutality by the officials of Delhi Police has opened a new chapter of repression in the recent past. Our women colleagues were beaten, dragged and hit in the stomach. Not only this, Rajya Sabha MP AA Rahim, who joined us in the protest, was kept in illegal custody for ten hours and shuffled between three different stations. Even journalists were attacked during the live broadcast of the protest. We just want to reiterate that if the government thinks that it can intimidate us through these actions, then it is clearly mistaken."
Commenting on the scheme, Ghosh said that the Agnipath scheme has nothing to do with employment generation, and it furthers the contractualisation of the armed forces. She said, "This scheme has nothing to do with employment generation. It has nothing to do with nation-building. We want the government to offer permanent jobs. We wish to ask why vacant positions are not being filled up in the railways, army or any other public sector. The seriousness of the scheme could be gauged from the fact that senior BJP leader Kailash Vijayvargiya is saying that the jawans retiring from the force will be given preference in the recruitment of security guards at the BJP offices. If the government is interested in giving jobs, why not give permanent employment, which would secure the lives of the jawans. Why are you not paying them pensions? Why is there widespread anger against the policy now reflecting in protests in different states? Simply because the government and its officials kept repeating that generating employment is not its job. Please roll back this disastrous policy. It's in the national interest!"
Commenting on the detention, Deputy Police Commissioner Amrutha Guguloth told NewsClick, "The girl students were released in the night. As far as the detention of MP AA Rahim is concerned, he had brought students with him to protest. Soon, he was told to leave the police station but did not leave other detainees."
Get the latest reports & analysis with people's perspective on Protests, movements & deep analytical videos, discussions of the current affairs in your Telegram app. Subscribe to NewsClick's Telegram channel & get Real-Time updates on stories, as they get published on our website.
Subscribe Newsclick On Telegram