Differently-Abled Persons' Rights: Petitioner Makes New Suggestions to Amend Guidelines After SC Order Against Removal of Prosthetic Limbs for Airport Checks
The Supreme Court, on December 1, in its order in Jeeja Ghosh vs. Union of India, held that differently abled persons with prosthetic limbs should not be asked to remove the prosthetics at airport security checks.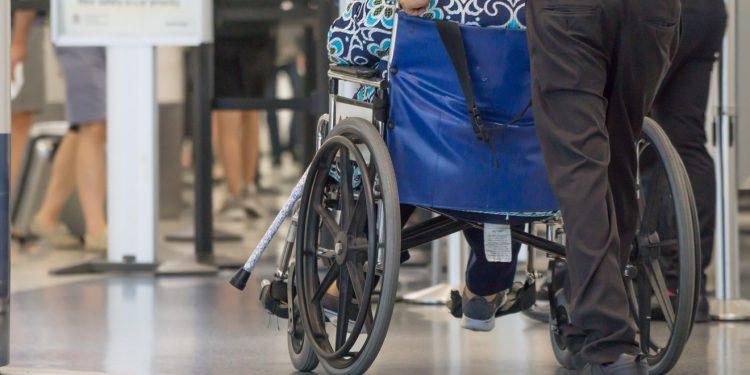 Representative Image Only  
The Supreme Court, on December 1, in its order in Jeeja Ghosh vs. Union of India held that differently abled persons with prosthetic limbs should not be asked to remove the prosthetics at airport security checks. The Court also noted that lifting a person with disability during air travel or security check-up is inhumane and violates their human dignity, and that this should be done only with the person's consent.
The decision by the bench, comprising Justices Hemant Gupta and V. Ramasubramanian came in a case filed by disability rights activitst Jeeja Ghosh in 2012, relating to the latest draft guidelines 'Carriage by Air of Persons with Disability and/or Persons with Reduced Mobility' issued by the Director General of Civil Aviation (DGCA). The bench, however, left the matter of how exactly the differently-abled person should be treated with dignity during air travel to the DGCA.
On December 1, the bench disposed of the petition with the hope that the DGCA will consider the suggestions submitted by the petitioners to modify the draft guidelines, which had invited multiple objections.
Also read: Ask persons with disabilities how to make e-courts disabled-friendly
Jeeja Ghosh's suggestions to DGCA
The Leaflet learns from the petitioner Ghosh that she has now decided to make the following suggestions to the DGCA to modify the draft guidelines:
All the airlines must be directed to use towable ramps/ ambulifts where aero bridge services are not available; whereby provision of ambulifts is not possible then a 'disabled passenger lift', a mechanically wheeled low-cost equipment, which raises the person in a wheelchair, to the ladder platform adjoining the aircraft door should be utilised. Penal provisions must be introduced if this facility is not provided, and must be clearly stated in the guidelines.
Kerbside kiosks should be set up in all airports immediately.
Standard Operation Procedures with clearly defined Do's and Don'ts vis-à-vis persons with disabilities needs to be laid, with the provision of an escort readily available at the kerbside kiosk at airports. This should include people with invisible conditions like autism as well.
Training and sensitization should be conducted for all concerned stakeholders, including the staffers who are often tasked with lifting and assisting persons with disabilities.
Aisle wheel chairs need to be introduced in all airlines.
For blind persons, audio description of the visual media in the aircraft needs to be ensured. Cabin staff should be trained in sign language as the majority of deaf people cannot lip read and safety instructions should be made available for them in sign language; furthermore, safety instructions for persons with blindness should be provided by all airlines in Braille.
Cabin staff should be trained to understand that people with invisible disabilities need to have their assistive devices with them at all times, and that they not be forced to stow their assistive devices till the aircraft is in full flight.
Also read: Union Budget: Disabled Cold Shouldered
Background
Ghosh, who suffers from cerebral palsy, and the non-profit organization ADAPT (Abled, Disabled, All People Together) – formerly known as the Spastics Society of India – had filed the instant petition at the Supreme Court to seek compensation for her treatment in a SpiceJet flight in 2012. Scheduled to fly from Kolkata to Goa on February 19, 2012 to attend a conference organised by ADAPT, she was forcibly de-boarded from the plane due to her disability. The incident had caused her intense trauma and humiliation, Ghosh alleged.
The petitioners had moved the Supreme Court under Article 32 of the Constitution for putting a system in place so that other such differently-abled persons do not suffer similar agony that violates their fundamental rights under Articles 14 and 21 of the Constitution.
Ordering SpiceJet to pay her compensation of Rs.10 lakhs, the Supreme Court bench of Justices A.K. Sikri and R.K. Agrawal, on May 12, 2016, ruled that "[a] little care, a little sensitivity and a little positive attitude on the part of the officials of the airlines would not have resulted in the trauma, pain and suffering that Jeeja Ghosh had to undergo. This had resulted in violation of her human dignity and, thus, her fundamental right".
Subsequent to the judgment, the DGCA came up with a new set of draft guidelines – 'Carriage by Air of Persons with Disability and/or Persons with Reduced Mobility' – and published it on July 2, 2021, but the petitioner, through advocate Colin Gonsalves, raised multiple objections against the new guidelines.
Although the draft guidelines make note of scanning of prosthetic limbs/calipers through the use of full body scanners, security personnel at airports continue to ask people with prosthetic limbs to disrobe to conduct such security checks.
Discourse around such concerns of persons with disabilities reared up after actor Sudha Chandran shared on social media her ordeal of being asked to remove her artificial limb each time she passed an airport security check. After her social media post went viral, the Central Industrial Security Force (CISF) issued an apology to the actor.
Following the Chandran incident, the Civil Aviation Ministry issued a set of 'draft accessibility standards and guidelines'. These guidelines are meant for airlines and airport operators to follow in order to reduce the inconveniencing of disabled people while they are travelling by air.
Also read: Neglect of disabled inmates is gross injustice
According to the draft guidelines, airport operators must make provisions to guarantee that people with special needs are screened in a manner that respects the passenger's "dignity and privacy." Airport security are allowed to use X-ray, explosive trace detection devices, or visual checks to screen prosthetics; only in rare cases is it permitted to ask passengers to remove their prosthetic limbs for X-ray screening, in which security forces believe, for reasons to be recorded, that thorough screening is an absolute requirement that could not be avoided.
It also stated that airlines should perform frequent awareness training for new recruits, and guarantee that all personnel receive periodic refreshers on policies and standard operating procedures for assisting customers with all forms of disabilities.
Ghosh's suggestions "are to be filed before the DGCA, as soon as a meeting is scheduled", as stated by her and Rajive Raturi, a consultant in this case.
(Vismita Rathi is a second year undergraduate law student at the Gujarat National Law University, Gandhinagar.)
Get the latest reports & analysis with people's perspective on Protests, movements & deep analytical videos, discussions of the current affairs in your Telegram app. Subscribe to NewsClick's Telegram channel & get Real-Time updates on stories, as they get published on our website.
Subscribe Newsclick On Telegram